March 1998: Atlantis at Fiji International Sevens
(Atlantis tournament #62)
Emil Signes
JUNE 24, 2013


Note of June 2013: The following article is that which I submitted to Rugby Magazine; an edited version appeared in the April 24, 1998 issue.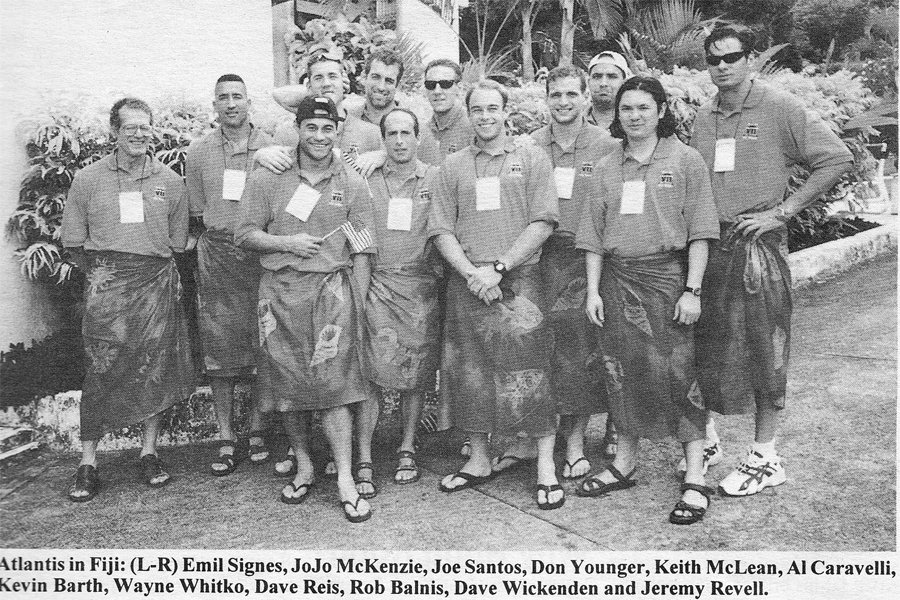 Fijians Dominate Fiji International Sevens
Following the Australian Fijians' domination of the all-professional New Zealand All Black Sevens team in the semifinal, they gave their native land's national team a huge scare before finally succumbing 28-19. In an earlier pool match, the Australian Fijians led 26-21 when the referee mysteriously allowed a scrum well after the final buzzer which produced a 28-26 Fiji victory. (Atlantis had the "fortune" of being in the same bracket as both these teams; more on this later.)

The tournament and its brackets:

Pool One:
Fiji
Australian Fijians
Japan
US Atlantis

Pool Two:
Australia
Tonga
Malaysia
Cook Islands

Pool Three:
New Zealand
Canada
Australian Legends
Chinese Taipei

Pool Four:
Western Samoa
New Zealand Fijians
Hong Kong
Uruguay

Just as most top world club basketball teams have their American(s), 13 of the 16 teams at this tournament had their own South Pacific Islander(s), most more than one. Malaysia's Fijians, in fact, so dominated their team that they easily defeated both the Cook Islands and Japan. Atlantis had one, with which we were able to cover two island groups -- Eagle Joe Santos, an ethnic Tongan who was born and raised in Fiji (and whose cousin Vaea Anitoni will represent the US at the 1998 Hong Kong Sevens).

Round robin play . . . All eight seeded teams made it through to the Tabua Cup Quarterfinals, although the Australian Fijians' job in nearly upsetting Fiji raised a few eyebrows. The quarterfinal results were

Fiji 24 New Zealand Fijians 19
Australia 29 Australian Legends 17
New Zealand 28 Tonga 7
Australian Fijians 15 Samoa 14

All games went according to plan except for the fourth quarterfinal, where the Australian Fijians continued their surprising march to glory.

In the first semifinal Fiji took apart Australia 38-5, led by scrum half Sirilo Lala, who scored a hat trick of tries set up by his constant looping of fly half Waisale Serevi. The reapparance of David Campese could do nothing to stem the Fiji tide in this game.

In the second semifinal, the Australian Fijians, coached by former Fijian, Australian, and Rugby League star Acura Niuqila, pressured New Zealand into several mistakes, and ended up with a relatively comfortable 19-10 win.

The Tabua Cup final -- ah, the final -- I can only say that fans of NBA finals would have seen in this match athleticism that we normally associate only with that level . . . Wow! Fiji ended up on top, but not before they were scared to death by their Australian counterparts, who led 19-14 midway through the second half. The final score was 28-19. Both wings, Marika Vunibaka for Fiji, and Akuila Tuinasau for the Australian Fijians, scored two tries.

Two of the Australian Fijians leaped to national team status as a result of their play. The Australian Fijian wing, Akuila Tuinasau, was not only awarded MVP, a prize that brought a large monetary reward, but also selected to represent Australia at the Hong Kong Sevens. Not to be outdone, Fiji selected the Australian Fijian rover (vocabulary lesson of the month: in Fijian English, rover = center) Inoke Turuva for their team.

(Note that ¿Peni? somebody, a reserve on the Australian Fijians, played for Indianapolis' 1997 national tournament squad -- Ed, you can probably find his name . . . )

Plate and Bowl. Hong Kong won the Plate by defeating the surprising (Fijian-dominated) Malaysian side, and the Cook Islands won the Tanoa (Bowl) competition for the third time running.

Atlantis. As the US representative, Atlantis might have fared better (finishing 0-3-1), but their road was filled with formidable objects.

Firstly, there was the fact that both finalists were in their bracket. Their 22-5 loss to the Australian Fijians was a remarkable achievement, given both the latter's accomplishments, and the fact that but for an errant pass it could have easily been a 15-12 game. Fiji took 4 minutes to score on Atlantis, and at half time led only 12-0. A four try second half, however, made the final score 36-0. Our really disappointing result was against Japan. Leading 12-0 with 5:40 gone in the second half, we managed to miss a tackle that led to the first Japan try, drop the ensuing kickoff, then misplay our defense on the ensuing scrum. Only a miss of an easy conversion kept this from being a loss. In the end, only the third tie-breaker, number of conversions (they had one more than we), put Japan into the Plate ahead of us. Oh, well. . .

In the Bowl semifinal, we were soundly beaten, 20-0, by the Cook Islands. The Cook Islands? one might ask . . . Yes, the Cook Islands, who finished 10th at the Sevens World Cup in 1997 (where the US finished 17th). A territory of New Zealand, the Cook Islands carries the NZ rugby tradition (and often a few NZ residents), and is a major player in the world of rugby sevens.

Atlantis team . . . I am very proud to be able to say that every single one of the Atlantis players took part in either the national club or All-Star sevens this year; four of them took part in both. In addition, in order to be of service to the national team program, the team was selected in conjunction with discussions with both National Sevens Director Keith Seaber and Coach Bill Russell. I went as coach and Dave Wickenden as team physiotherapist.

The players and their sevens and fifteens affiliations, preceded by their Atlantis number:

267 Al Caravelli, Philly/Whitemarsh 7s and Old Blue 15s, captain and scrum half
123 Keith McLean, Philly/Whitemarsh, co-captain and prop
390 Joe Santos, Old Blues, hooker
344 Kevin Barth, Olympic Club, prop
342 Don Younger, Maryland Old Boys 7s and Indiana University 15s, prop
295 Wayne Whitko, OMBAC, fly half and scrum half
387 Rob Balnis, Montauk 7s and Frostburg State 15s, fly half
321 Jeremy Revell, Tempe, center
313 Dave Ries, Maryland Old Boys 7s, center, wing and hooker
389 Jo Jo McKenzie, Fresno, wing

Our only three tries were scored by Joe Santos (2) and Jeremy Revell (1), with Rob Balnis notching our conversion.

Scores:
Atlantis 5 Australian Fijians 22
Atlantis 12 Japan 12
Atlantis 0 Fiji 36
Atlantis 0 Cook Islands 20

As I write, of the 390 players that have represented Atlantis between 1986 and 1998, 85 have been Eagles (65 men and 20 women). 34 of these represented Atlantis first. It is my fervent desire that I will be able to add a couple of this Atlantis team's players to the list. They deserve it.

Thanks: to Keith Seaber and Bill Russell for their cooperation in the selection of the team, to the Fiji Rugby Union and Sun Tours for facilitating our travel arrangements, to physio Dave Wickenden for his usual magic, to Al Caravelli for services above and beyond, to Dr. Dale Toohey for providing training facilities at Cal State Long Beach, to our liaison Seta for managing to juggle four teams and still be there when we needed him, and to our friend Jone Ratu who spent a great day with us at the Shangri La Fijian and then joined us in Nadi for a marathon grog session.