March 1997: Atlantis at Fiji Sevens During Cyclone Gavin
(Atlantis tournament #55)
John Redmond
March 1997 (copied August 27, 2013)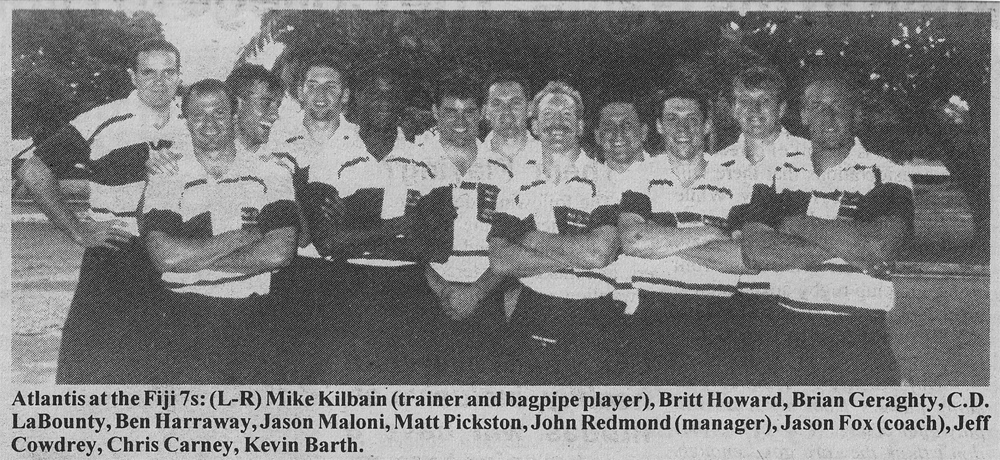 Note of 2013: the article as written by John Redmond, was originally published in April's Rugby. Click here to see the article as published. Most of it is copied below.

Atlantis Roster (Atlantis Number, Name, Club)

344 Kevin Barth, Olympic Club
172 Chris Carney, Montauk
345 Jeff Cowdrey, Grand Rapids
346 Malakai Delai, OMBAC
199 Brian Geraghty, Life College
318 Ben Haraway, Cleveland Rovers
347 Britt Howard, Life College
348 C.D. LaBounty, Bayside (CAN)
270 Jason Maloni, Maryland Exiles
349 Matt Pickston, Cleveland Rovers
99 John Redmond, Maryland Exiles

Coaches/Managers: Jason Fox and John Redmond
Trainer: Mike Kilbain



1997 Fiji Sevens
by John Redmond



Suva, Fiji. March 14-15, 1997

Led by renowned sevens specialist Waisale Serevi, the Fijian national team romped through the fifth annual Air Pacific International 7s in Suva, Fiji, defeating Western Samoa in the final 26-19.

Playing in nearly impossible conditions, the American invitational side Atlantis fared better than it did the year before in Fiji. Cyclone Gavin claimed a number of lives and knocked out power for half the Fiji Islands. Driving winds and constant rain showers pounded the tournament.

The rains kept the crowds down for Friday's twelve pool matches, but on Saturday, the crowd swelled to 25,000 and the spectators were loud and gracious.



Top Competition



Of the sixteen teams in the tournament, eleven nations sent full national rep sides in the last tune up for the 7s World Cup. A betting man's money might've been on Fiji and the New Zealand Selects (coached by All Black sevens coach Gordon Tietjens) to reach the final, but Western Samoa defeated New Zealand in the semifinals. In another upset, the Australian Fijians knocked off Australia in the quarterfinals of the championship division.



Atlantis



Due to a last minute withdrawal by Uruguay, Atlantis received its invitation just two weeks prior to departure; thankful indeed, but it was very difficult to arrange a team. All ten roster spots changed completely within one week. However, credit should be given to those players who dropped everything on a few days' notice to travel halfway around the world.



The Trip



We flew to Los Angeles on standby tickets, but due to delays could only train on Monday and Tuesday mornings. Before departing we rushed to Venice Beach to pick up red, white and blue hats and bandanas; big favorites down under. Many thanks to the Los Angeles Rugby Club for the use of their fields and "Frat House."



The Tournament



There were to be no easy matches in this field, and Atlantis drew by far the toughest bracket. We felt confident in drawing Western Samoa in our first game, because we only lost to them by two points last year in the final seconds. Little did we know that within 24 hours, Western Samoa would battle Fiji in the tournament final. To make matters worse, we lost speedster C.D. LaBounty, fresh from the Eagle sevens camp, to an ankle injury. Score 35-0.

Our second pool match against the Australian Fijians produced similar results, with the final score 31-0.

Atlantis opened Saturday's match against Japan, a full national rep side, with a quick try by flyhalf Brian Geraghty and another by his club teammate, Britt Howard, producing a 14-0 halftime score. However, strong winds and poor tackling squandered this opportunity, and we fell 28-14.

After a pre-match pep talk by skipper Britt Howard, who challenged each player to perform at his best, we took on Malaysia. Utilizing our size and speed advantage, this game was never in doubt, as all members played and six tries were scored. We finished on top 41-0.

In the consolation final of the Tabua Championship, we faced the Cook Islands, a team of Kiwis. Although Jason Maloni scored an early try off a brilliant penalty move, we fell 31-5.



Postscript



In a beautiful South Pacific country where rugby is the national sport, and the locals invite you into their homes to drink kava, one couldn't ask for a better setting. Whether it's a pick up game of touch at the local school, the white, sandy beaches or nightclubs in town, Fiji is a must stop on anybody's world tour. BULA!