4th Fiji International Sevens: Fiji 22 New Zealand 21
(Atlantis tournament #46)
Emil Signes
April 4, 1996
JUNE 17, 2013 (rev. August 30, 2013)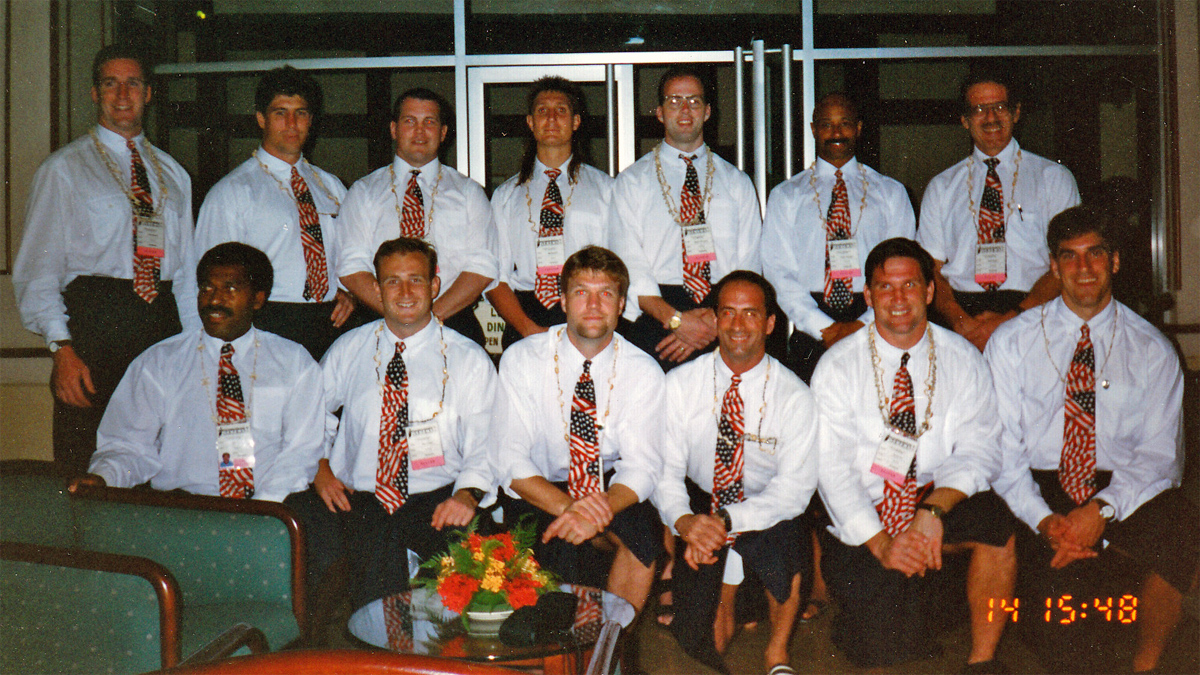 Atlantis in Fiji with US Flag ties and Fijian Sulus
Top, L to R: Tom Brewer, Rich Schurfeld, Thor Bolstad, Bill Russell, Marty O'Connor, Vince Granger, Emil Signes
Bottom, L to R: Jone Ratu, Ray Green, Steve Hiatt, Al Caravelli, Jason Fox, Jim Walier



Note of 2013: This is the article as I submitted it to Rugby; an edited version was included in the April 15, 1996 issue. I remember this as a tournament of promise and disappointment: we led Samoa (then called Western Samoa) 12-0, only to lose 14-12, but just tied the Solomon Islands. This may be the toughest place in the world to play sevens. In 1993 when I was here for the first-ever Fiji International Sevens, in a tournament with New Zealand, Australia, Canada, Scotland, the US and others, the 8 quarterfinalists were Fiji, Samoa, Tonga, and 5 Fijian provinces. This one wasn't that much weaker, as it included the New Zealand Fijians and the Australia Fijians. Again all 8 quarterfinalists were from the South Pacific.

Suva, March 15-16, 1996. Fiji, with eight new players, hung on to barely defeat a less-than-full-strength New Zealand team, 22-21, in an exciting finale to one of the strongest sevens tournaments in the world.

With fans shouting "Fiji, Fiji, Fiji" and [a smaller number] "Kiwi, Kiwi, Kiwi" the New Zealanders took the lead after a kick and chase and fumble by Aisea Tuilevu of Fiji. Owen Scrimgeour, one of coach Gordon Tietjens' many Bay of Plenty boys, scored the try. But the magic man Waisale Serevi quickly got things in control for Fiji and set up a Lemeki Koroi try. With the score knotted at 7 just after halftime, Fiji and New Zealand exchanged long kicks and Serevi started a counter attack to set up another Setareki Tawake for a try. Koroi and Scrimgeour exchanged tries to make the score 17-14, but an Aminiasi Naituyaga try gave Fiji an insurmountable 22-14 lead which 18-year old Caleb Ralph's last minute try could only narrow to 22-21.

One of the more interesting things about this game was how the Fijian referee's calls seemed to rattle and anger the New Zealanders. I was on the New Zealanders' side on this until I saw the tape, which seemed to indicate the referee was correct on most of his calls.

Whereas Fiji will take most of its entire new-look squad to Hong Kong, New Zealand will only take two of its squad -- Waisake Masirewa and Joe Tauiwi -- rounding its squad out with eight contracted players not available for any sevens competitions other than Hong Kong. Prognosis: a huge challenge for Fiji. [note to Ed: with Dallas Seymour injured during training in Hong Kong, Owen Scrimgeour was called up to make three members of the squad that played in Hong Kong.]

South Pacific Sevens Strength
The South Pacific provided all 8 quarterfinalists: besides Fiji and New Zealand, they were Australia, Tonga, W. Samoa, Papua New Guinea, the New Zealand Fijians, and the Australian Fijians.

Papua New Guinea was particularly impressive, giving up only 26 and 27 points to Fiji and New Zealand, respectively, for its only losses, as they defeated Canada and Japan easily in their path to Cup status.

The other two South Pacific teams were not far behind: although they both ended up in the Bowl (Tanoa) round, both the Cook Islands and Solomon Islands provided their share of surprises, showing that they're far superior to the teams that normally end up in the Bowl in Hong Kong. The Cook Islands defeated eventual semi-finalist Tonga (ending up in the Bowl because of defeats by Australia and Hong Kong) and then crushed Canada in the Bowl semifinal.

Bowl & Plate Championships
The Solomon Islands tied Atlantis in a torrential rainstorm, and then crushed Taiwan 28-0 in the other Bowl semifinal. Cook Islands defeated the Solomons for the Bowl championship.

The four Plate teams were Hong Kong, Japan, Uruguay (with two Puma guest players), and Atlantis. Hong Kong easily defeated Japan, while Atlantis lost in the last minute to Uruguay 12-5. Uruguay was unfortunate to be in the Plate as their magnificent effort in tying a highly-regarded Australian Fijian team was spoiled by the tie-breaking process.

In the Plate Final, Hong Kong, with a backline of Moape Ravuvu (Fiji), Isi Tuivai (Tonga), and Vaughan Going (New Zealand), crushed the South Americans 33-0. Ravuvu was later named tournament MVP.

Round Robin
Fiji and a surprisingly strong Papua New Guinea team came out of Pool 1 to enter the Cup, and Japan knocked off Canada to put them in the Bowl. It was very surprising, in fact, to see how badly Canada played. Perhaps the following conversation, overheard between the Australian and Canadian coaches, is significant:

AUS: How's your team?
CAN: Well, we don't have any speed.
AUS: When you say you don't have any speed, how fast would your fastest guys run the 100?
CAN: Well, I don't think we have anyone that could break 12 seconds?
AUS: Do you realize you're in Fiji?

Fortunately for Canada, only one or two of the players on this team will be headed to Hong Kong.

Strange results were the order of the day in Pool 2, where Tonga tied Australia but lost to a strong Cook Island side. The Cooks, however, lost to both Australia and Hong Kong and ended up in the Bowl.

Pool 3 was Atlantis' Pool, and ended up with Western Samoa and the New Zealand Fijians headed to the Cup, Atlantis to the Plate, and the Solomons to the Bowl.

Finally, Pool 4 nearly provided the upset of the tournament as Uruguay led the Australian Fijians 19-12 with no time left. The Fijians, however, scored at the hooter to tie the game and advance on points to the Cup. To no one's surprise the other Cup team was New Zealand.

Cup round. In the cup quarterfinal, New Zealand knocked off a surprisingly strong Papua New Guinea, 27-5, Tonga upset Western Samoa, Australia struggled to defeat the New Zealand Fijians 17-12, Fiji struggled to beat the Australian Fijians 12-5.

The semifinals were not as close, with New Zealand and Fiji easy winners over Tonga and Australia.

USA Atlantis: Team of the tournament
OK, let's be up-front here: our record was 0-3-1. Still, although it sounds perhaps sounds self-serving for me to write this, our record didn't reflect at all the way which we played the game. Whereas I was openly dissatisfied with our play in Dubai and Punta, the only thing I was dissatisfied with in Fiji was the scorelines.

Furthermore we were all made to feel very proud at the Banquet when we were announced as the "Team of the tournament" for the respect we showed for the traditional Fijian culture (our dress for the parade, reception, and banquet was white shirt, tie, sandals and sulu (traditional Fiji skirt), and we made it a point to take in as many Fijian traditions as possible.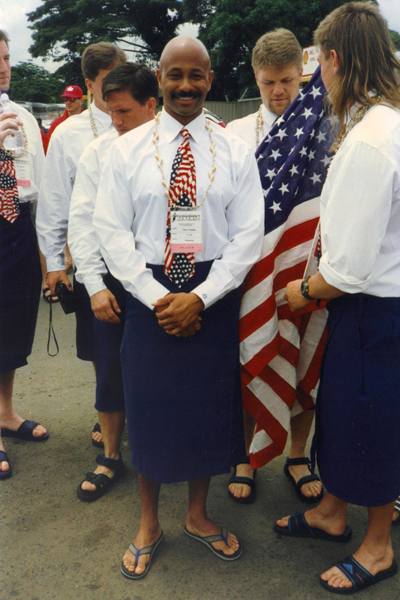 Day before tourney: Vince Granger in forefront of team in the American flag tie and sulu outfit
We were assembling for a parade through the streets of Suva


Atlantis Squad


| | | | |
| --- | --- | --- | --- |
| Atl # | Name | Pos | Club |
| 130 | Thor Bolstad | FH | Metro (NY) |
| 98 | Tom Brewer | P | Old Blue (NY) |
| 236 | Jason Fox | P,H | Cleveland Rovers |
| 271 | Vince Granger | W | MD Exiles |
| 277 | Ray Green | H,C | OMBAC |
| 276 | Steve Hiatt | W,C | Old Blues (CA) |
| 184 | Marty O'Connor | C | Undecided |
| 102 | Bill Russell | SH | Old Blue (NY) |
| 278 | Rich Schurfeld | H | Toledo |
| 279 | Jim Walier | H | Old Blue (NY) |
| | Emil Signes | Coach | Atlantis |
| | Al Caravelli | Manager | Old Blue (NY) |
New Zealand Fijians
This was our first game of the tournament, and we were clearly nervous and made a lot of mistakes. Turnovers, in fact, were responsible for at least 3 of the NZ Fijians' tries.

The Atlantis staple penalty play "Nelly" got us briefly into the lead, as Marty O'Connor slipped through a gap and scored. Our other try, down 24-7, was also set up by O'Connor and finished by Rich Schurfeld. Bill Russell converted both tries, and the final score was 31-14.

Solomon Islands
The Eagles had defeated the Solomons 19-6 in 1993, and we felt confident we could repeat that result. But half an hour before the game, a torrential rain engulfed the entire area and players could barely see, let alone handle. We made an impressive entry onto the field, diving and sliding across the field prior to the kickoff, but the first two minutes belonged to the Solomon Islands, as they intercepted two stupid passes to take a 12-0 lead. In conditions that made it ever difficult to score, we managed to scrape back with two tries -- one an 80 yard run by Ray Green on his own break, and the other by Jason Fox, also started by a Green break. Only a missed conversion at the end kept us from winning this game.

Interestingly, the Solomons, who have improved their play during the last three years, were equally surprised not to have won the game.

Western Samoa
The third game of our pool round was held on Saturday, the tournament's second day, with the weather again conducive to open play. We knew that to advance to the Plate we needed tries, and we put together probably the best single Atlantis game since the Benidorm finals last year.

Atlantis went out to a 12-0 lead in the first half when Thor Bolstad sold a big dummy and scored between the posts. Russell converted. The second try was on the "Eagle" penalty play [note of 2013: some Atlantis players will recognize this simply as a double post play], which concluded with a long kick from Bill Russell to Steve Hiatt, who added one last kick and then fell on the ball for the try. Russell missed the tough angled kick, which turned out to be key.

Unfortunately, W. Samoa got back into the game midway through the second half when an Atlantis pass spilled on the ground following poor communication between players, and was kicked forward for a converted try. With 30 seconds to go, and a Samoa try about 10 meters from our line, another communications error allowed a Samoan sidestep to go uncovered, and they closed out the game with a 14-12 victory. Still the enthusiasm of the crowd indicated how much they had appreciated our efforts and our skills.

Uruguay
The Uruguay team was based on the British Old Boys team that had beaten Atlantis in Uruguay in January, but with the addition of two guest Pumas, including forward Roberto Travaglini.

Again, Atlantis went out to a 5-0 lead on the "Eagle" penalty play, when Tom Brewer broke a tackle, and fed Ray Green who got the ball to Mary O'Connor for the try. Again, two Atlantis turnovers were responsible for Uruguay tries. The game ended when Jason Fox's pass to Vince Granger at the Uruguay goal line failed to connect.

Atlantis MVP?
I would have to say this was shared between Atlantis veteran Marty O'Connor and rookie Ray Green, who with a little more experience will be an exceptional sevens player.



Pictures



Note of 2013: thanks to Vince Granger, I am able to post a bunch of photos of our tour to provide a sense of the moment - Emil



On the field moments



We have no still photos of our play, though (2013) if I can track down some video, I'll see if they're usable. But the following photos give a sense of the ambience and of the tournament.

Here's the view of the action from the stands. The place was packed, including a full hillside. Beyond the field in the right background is the Pacific Ocean.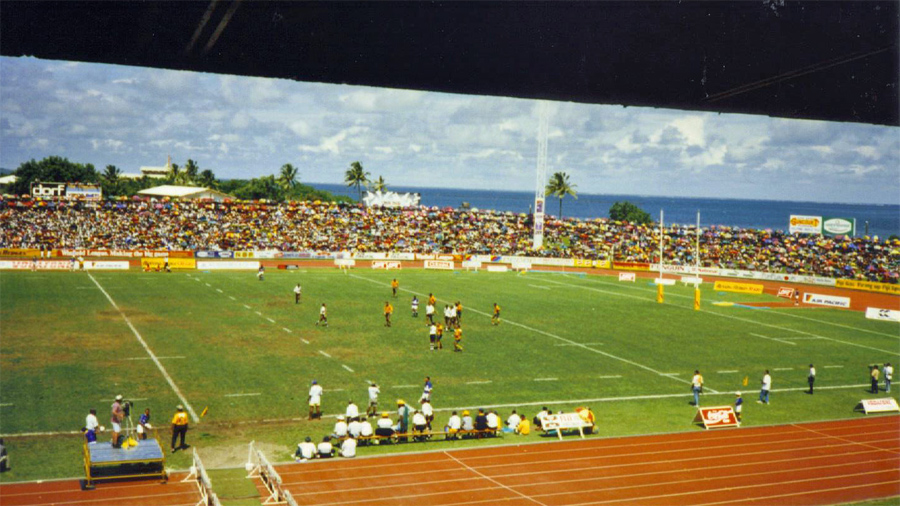 The action as seen from the covered part of the stands. Pacific Ocean provides a great background.
Atlantis takes part in the parade on the field at the national stadium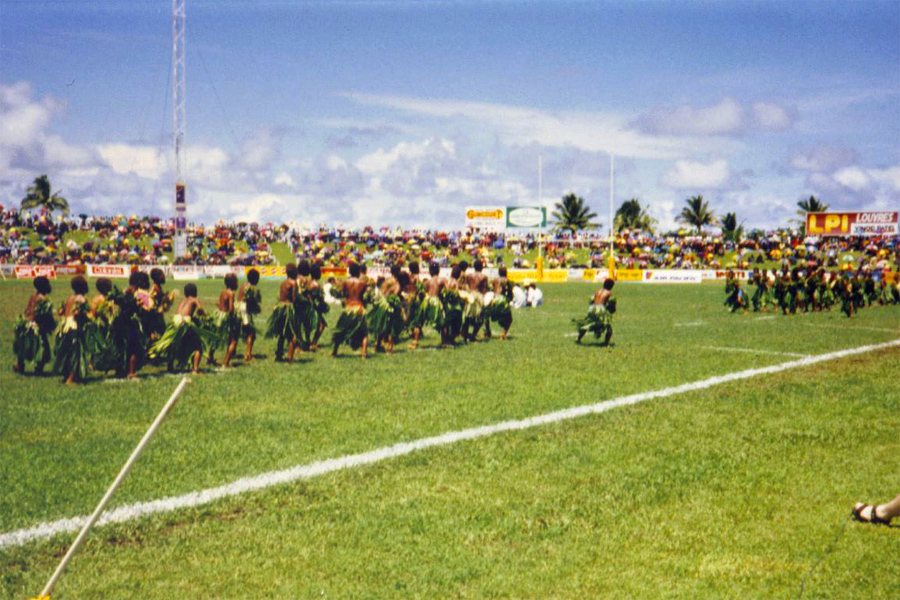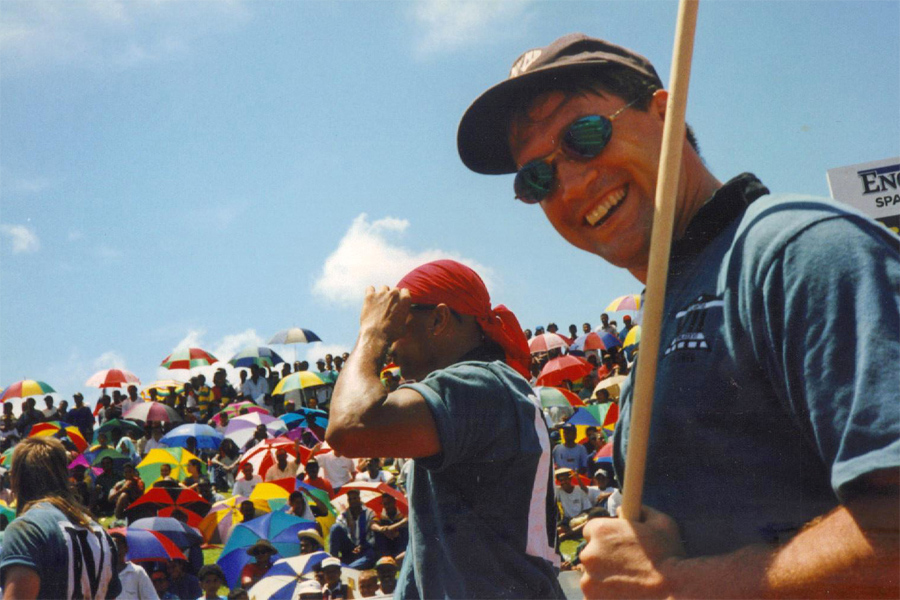 Left: Part of the between-rounds spectacle /// Right: Jason, Vince, Bill (R to L) in crowd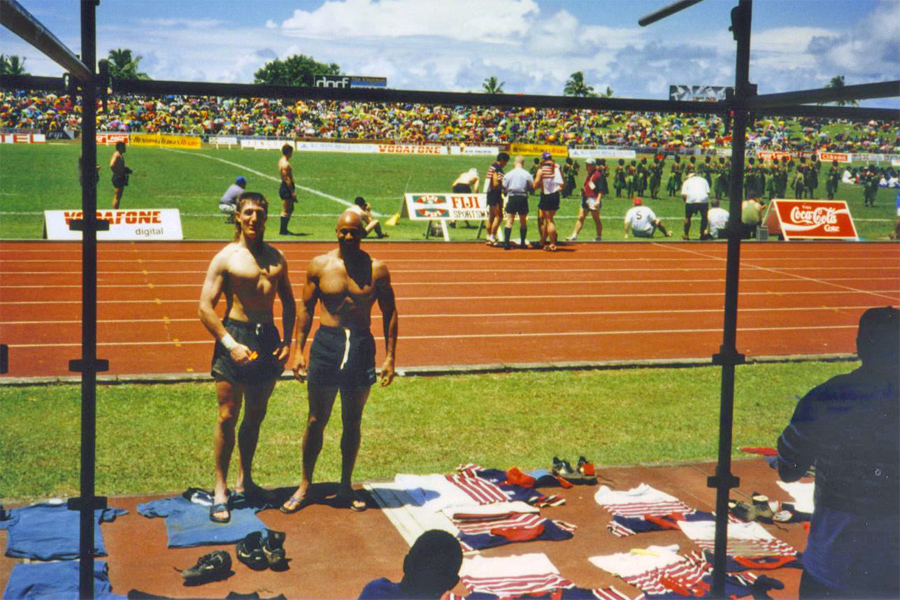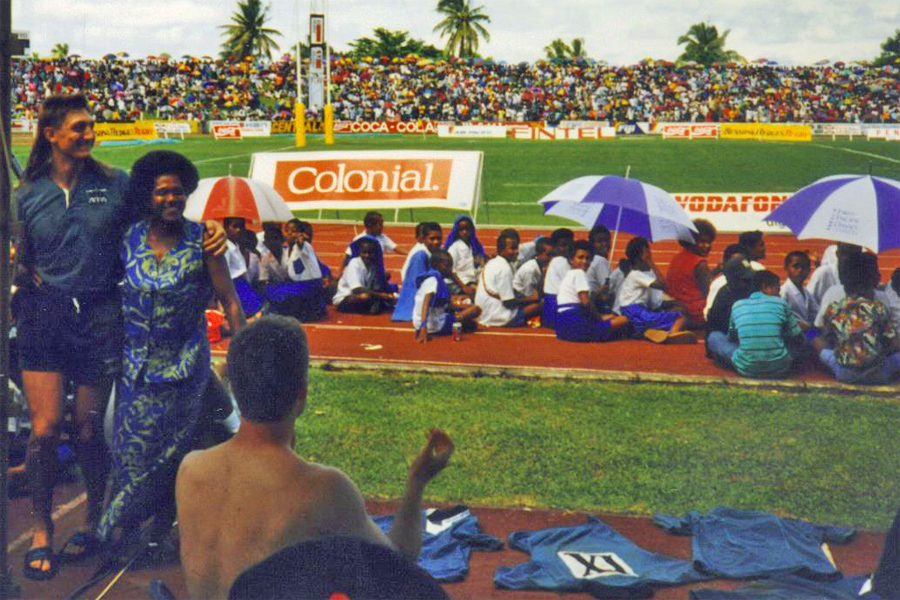 Left: Bill & Vince trying to show off their studly selves (I had forgotten we also had stars & stripes jerseys (see ground)
Right: Bill, more modestly dressed and with a companion, continues to watch our drying jerseys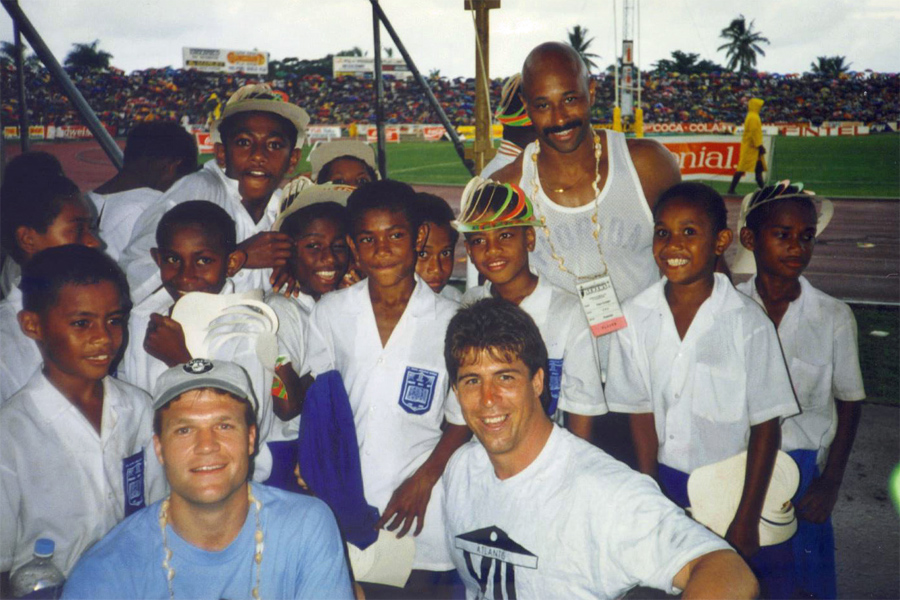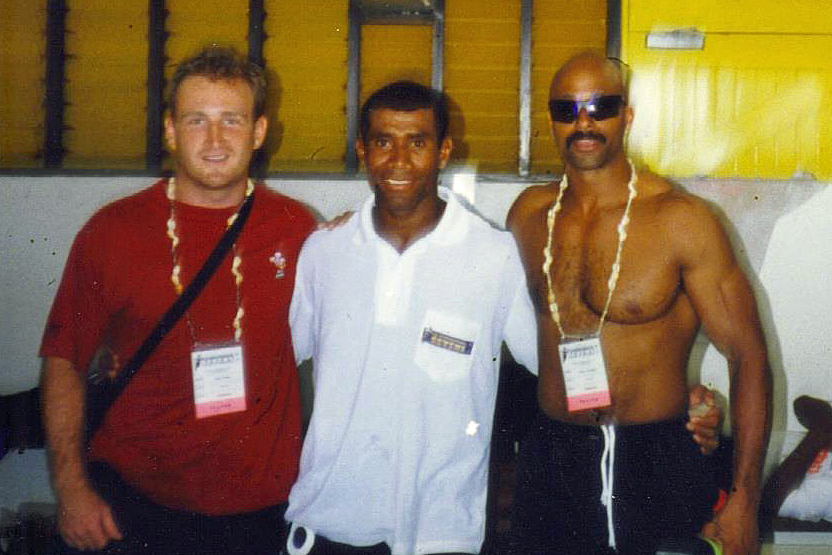 Left: Steve, Rich & Vince with Fijian boys /// Right: Ray and Vince with the master: Waisale Serevi
Off the field highlights
There were so many! A few were the great interaction we had with our liaison, Jone Ratu, a former Fiji national player, the Eagles' liaison in 1993, host to me and my wife last year, and someone that's become a real friend to me over the last three years. Jone's wife Mili also joined us on our last day in Fiji.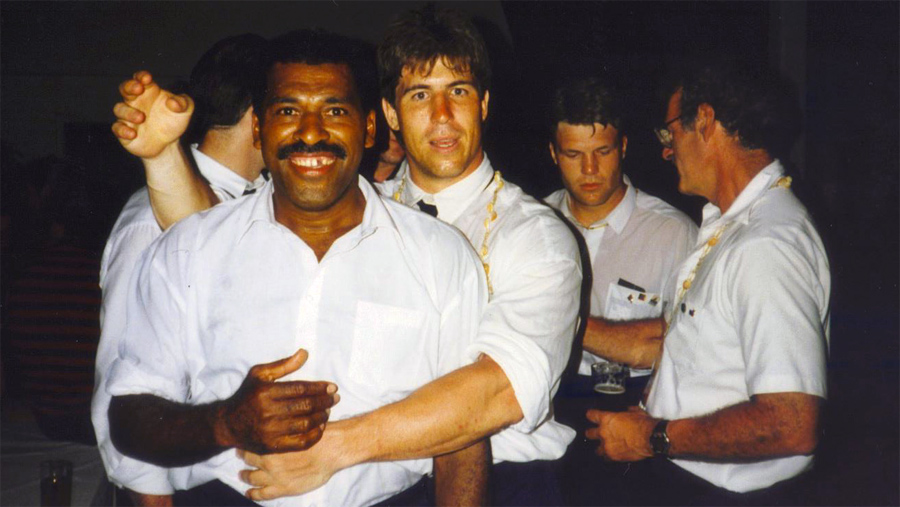 Rich Schurfeld & Jone Ratu horsing around: is Rich about to attack him?


Jone took us all to his village of Rukurukulevu, where we all participated in (clearly too much) yaqona [kava]*, and enjoyed the companionship and wonderful singing of his fellow villagers.

* Note of 2013: I have a couple of distinct memories related to this evening. We got in our bus and the entire team dropped to sleep and had to be awakened at our hotel, about an hour away. I also remember that approximately 2 weeks later I was in Hong Kong with the Atlantis women's team on women's 7s missionary duty, and I ran into one of the Rukurukulevu guys. He smiled when he recognized me and simply said "we had a LOT of grog that night, didn't we?" I smiled back and said "yes, we did."

Jason Fox ran into an old Cleveland buddy "Fiji Joe" [clearly not a specific enough moniker in Fiji], and Ray Green spent some time with the family of OMBAC and Eagle speedster Malakai Delai.

Finally, we spent a day on beautiful Mana Island, lazing around, snorkeling, and playing some touch rugby with players who were shortly on their way to participate in the Hong Kong 10s tournament two weeks later.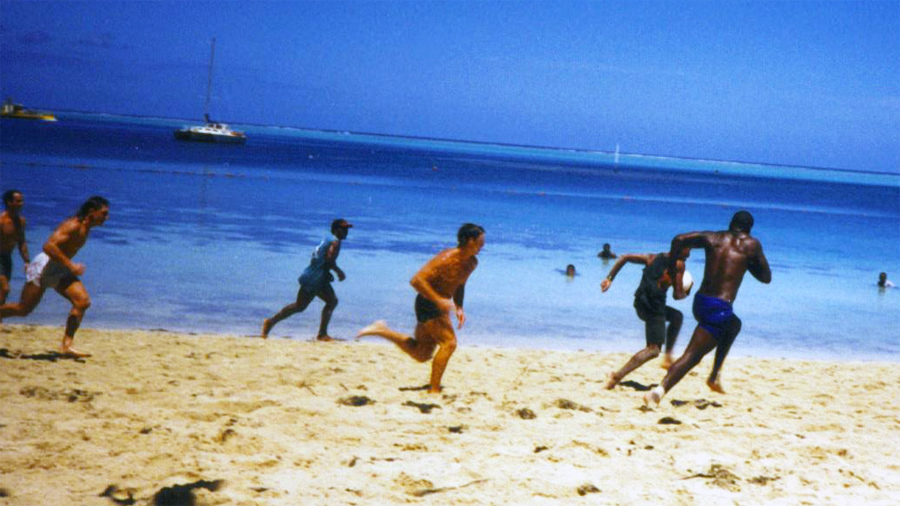 Playing touch on Mana Island
Fijians running away from Americans: reminiscent of the US men's touch game on Mana in 1993, when I was US manager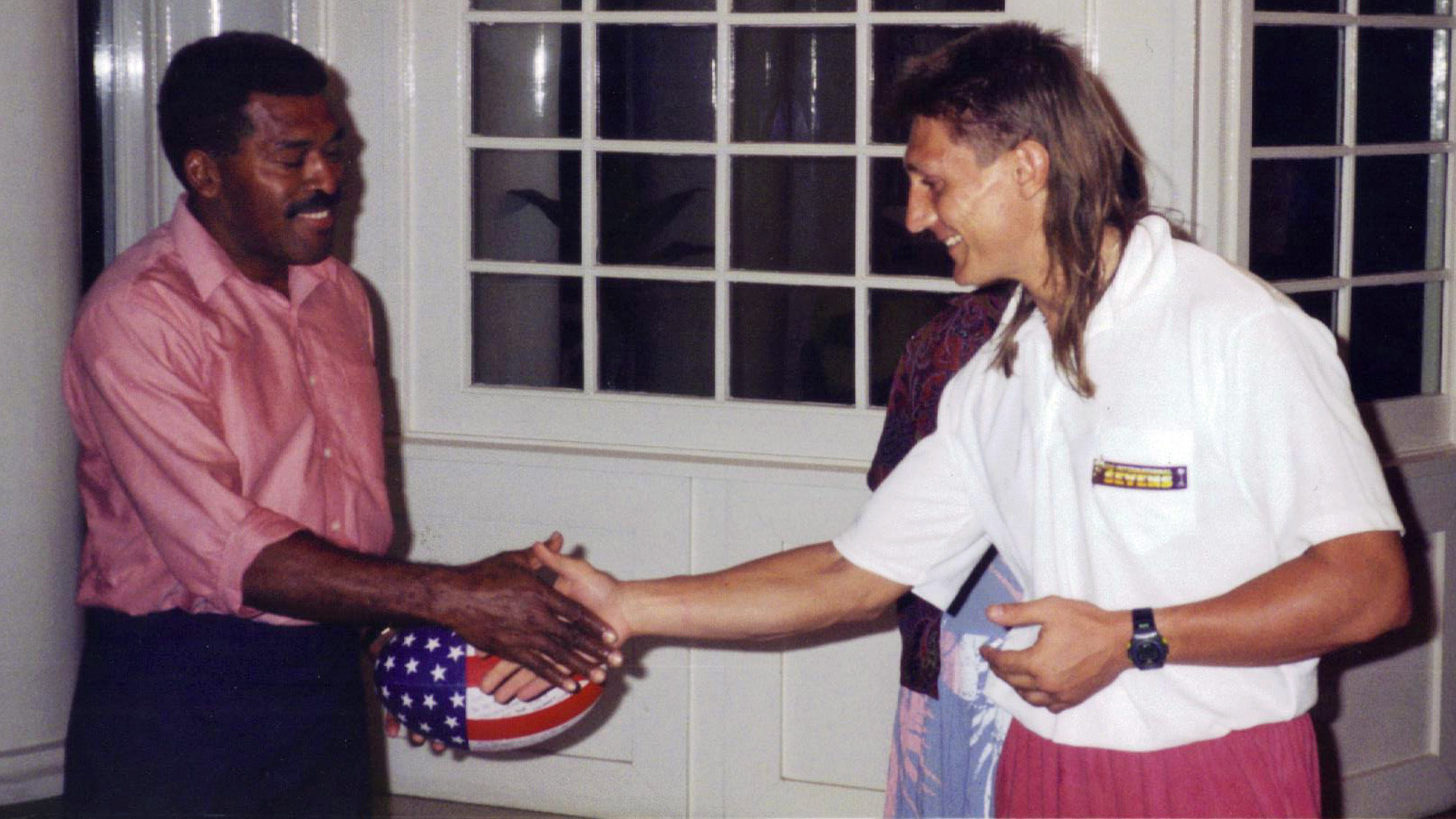 Bill Russell presents signed stars & stripes ball to Jone at end of tour


Fiji: another great Atlantis tour!

An enjoyable end to the week