Note of 2013: This is the copy I sent Rugby Magazine for this, our first Cape Fear championship. The edited article appeared in the August 15, 1994 edition of Rugby.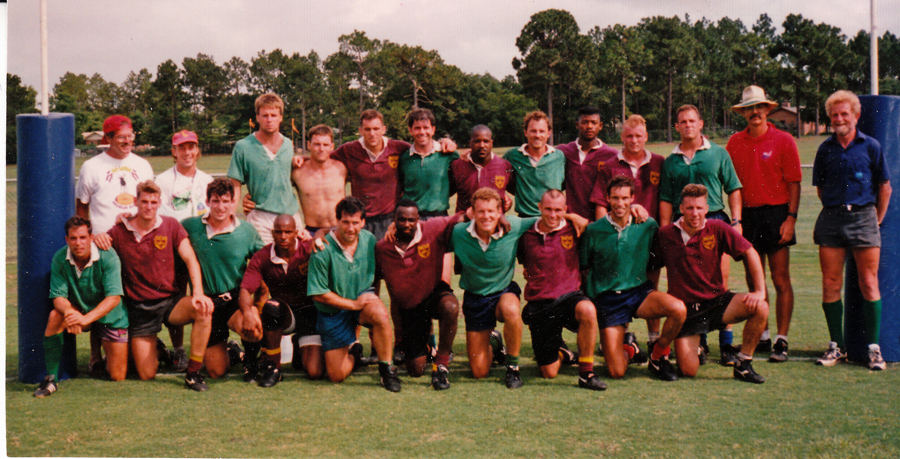 Atlantis and Cherry Point following final at 1994 Cape Fear Sevens
Atlantis players, in green, top: Jack Shield, Joe Morrison, Brian Collins, Greg Schor
Bottom: Kevin Gallant, Bob McAlear, Steve Burnham, Brad Pardee, Larry Sims
Top Left Emil Signes, Top Right Bob Davis in hat, Referee Mike Morgan in blue
Eighth time lucky
Atlantis' first venture at Cape Fear was in 1987, when the same 7 players - Mike Sutila, Joe Taranto, Matt Leonard, Mike May, Joe McCann, Arty Fitzpatrick, and Jerry Mirro - won five consecutive games before losing to MOB in the semifinals. Until this year, it had never surpassed that achievement here. The frustration experienced at Cape Fear had become so ingrained that Mike Siano, sitting in the locker room at Limerick (Ireland), after Atlantis had beaten France, the Welsh President's VII and the Irish Wolfhounds, felt compelled to muse, "Someone remind me what's the best we've ever done at Cape Fear?"

Atlantis had, in fact, equaled or surpassed its prior Cape Fear achievements several times in prestigious tournaments abroad, as finalists at Limerick (1992, 93), and semifinalists in Kelso (1988), Taupiri [NZ] (1990), Glasgow Accies (1993) and Benidorm (1994).

Atlantis I

Both of Atlantis' Eagles Steve Siano and John Flamish played for Atlantis I, as did its young developmental players, including 20-year old burner Lewis Jennings. Atlantis I breezed through its round robin games undefeated, including a 33-5 defeat of Cherry Point, but were upset by Washington in a nailbiting 19-17 quarterfinal.

Lewis Jennings. David Rogers has been working with inner city youths in Bakersfield for the last two years after beginning a similar program in Chicago.

About two weeks before Cape Fear, Dave called Atlantis coach Emil Signes and mentioned the athletic ability of some of the players on his team. He noted Lewis Jennings, a 20year old who two years ago was fourth in the state of California high school championship in the 200m sprint (21.0 sec). He mentioned that it would be nice to get Lewis some experience and Emil told him to ship him off to North Carolina.

Jennings played 3 games for Atlantis I and a WRFL game as well, scoring three tries and running down several long breaks. His most exciting try was an 80 yarder against Cherry Point, and more specifically against Anthony Freeman, a legitimate 4.4 sprinter. He started with a 5 yard lead and maintained that distance the entire length of the try.

He is still missing a lot of skills, but getting athletes like Lewis involved in rugby has got to be good for the sport in this country.

Atlantis I roster: Atlantis number, name, club

216 Ken Burke, Pelicans (FL)
217 Brian Dettling, Bethlehem
78 John Flamish, Philadelphia-Whitemarsh
218 Tim Ford, Fort Lauderdale
219 Lewis Jennings, Kern County (CA)
220 Jeremy King, Fort Myers
221 Marsh Pennington, Philadelphia-Whitemarsh
24 Steve Siano, Wilmington
222 Joe Tatasciore, Bethlehem
223 Jason Wood, Philadelphia-Whitemarsh

Atlantis II
With the exception of props (What about) Bob McAlear and Greg Schor, Atlantis II's starting seven were all over 30; these included hooker Larry Sims, scrum half Joe Morrison and fly half Brian Collins, all closer to 40. Of Morrison coach Emil Signes commented, "Mo is the slowest All-Star player that I've ever timed. It's not even close. But he can play."

In the end, it was to be the craftiness of this geriatric midfield trio, combined with the strength and power of McAlear and Schor, and the speed of Steve Burnham and Kevin Gallant, that brought about the Atlantis championship.

Atlantis II roster: Atlantis number, name, club

224 Joe Brudnicki, Pelicans (FL)
74 Steve Burnham, Maryland Exiles
173 Brian Collins, Washington Irish
174 Kevin Gallant, Daytona
225 Greg Golden, Sarasota
201 Bob McAlear, New Orleans
226 Rich McKenna, Orlando
22 Joe Morrison, Bethlehem
227 Brad Pardee, Pelicans (FL)
134 Greg Schor, Life College
228 Jack Shield, Pelicans (FL)
144 Larry Sims, Pelicans (FL)

Round Robin
Atlantis I easily won its bracket defeating NOVA, Raleigh and Cherry Point, while Charlotte knocked off Atlantis II in Saturday's final game to get the number one seed in the bracket.

The one surprising result in the round robin was Atlantis II's convincing 200 defeat of Washington, in a game that featured Bob McAlear's control of Washington's Chris Campbell at the kickoff.

Championship Round
Washington avenged its loss to Atlantis II by surprising Atlantis I 19-17 on a last minute try, NOVA defeated Charlotte, Atlantis II beat Raleigh, and Cherry Point beat the Southern AllStars.

In the semifinals, Cherry Point easily beat NOVA, but Atlantis II and Washington struggled to a regulation game tie. In the sudden death overtime McAlear took on Campbell and fed Steve Burnham for a 70-yard try to win their second game against the Eagle-laden Washingtonians (forwards Campbell, Scott Stephens and Paul Sheehy, and fly half Al Dekin), 19-14.

Final
The final game was another barn burner, as, trailing 12-7, Cherry Point got back into the lead 14-12 after a 60 yard run by incredible speedster Anthony Freeman. With less than a minute to go, Cherry Point was awarded a penalty kick within its 22, and opted to kick for touch. Atlantis stole the ensuing lineout and Kevin Gallant scored about 6 inches from touch as Freeman nearly bundled him into touch. Following Morrison's unsuccessful conversion, the whistle blew and Atlantis had squeaked out a 17-14 win.


| | | |
| --- | --- | --- |
| Atlantis | | Cherry Point |
| McAlear | 1 | Oldknow |
| Sims | 2 | Pooler |
| Schor | 3 | Toolie * |
| Morrison | 4 | Nelson |
| Collins | 5 | Bowlin |
| Burnham | 6 | Taillon |
| Gallant | 7 | Freeman |
| | | * replaced by Young |
Bob Davis
As manager of Atlantis and coach of Cherry Point, Bob Davis was guaranteed a champion prior to the final. Bob deserves credit for attracting several top athletes and building an excellent sevens program at Cherry Point, a Marine Corps club with nothing particularly noteworthy about it before Bob got the sevens program rolling.

Atlantis: historical notes
Since its first tournament in 1986, Atlantis has participated in more than 40 tournaments, including 17 abroad, and fielded 51 Eagles (including the 9 women Eagles on the winning squad at the 1992 Benidorm Sevens). Perhaps more impressively, 20 of these played for Atlantis before playing for the US.

Despite this, after winning 2 tournaments in 1986 (Virginia Beach and Hartford), Atlantis had gone almost 8 full years without a tournament championship.

Atlantis is looking forward to participation in tournaments abroad again in 1995 and welcomes sponsorship as well as new and exciting young players.

Other Divisions
In the women's championship, the Maryland Stingers defeated the West All Stars in a relatively close contest, and Louisville defeated Wilmington (DE) in the men's club division final.