USA Women 7s Team Tours Fiji, New Zealand, and Hong Kong
I: Fiji, February 1-9, 2003

Emil Signes
(originally written APRIL 14, 2003; edited for the web JANUARY 12, 2014; rev. 1/18/14)
Note of January 2014: This article was originally written - with no photos other than the team picture with trophy - for Rugby Magazine. For the most part I have used this article as originally written, adding a few things from earlier drafts omitted because of size restrictions in the magazine, and additional 2014 comments. Interestingly, although the article covers both on and off-the-field activities, there were no action pictures of the games themselves. So the photos that accompany the article will just about be all off-the-field activities and atmosphere. Text from 2003 original in black; 2014 additions in teal.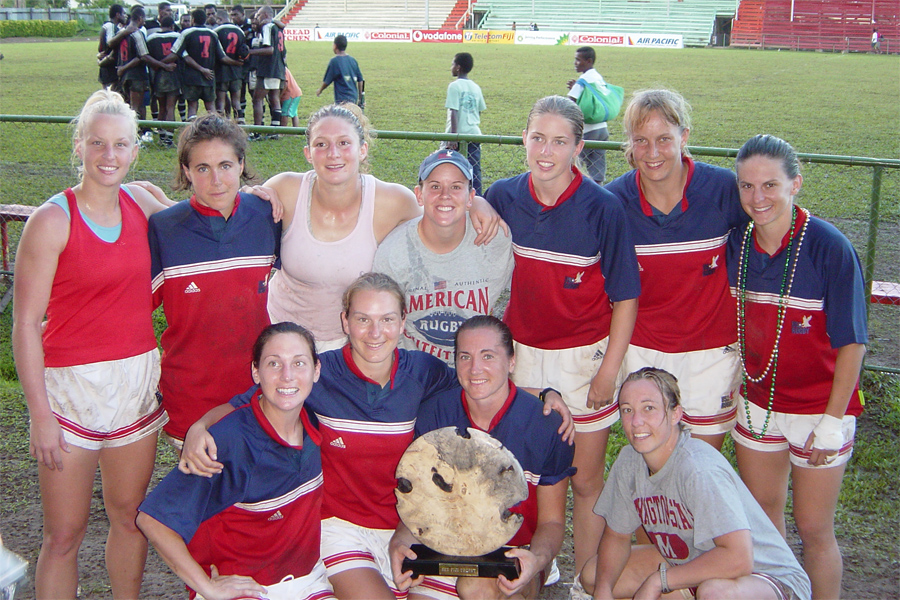 0208c-Champions.jpg

USA Women Following Victory over Fiji Women at Lomaiviti Sevens
Standing L to R: Jen Sinkler, Lindsay Davison, Ashley Farmer, Lyn Wissmiller, Jo Ward, Dana Creager, Jess Hammond
Kneeling L to R: Laura McDonald, Liz Reed, Katrinka Blunt (captain), Pam Kosanke
Men's Champions Red Rock are in background


Following an intense 3-day camp in Fort Lauderdale on January 17-19, 15 players participated in the Lomaiviti Sevens in Fiji, the Whangarei Sevens in New Zealand, and the Hong Kong women's sevens. They were


| | | | |
| --- | --- | --- | --- |
| Name | age | Club | Tournaments |
| Katrinka Blunt | 26 | Bay Area She Hawks | all 3 |
| Dana Creager | 29 | NOVA | Fiji and New Zealand |
| Lindsay Davison | 27 | Beantown | all 3 |
| Ashley Farmer | 21 | West Chester U | all 3 |
| Val Griffeth | 21 | Vassar College | Hong Kong |
| Jess Hammond | 30 | New Orleans | Fiji and New Zealand |
| Pam Kosanke | 25 | Chicago North Shore | all 3 |
| Tasha Maninno | 26 | Atlanta | Hong Kong |
| Laura McDonald | 23 | San Antonio | Fiji and New Zealand |
| Erina Queen | 32 | Emerald City Mudhens | Hong Kong |
| Liz Reed | 27 | St. Louis | Fiji and New Zealand |
| Lisa Rowe | 31 | Maryland Stingers | Hong Kong |
| Jen Sinkler | 24 | Minnesota Valkyries | all 3 |
| Jo Ward | 24 | Beantown | all 3 |
| Lyn Wissmiller | 27 | Chicago North Shore | Fiji and New Zealand |

Chris Ryan was the tour manager, and I the coach, for both tours; Beet McKinnon the physio in Fiji and New Zealand and Doc Sue Bercuk in Hong Kong. Program Director Al Caravelli assisted with the coaching chores in Hong Kong. Accompanying the team to Fiji and New Zealand were Chad Wamsley and my son Stephen Signes.

Leg 1: Fiji
There is nothing better for a sevens player than a "working" trip to Fiji. We were in the national newspapers every day we were there; recognized on the streets of Suva and in the village where we stayed, and were guests of Ambassador David Lyons at the US Embassy.

From the playing perspective, there was a bit of a hiccough along the way, with a 7-0 loss to Touch Down, the Fiji touch rugby team preparing for the South Pacific games. Nevertheless, a final match vs. the Fiji national team, with 8 of the same 10 players resulted in a decisive 21-0 win.

Fiji, as sevens-mad as it is, however, is also much more than a rugby experience; it is that trip to a South Pacific paradise some of us dreamt about when reading childhood novels of adventure.

Jeremy Duxbury & Teivovo. We have been trying to get to Fiji for a sevens tournament for several years, and the Fiji women have been trying – unsuccessfully until now – to return to Hong Kong for the first time since 1997, and to qualify for the Women's World Cup in 2006. Through the good offices of Jeremy Duxbury, publisher of Teivovo Magazine, not only Fiji's rugby magazine but also the biggest circulation magazine in Fiji, we were able to arrange for a women's bracket at the Lomaiviti Sevens.

Franck Boivert. Also instrumental in helping to arrange our tour was Franck Boivert, former US women's coach, current Stanford coach, and a half-time resident of Fiji. In particular, his recommendation of the Fiji Beach House on the Coral Coast was to lead us to three days in paradise.

Jone Ratu. During all my previous rugby visits to Fiji, our liaison was former Fijian international Jone Ratu. Jone is also an employee of the Fijian hotel, and I emailed there to try to track him down. Luckily he was on leave and ended up joining us for the entire trip, adding value in many, many ways.

Departure and Arrival. The team gathered at LAX on Saturday afternoon February 1. Many people arrived several hours ahead of time: it was, after all, mid-winter, and a missed flight would have meant 3 days delay getting to Fiji, as the next Air Pacific flight was on Tuesday. We arrived in Nadi at 5:15 AM Monday.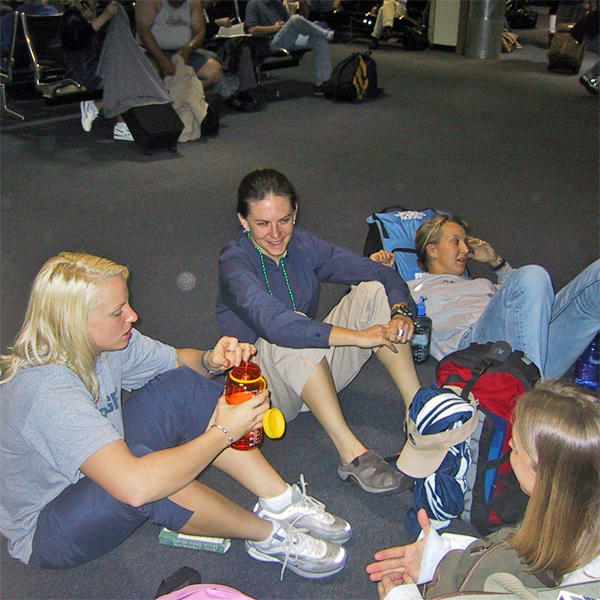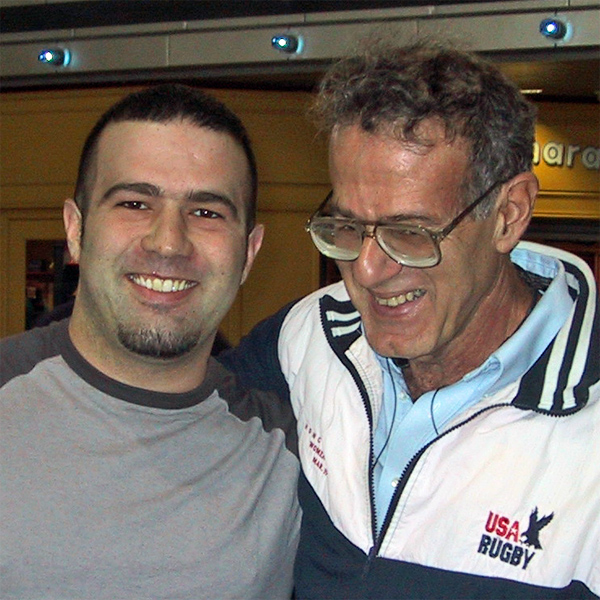 01-Jen Jess Dana @ LAX-600s.jpg / 01-Steve & Emil @ LAX-600s.jpg

Relaxing at LAX Airport: Left, Jen, Jess, Dana; Right: my son Stephen and I



Another contact in Fiji was Laisa Vulakora, whom Franck describes as "the Tina Turner of Fiji." She met us at the airport, organized a bus for us as well as a trip to Natadola Beach, considered by many as the most beautiful beach on Viti Levu, Fiji's main island. Isolated and difficult to get to, it was a great start to the weekend (as we arrived in Nadi at 5:15 AM, it was a nice early morning swim, especially as a transition from mid-winter in the US). Unfortunately for the environment, the tourist industry has discovered Natadola: the dirt road and one lane wooden bridge over which we traveled there are being replaced, and within 3 years there will be 3 sparkling new luxury hotels there. (Note of 2014: not sure what has happened to Natadola Beach in intervening 11 years.)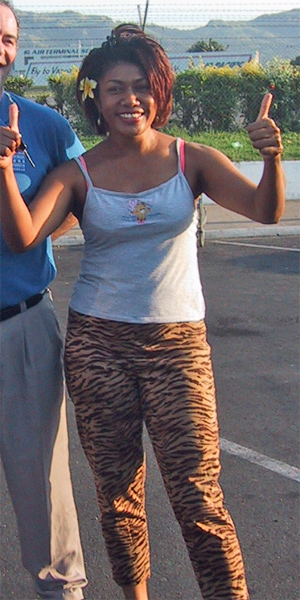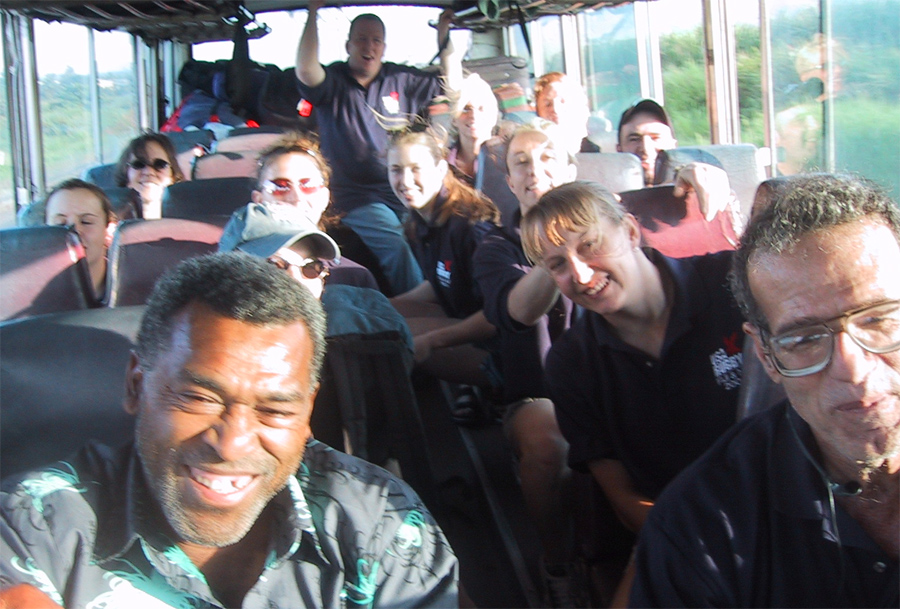 0303-Laisa at airport-600h.jpg / 0303-Bus to Natadola-900w.jpg
Left: Laisa Vulakora ("Fiji's Tina Turner") meets us at airport / Right: Bus en route to Natadola Beach; Jone Ratu lower left

Note of 2014: It should be clear from the way the bus had to get itself to Natadola (on the platform of a small-gauge railroad track) that in 2003 this was a not-well developed area. I brought along Osito, pictured below, to act as a mascot on all three 2003 Eagle tours. If memory serves me right, we arrived at the beach shortly after 6 AM, and it was a very pleasant "wake up in Fiji" event.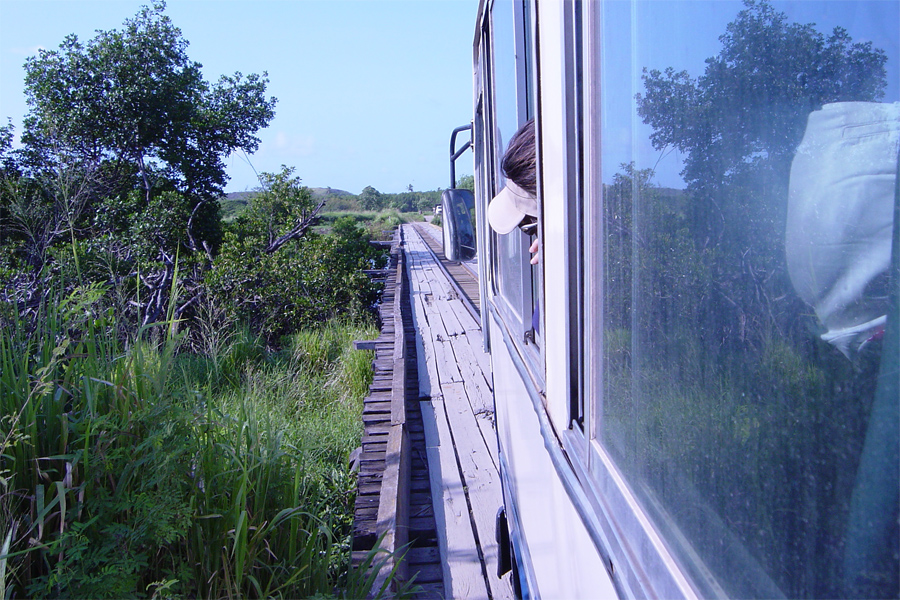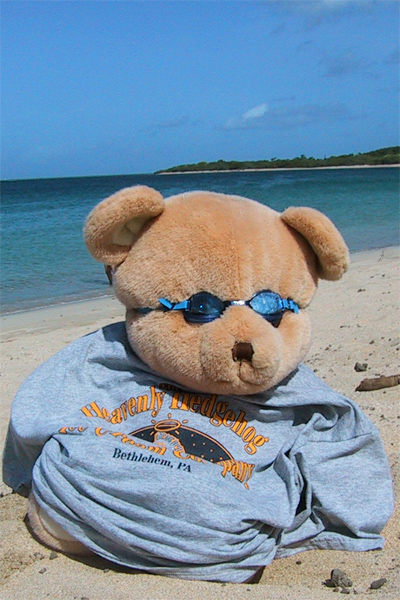 0303 Bus on tracks-DSC00086-600h.jpg / 0303 Osito @ Natadola-IMG_2719-600h.jpg
Left: Bus to Natadola runs across small-gauge track to get there
Right: Osito enjoys the beach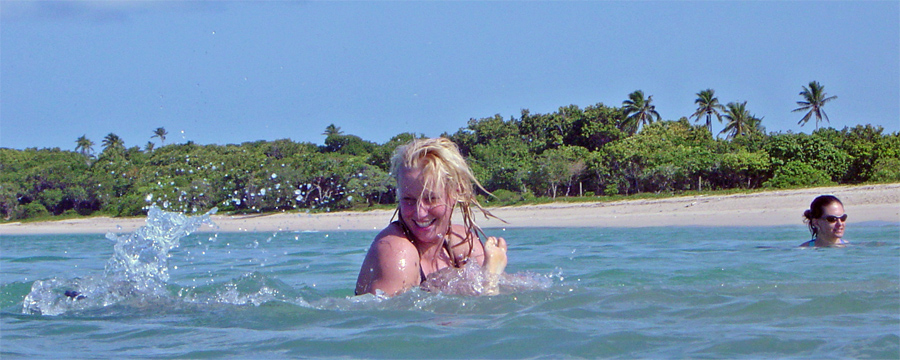 0203-Jen & Jess & X on beach-DSC00096-900w.jpg
Jen and Jess in water. Looks like a snorkeler's foot is motoring by Jen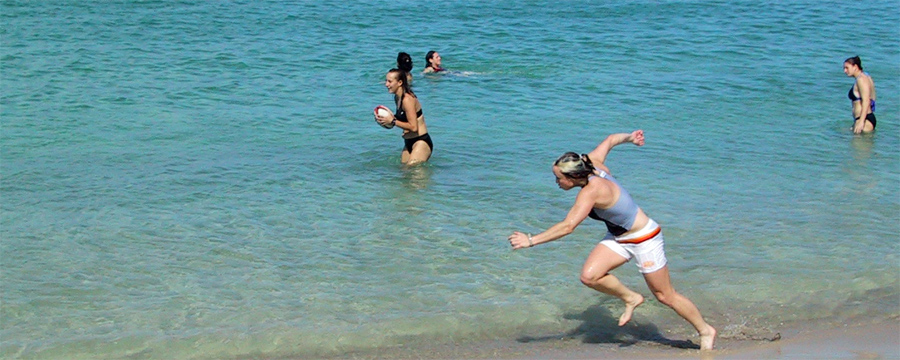 0203 Pam running on beach Dana w ball-IMG_2717-900w.jpg

Dana and Pam get into rugby mode on beach. They were also the two tour comedians



Fiji Beach House, Navola. Billed as a resort for backpackers, the Fiji Beach House has very few amenities: no air conditioning, no hot water, communal bathrooms, and yet . . . and yet it was like being in paradise. The dense foliage and the breeze through the room windows in the evening kept us cool, the local village of Navola lent us their rugby field for practice and rented us a TV-VCR. They also invited us over to share yaqona (kava) with them, at which time we presented them with the traditional gift of waka (the root from which yaqona is made). From the Beach House to Navola was a 10-minute walk through a black night with a sky filled so densely with stars that no city dweller can even imagine.

In between our 7 AM and 3:30 PM practices, team members had their choice of relaxing, scuba diving, and other activities.

2014: Fiji Beach House. Although these trips are always too short, it was a pleasure to have been able to spend these few days here. As noted, the sleeping arrangements were satisfactory, the surroundings were beautiful, between the beach and the shaded and indoor common areas, we had plenty of time to "hang out," and there was time for some organized snorkeling and other activities for those that wished to participate between practices.

And then there were the wonderful massages.

There were signs warning us of the dangers of falling coconuts and of the dangers of going beyond the swimming lagoon into the whitewaters of the Pacific, but we managed to stay clear of these dangers and were safe.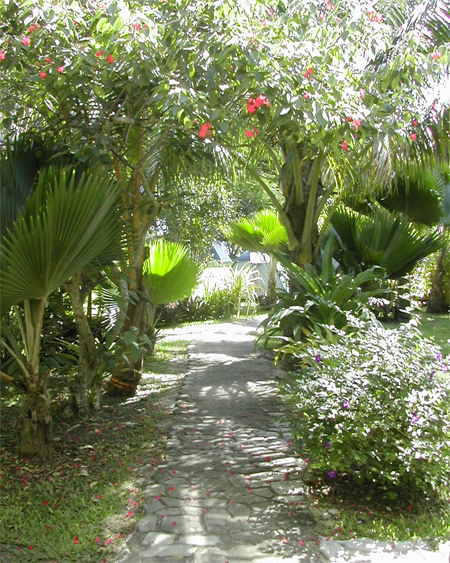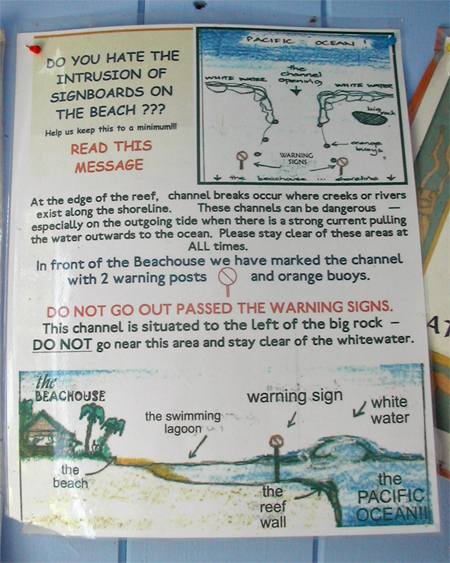 0204-1-fijibeachhousepath-450w.jpg
0204-1-warning sign1-DSCN0550-450w.jpg
Left: Path on Fiji Beach House property / Right: Warning Sign (beware the whitewater)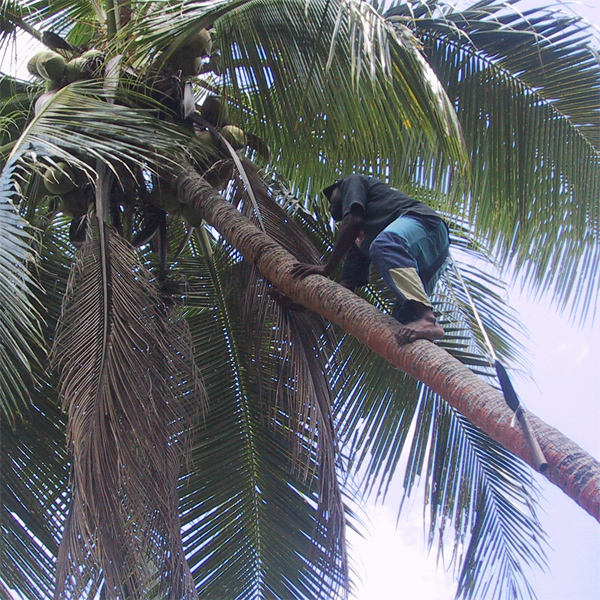 0204-3-Warning coconuts-DSCN0549-600s.jpg
0204-4-Climbing for coconuts-IMG_2792-600w.jpg
Left: Warning about Falling Coconuts / Right: Hotel Worker Climbs for Coconuts
0204-6-One of our rooms-IMG_2734-600s.jpg
0204-7 Jess on hammock-600w.jpg
Left: One of our rooms at Beach House / Right: Jess relaxes at Beach House Beach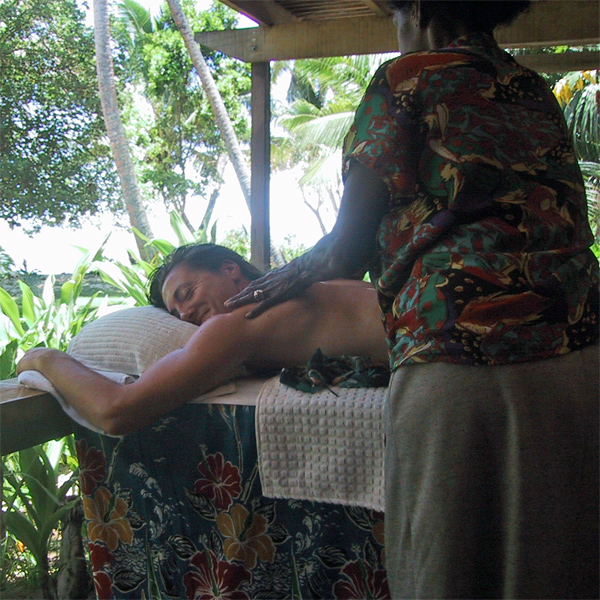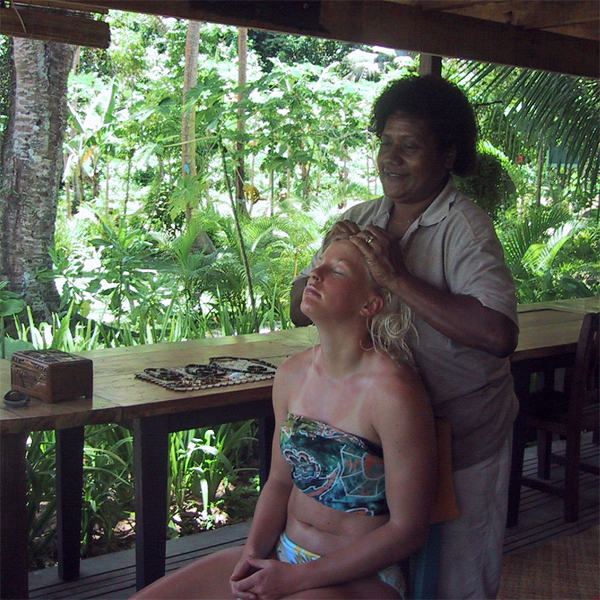 0204-8-Katrinka on massage table-IMG_2801-600s.jpg
0204-9-Jen being massaged-IMG_2803-600s.jpg
Massages at Beach House. Left: Katrinka / Right: Jen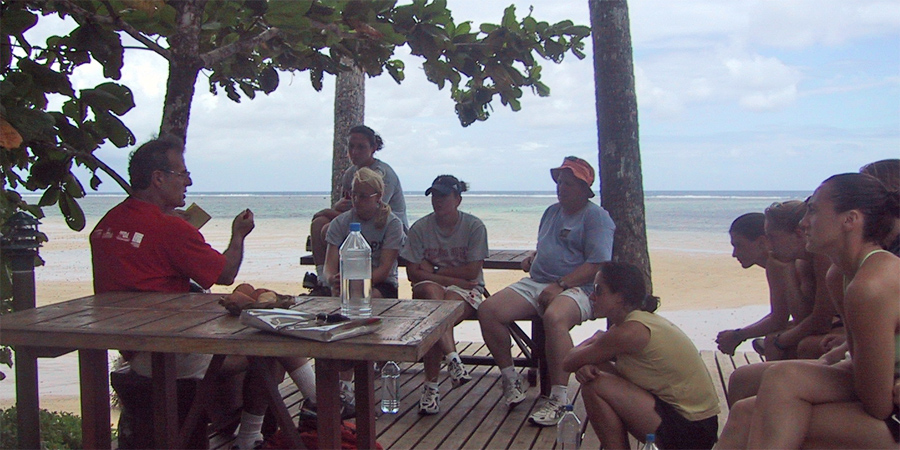 0204-9a-Coaching session-IMG_2808-900w.jpg

Reminding us all why we're there, I conduct a pre-practice coaching session



2014: Practices at Navola school. We practiced on the grounds of the Navola elementary school, and therefore had to get our practices in before and after classes. This meant practicing at 7 AM and again at 3:30 PM. This in turn meant getting up not much later than 6 AM. This was actually OK because we wouldn't have wanted to practice in the midday heat anyway; the 7 AM practices provided the perfect weather for us. And it's not like this was a night-owl kind of place anyway. It was about a 10-minute walk, up a slight hill, down a slight hill, to a school whose roof was a beautiful Atlantis aqua. We passed by the sign for the village of Navola and a bunch of kids waiting for the school bus.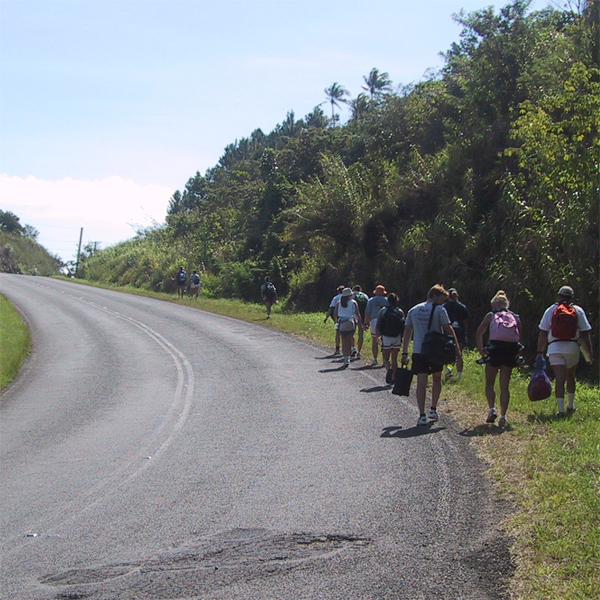 0204-10-Walk to Navola school-1-IMG_2741-600s.jpg
0204-11-Walk to Navola School-2-IMG_2746-600s.jpg
Walk from Beach House to Navola School Field. Left: start. Right: end in view. We practiced in front of the Atlantis colored roof:)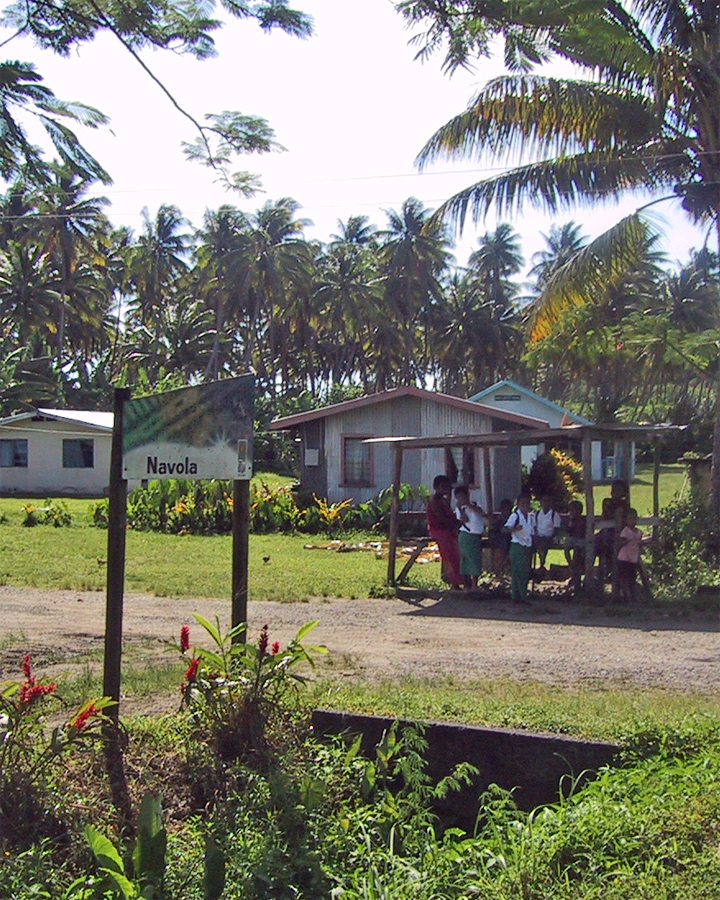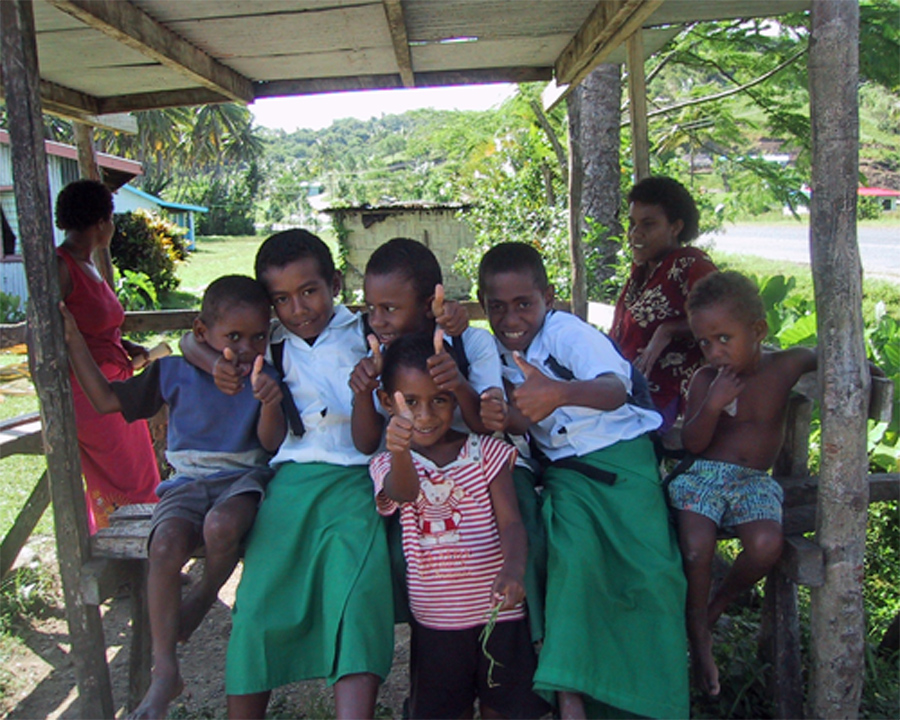 0204-12-Navola signIMG_2748-900h.jpg
0204-13-Kids at Bus Stop-IMG_2750-900w.jpg
As we walk into Navola proper for our 7 AM practice we walk by a bunch of kids waiting for the bus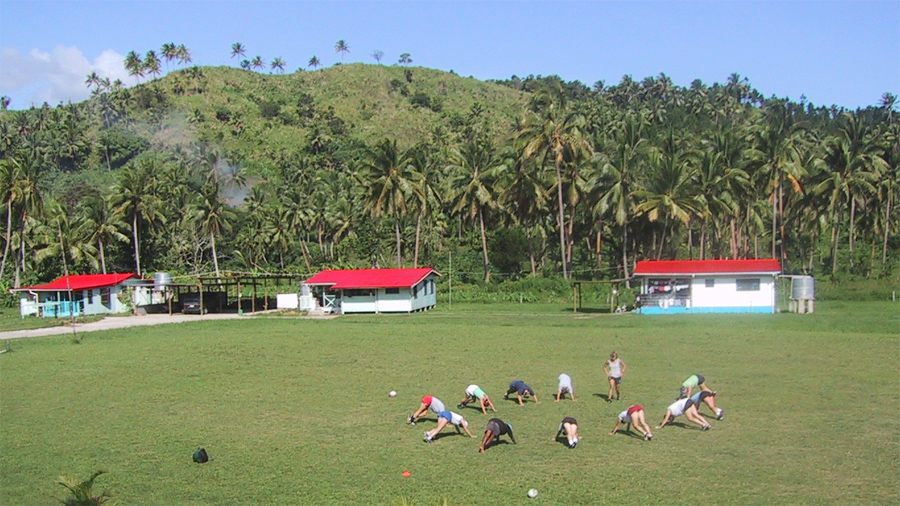 14-B-2003-02-04c warming up at school.jpg
15-B-2003-02-04f LO practice.jpg
Left: Warming up at Navola school field
Right: Lifting Lindsay in lineout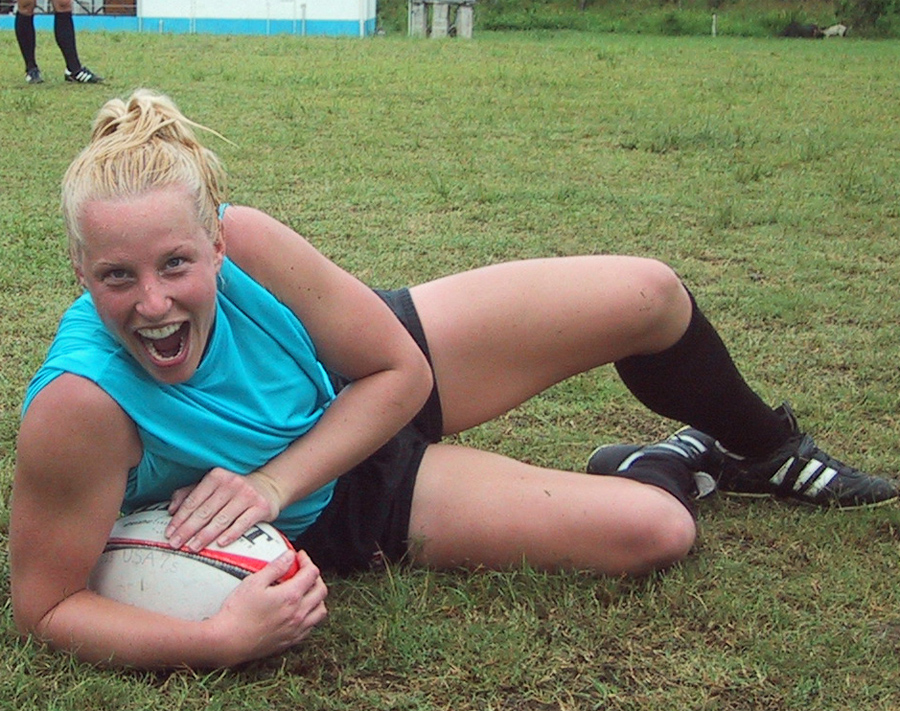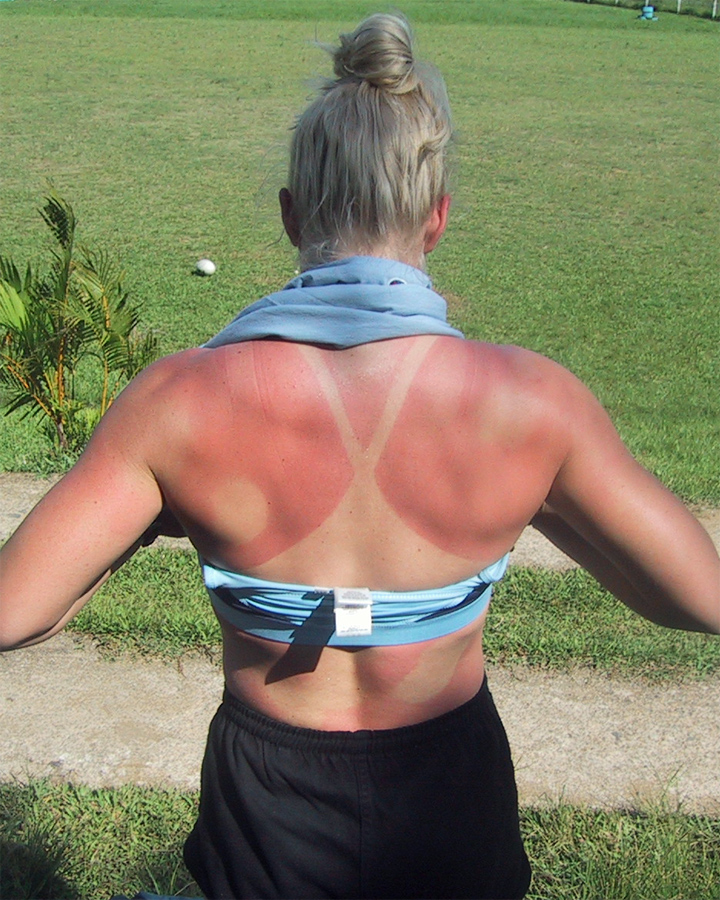 0204-16-Sinkler at practice-900w.jpg

0204-17-Sinkler with sunburn-IMG_2759-900h.jpg

Jen Sinkler at 2 practices: early AM and later in PM after a day in the sun
Blondes that don't use sunscreen: yikes!



2014: Jen Sinkler has weighed in on the tour and on her sunburn. "Aww, so much fun! The Fiji-New Zealand trip was my favorite tour ever. Except... Lindsay should not be allowed to (pretend to) work the sunscreen bottle. That burn...." She didn't specify, however, exactly what Lindsay did or didn't do.

We were also joined for two practices by Jese Venaisi, a resident of the local village of Navola, who demonstrated fabulous skills and sidesteps. She wasn't even in the loop for the tournament we were to play in on the weekend (but based on our observations should have been). Jese grew up in a family of rugby-playing brothers, one of whom now plays for the Fiji national Rugby League team. Jese's "being in the wilderness" made me realize just how good Fiji women could be if someone was out there actively looking for them.

2014: Jese was amazing! She participated in both practices barefoot, had a fabulous sidestep, great speed and could effortlessly make 25-30 yard passes. If she'd been an American, I'd've had her at my next camp, whatever it took to get her there. As noted above, she comes from a successful rugby playing family which made it even more surprising that, once we got to Suva, it seemed as though no one had ever heard of her.

2014: From Katrinka. "Your comments about Jese are spot on. The thing about Fiji is that we were there chosen after tryouts etc. and in any number of villages you might find some talent just as good or better than ours! That is why as a rugby player you have to go somewhere that lives rugby--then you understand potential and how good you really are (or not)."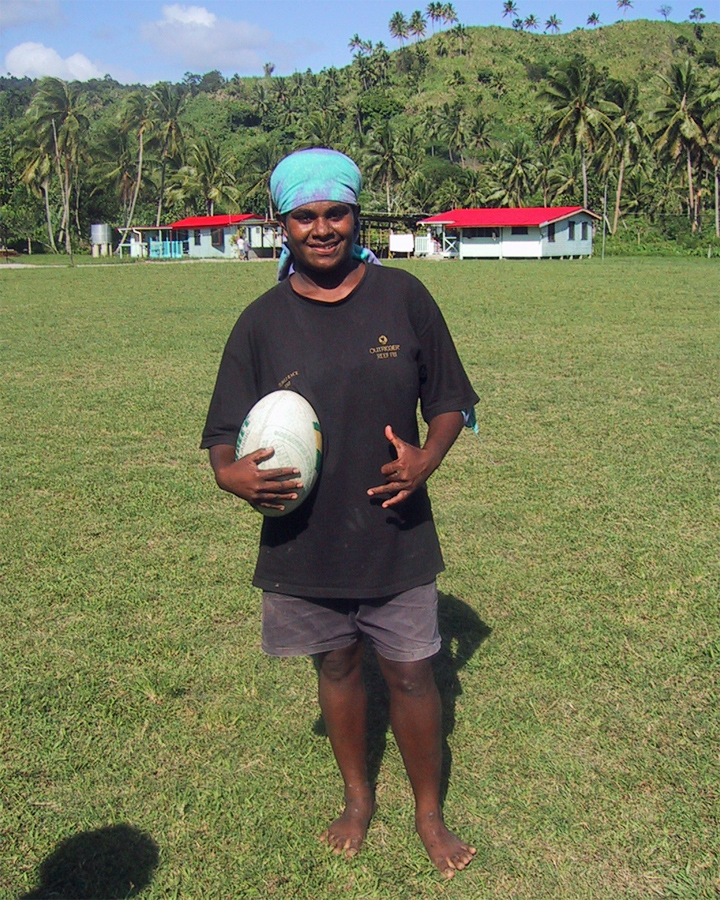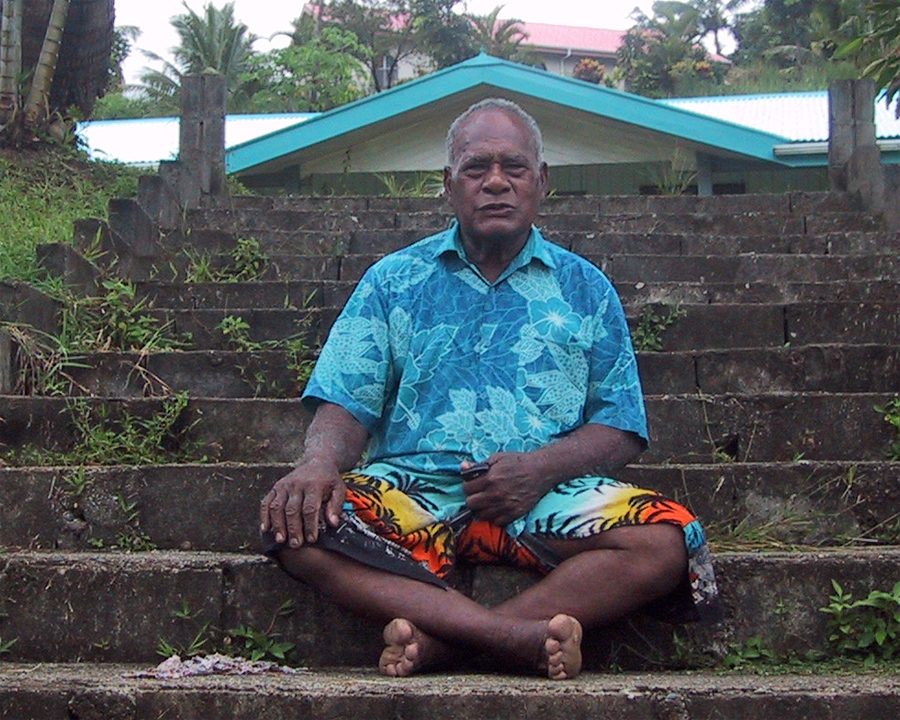 0204-19-Jese Venaisi-IMG_2771-900h.jpg
0204-20-Interested observer-IMG_2827-900w.jpg
Left: Jese Venaisi / Right: Interested observer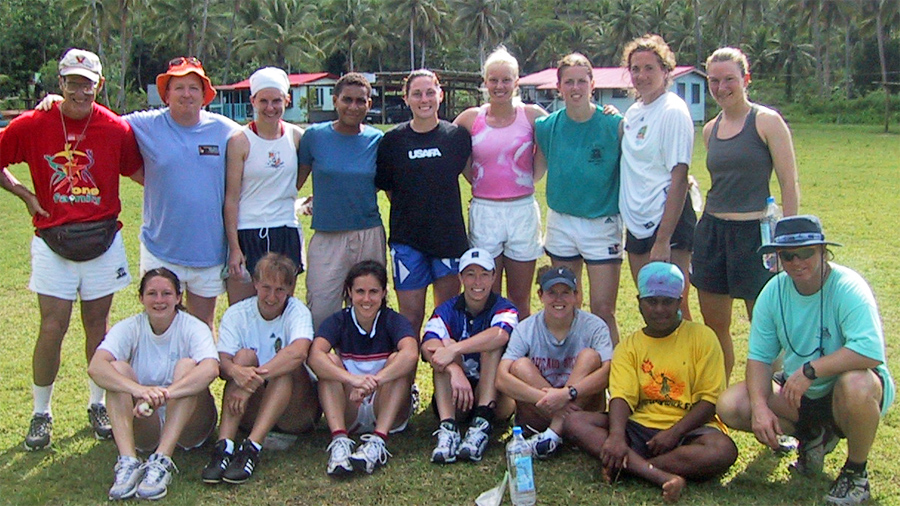 0204-18 Group & guests at practice-900w.jpg
Tour party and guests following one of our practices
Standing, L to R: Emil Signes, Chris Ryan, Jess Hammond, Fiji guest, Laura McDonald, Jen Sinkler, Jo Ward, Katrinka Blunt, Liz Reed
Seated, L to R: Ashley Farmer, Dana Creager, Lindsay Davison, Pam Kosanke, Lyn Wissmiller, Fiji guest Jese Venaisi, Beet McKinnon



Yaqona in Navola. We were invited, perhaps as renters of the school field, to attend a yaqona (pron. yanggona) ceremony in Navola. (Yaqona is the Fijian word for what we more commonly refer to as kava.) As part of a "sevusevu" (small offering) I brought a half kilo of waka (root of the yaqona/kava plant) as an offering to the village. During a visit to Fiji with the Atlantis men in the late 90s, we had so much grog (another word they use for the resultant drink) in the village of Rukurukulevu that all of us slept the entire hour of our trip back to our hotel (I met one of the villagers in Hong Kong a month later and he commented "Man, we had a lot of grog that night!" Yes we did). This evening's libations were much shorter, more like a couple small bowls each.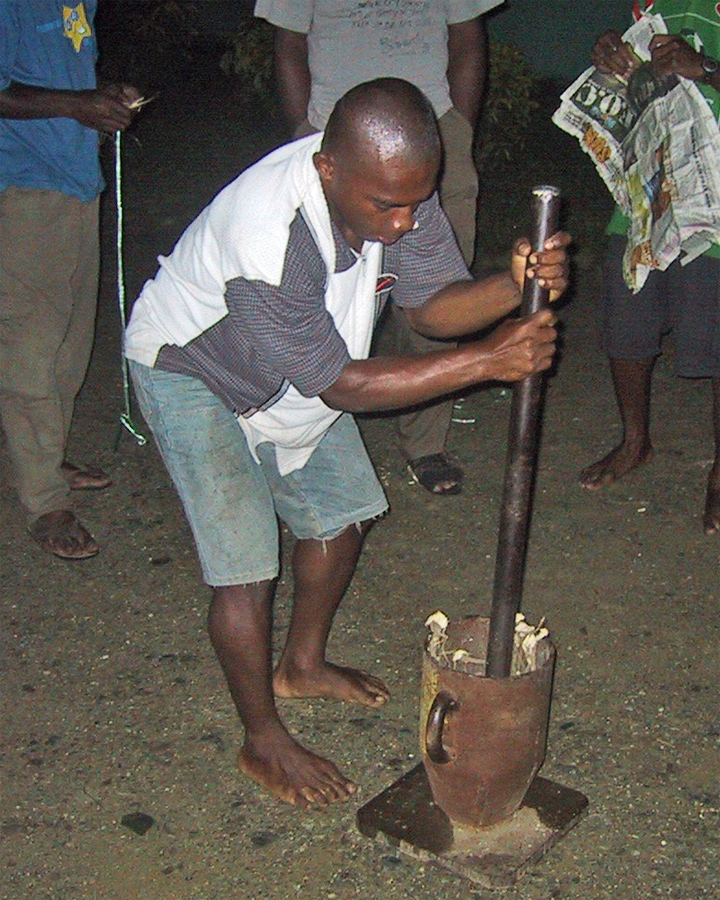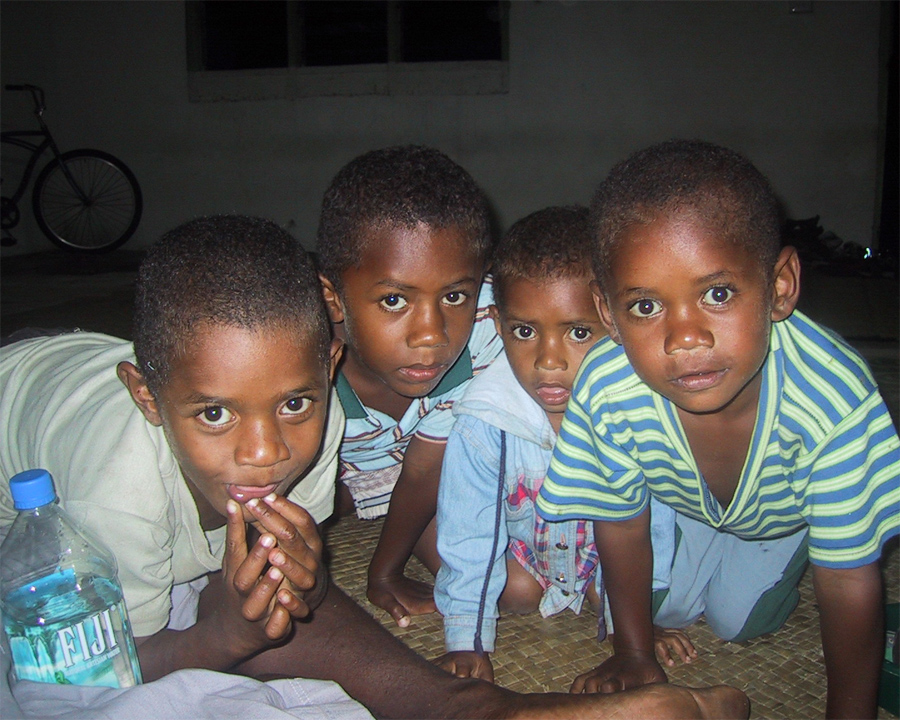 0204-24 Preparing the grog-900h.jpg
0204-23-Fiji kids at kava evening-900w.jpg
Navola man prepares the yaqona for the ceremony while a bunch of Navola kids hang out with us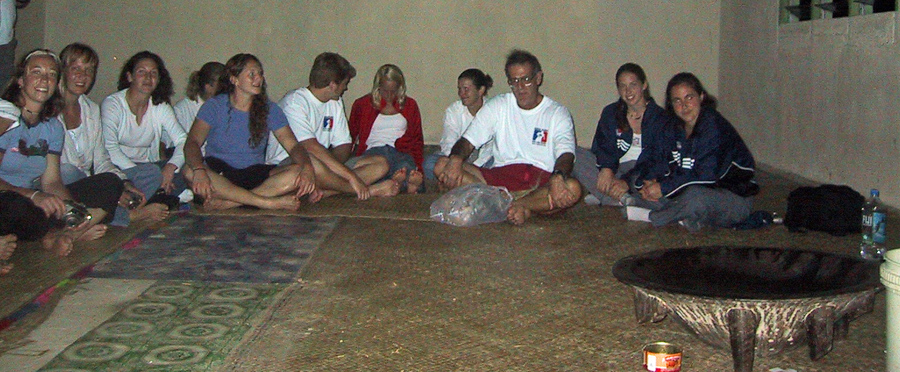 0204-21-Waiting for Kava-900w.jpg
Seated and waiting. In front of me is a package of waka, the root from which the yaqona is made, as a gift for the village of Navola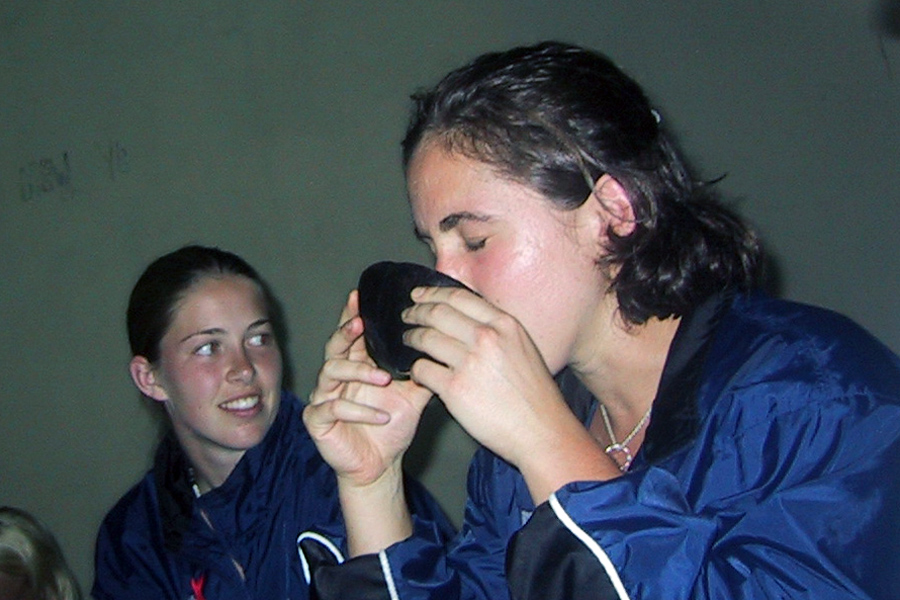 0204-22-Lindsay drinks the grog-900w.jpg

Lindsay has a taste; Joanne in background



Note of 2014: Note the bottle of FIJI Water in the picture of the kids. From the fijiwater.com website, "The natural artesian water from FIJI Water comes to you straight from the isolated and idyllic Fiji Islands without ever being touched by man." I'm sure this is true, but --- and I'm sorry none of us took a picture of this - we were also amused that every bottle of FIJI water we got in Fiji had the ubiquitous deposit announcement on the label (for US states only): CA 10¢, DE 5¢, etc.; it struck us as odd as well as slightly amusing.

US Embassy, Suva. Our stay in paradise was shortened by a couple of hours Thursday. We received a call from the US Embassy saying that Ambassador David Lyons had read in the newspaper of the arrival of a national US team and wanted to meet us. We left the Beach House at 8 AM Thursday and arrived at the Embassy at 9:30 AM for a very nice visit with the Ambassador and his staff.

While we were there, who should pop in but Tiffany Capdeville and a couple of her Chico State teammates [Note of 2014: Tiffany Capdeville was well known in rugby circles at the time as she was the captain of the Chico State team that upset both Princeton (Semifinal) and Penn State (Final) in the USA Rugby Final Four to win the national collegiate championship in 2001]. They were in Fiji to visit and were invited to fill out the Teivovo team to participate in the women's tournament. I had tried to get Tiffany to sevens camp for a couple of years with no success, and it was an interesting surprise that I would first get to see her play sevens in Fiji, and, as it was to turn out, against us.

2014, Katrinka writes: "I appreciated how enthusiastic the ambassador was to meet us. It felt great to be recognized for representing our country."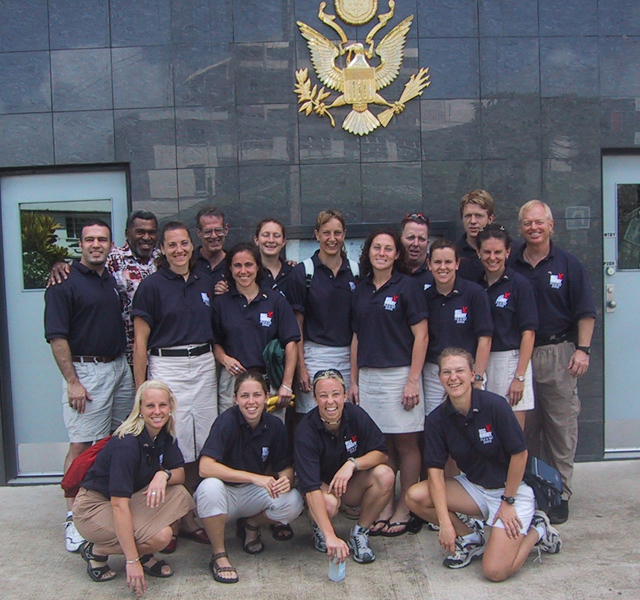 24-B-2003-02-05g USW at US embassy in Suva.jpg

Tour party at US Embassy

Back: Stephen, Jone, Katrinka, Emil, Lindsay, Ashley, Dana, Laura, Chris, Lyn, Chad, Jess, Beet
Front: Jen, Jo, Pam, Liz



2014: Suva. We stayed at the Travel Inn in Suva, a completely no-frills hotel, but we didn't spend much time there, so frills weren't needed, all that mattered was that we got a good night's sleep. We practiced in Suva and wandered the streets a bit. We passed a McDonald's en route, I remember some discussion as to whether to eat there, and there might have been a couple that did; no longer sure ... Later, as it was Chris Ryan's birthday we decided to create party hats and celebrate.

The evening concluded with a fine session and a jersey presentation.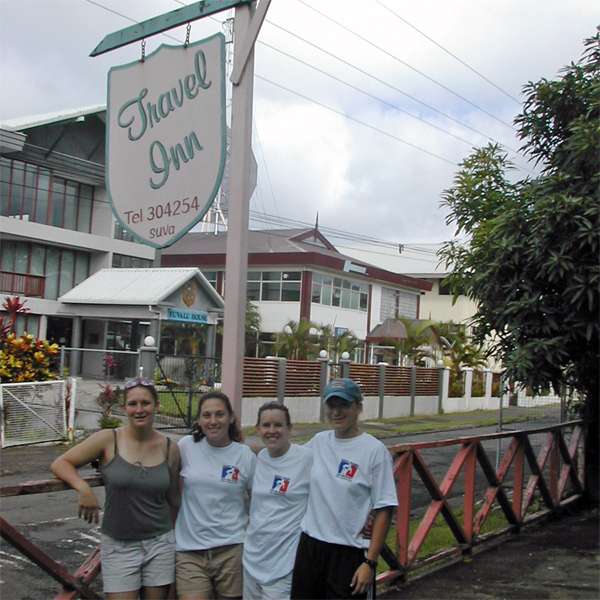 0209-30-at Travel Inn-DSCN0566-600s.jpg

0206-30a-practice in Suva-IMG_2876-900w.jpg

Left: We settle in to the Travel Inn in Suva / Right: final practice before tournament



2014: We appeared in a articles in a couple of Fiji newspapers and this publicity combined with the fact that 11 white girls wandering together around Suva in similar attire was a pretty unique sight meant that we were recognized and greeted, sometimes with car horns, but at least waves, smiles and a friendly "Bula!" on several occasions. The following picture took up the entire back page of a Fiji tabloid (sadly I didn't keep the picture of the entire page, which would have been a nicer historical document than just the photo).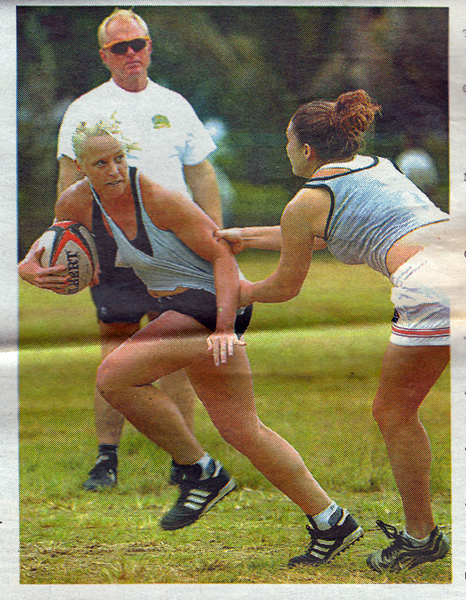 0207-26a-sinkler in fiji paper-600h.jpg
Entire back page of Fiji tabloid, Friday the 7th, I believe
Ashley? Katrinka? grabs Jen at Suva practice session; Beet looks on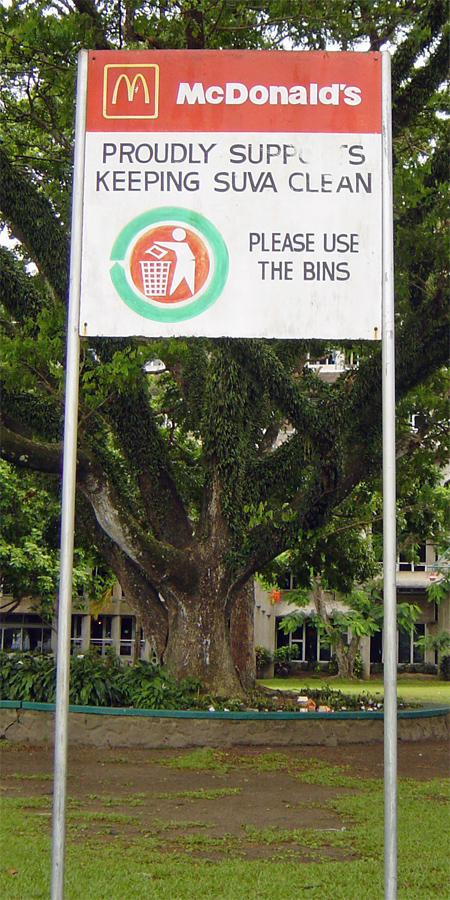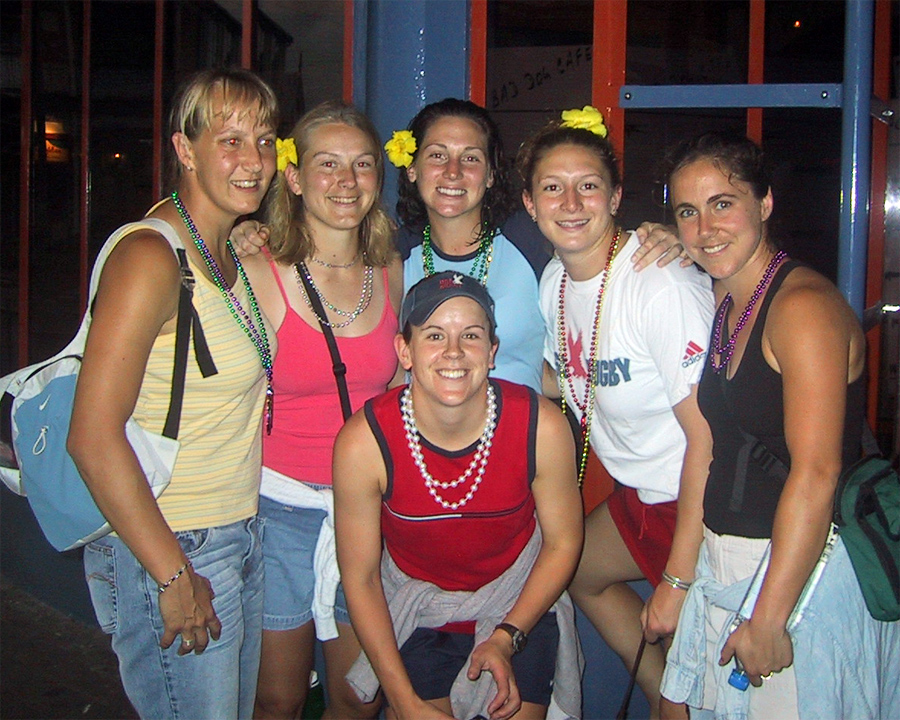 0207-27-McD sign-900h.jpg
0207-27b-Dana-Liz-Laura-Ashley-Lindsay-Lyn-900w.jpg
We found a ubiquitous McDonald's in Suva; my recollection, however, is that most of us headed elsewhere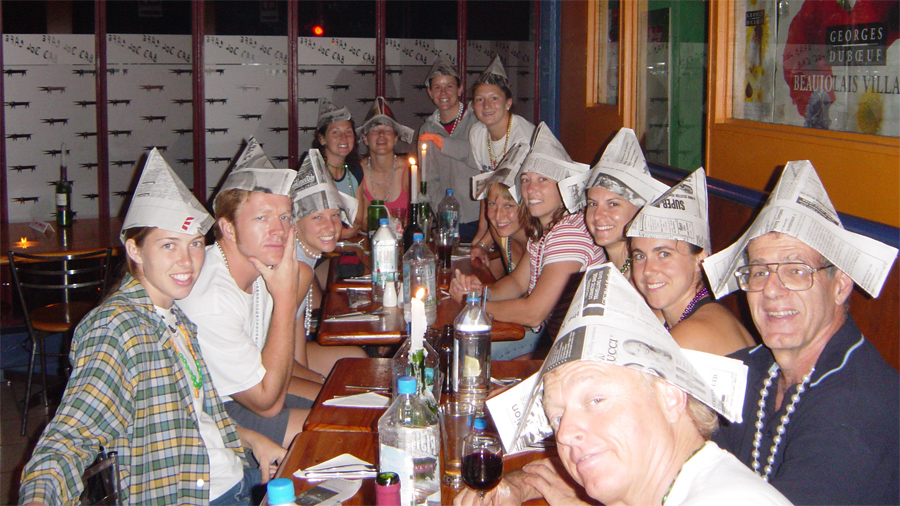 0207-28-Chris Ryan b-day-DSC00266-900w
The evening before the tournament we celebrate Chris Ryan's birthday
(He must have taken the picture)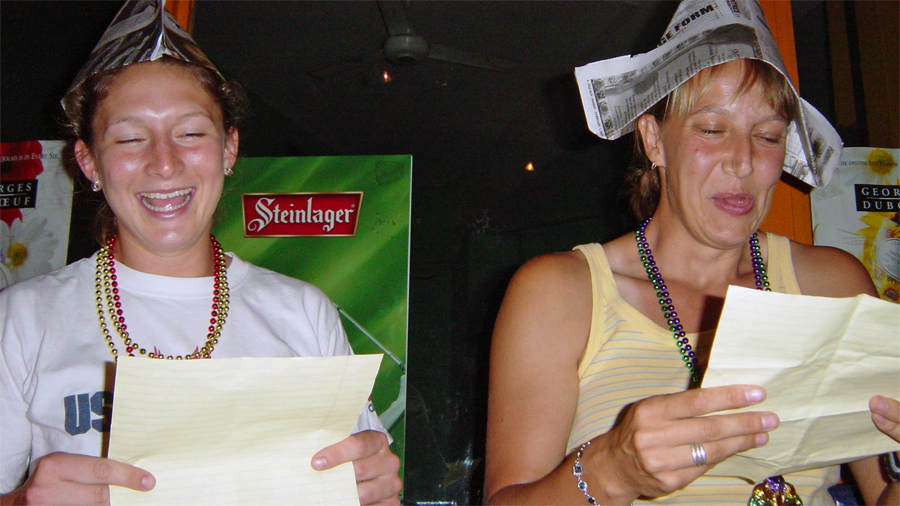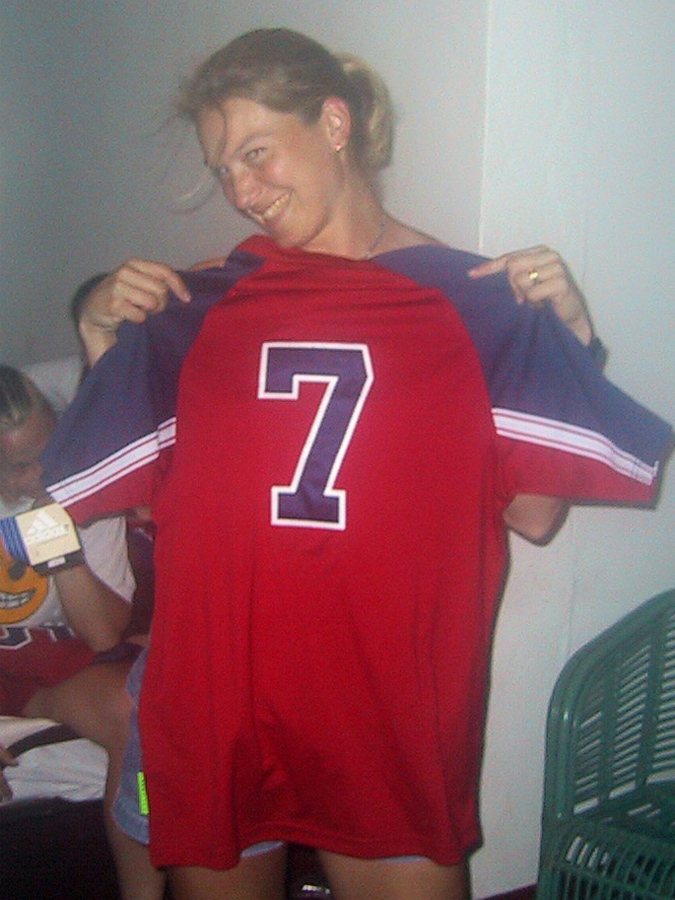 0207-26-Finemasters-DSC00270-900w.jpg

0207-29b-Liz jersey-IMG_2891-900h.jpg

Following a hilarious fine session (Ashley & Dana), we present jerseys (Liz gets hers)


BP Oil Series and the Lomaiviti Sevens: the event. Following a day and a half in Suva, we headed to Nausori for the Lomaiviti Sevens. The BP Oil Series is the Fiji domestic equivalent of the IRB World Sevens Series: it is held over 11 weeks in December through March and points are assigned based on each week's results. The Lomaiviti Sevens is Leg 6 of the 11-leg series.

Jeremy and I had been in contact for more than a year trying to arrange for the US team to participate in a sevens tournament in Fiji. As we had asked for a weekend prior to or following the Whangarei Sevens (one trip to the South Pacific in our winter is prohibitively expensive let alone two!) Jeremy contacted the organizers of the Lomaiviti Sevens to see if they'd be willing to host a women's bracket. They said yes and the tour was initiated.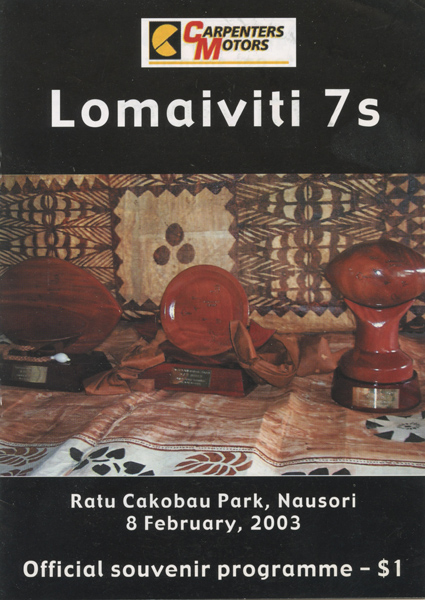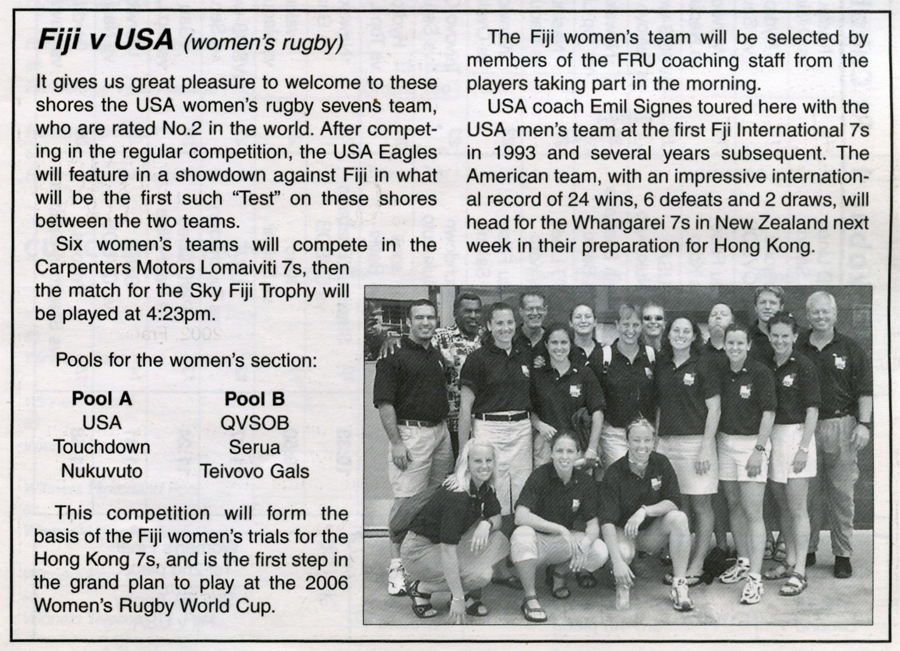 0208-Lomaiviti program-600h.jpg

0208-Lomaiviti program page Fiji v US-900w.jpg

Program for Lomaiviti 7s, with details about women's competition


Participants. Originally there were teams from New Zealand and Australia scheduled to participate, but in the end it was just us and five Fijian teams. For the Fijians, this was the primary selection vehicle for the team to represent Fiji in Hong Kong.

At any rate, because of the small number of teams, it was agreed that we should play a tournament plus a sevens test match, USA vs. Fiji. It was a good thing we incorporated the test, or we would have left the tournament very disappointed tourists!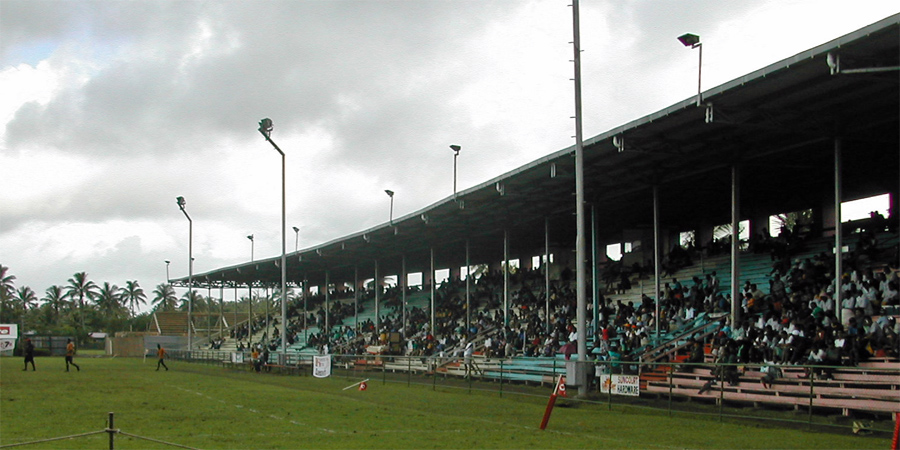 0208-31-Albert Park stands-900w2x1.jpg
The stands in Ratu Cakobau Park in Nausori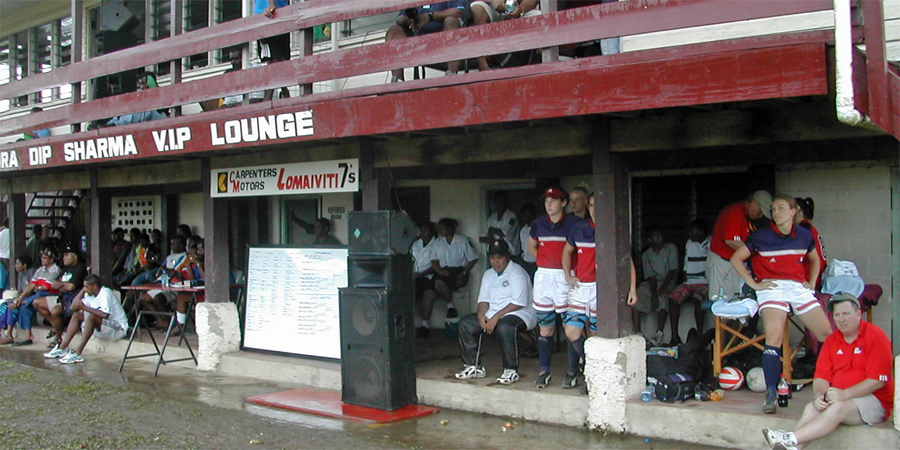 0208-32-Team under shelter-DSCN0564-900w

On the other side of the field: keeping under shelter during the rain



In our first game, the Eagles cruised to an easy 40-0 victory over Nukuvuto, and there was a sense that the tournament would be ours in a walk-over. Any thoughts along those lines, however, were dismissed when we were shocked 7-0 by the Fiji national touch rugby team in preparation for the South Pacific Games to take place later this year in Suva.

Touchdown kept the ball away from us for most of the game, and although our defense was superb, we seemed to forget that the object of the defense is to get the ball back, not just to stop the opponent's attack. Following a mediocre 14-0 victory over invitational side Teivovo, which included top US player Tiffany Capdeville, the team decided - 2014: belatedly I give full credit in print to Chris Ryan for the emphasis - to focus on forcing turnovers in the test match vs. Fiji. This strategy paid off and the Eagles' stifling defense never allowed Fiji room to breathe. And we got several turnovers. The game was played entirely within the Fiji half and resulted in a "never in doubt" 21-0 victory.

2014: Our tries were scored by Jo Ward, Katrinka Blunt and Ashley Farmer. Pam Kosanke converted all 3, one from the touchline, wowing the crowd. At least two of the three tries resulted from turnovers. This article currently resides in two places: http://www.erugbynews.com/goffonrugby/archive/Articles/usawomen7s021003.htm and
http://www.rugbymag.com/usa-sevens-women/10245-usa-takes-7s-test-in-fiji.html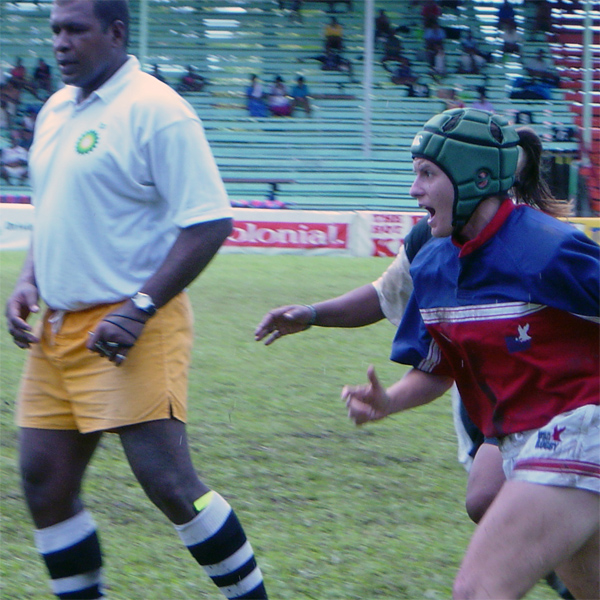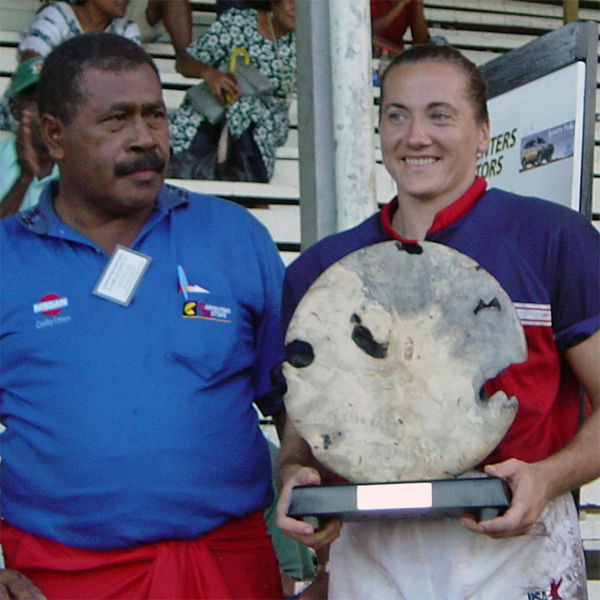 0208-33-Ralphie running-600s.jpg

0208-35-Katrinka gets trophy-600s.jpg

Left: Our only action picture of the day; Ralphie (Jess) heading somewhere fast
Right: Katrinka with our championship trophy after defeating Fiji



2014: It was nice to see Nas (Anasa Koroitamana, whom I coached at Philadelphia-Whitemarsh) at this tournament, as he was back in Fiji, and Nausori - location of the tournament - is his hometown. More than 10 years later, I was on the sidelines against Nas, as I was an assistant coach with both Princeton U. women and Lafayette College men at the USA Rugby Collegiate Sevens championships in North Carolina in December 2013. He was coaching Sonoma State men and they won the 3rd place game against Lafayette.

2014: In her comments on the draft of this article, Katrinka noted the following: "If you are going to play in Fiji you have to be ready to be laughed at... the crowd reacts in ways different than its American counterpart and you have to be prepared to not let it get in your head." This is a significant observation that I first noticed on my first trip to Fiji, in 1993 with the US men. The crowd laughs at mistakes, even little ones. Imagine, if every time a football wide receiver dropped a pass, the entire crowd burst into laughter. It can be a bit disconcerting, but after a while, when you recognize this is just part of the culture, you (hopefully) learn to dismiss it.




Team Lineups, USA vs Fiji

| | | | | |
| --- | --- | --- | --- | --- |
| Fiji | | | USA | |
| Name | Club | Pos | Name | Club |
| Siteri Rasousou | Touchdown | 1 | Katrinka Blunt | BASH |
| Merewalesi Buloulevu (capt) | Touchdown | 2 | Laura McDonald | San Antonio |
| Tanya Vatubua | Touchdown | 3 | Ashley Farmer | West Chester U |
| | | | | |
| Salote Tikoisuva | QVSOB | 4 | Jess Hammond | New Orleans |
| Merewai Sokovata | Touchdown | 5 | Pam Kosanke | Chicago North Shore |
| Merelesita Koroi | Touchdown | 6 | Jen Sinkler | Minnesota Valkyries |
| Anaseini | Touchdown | 7 | Jo Ward | Beantown |
| | | | | |
| Lavenia Yalovi | Touchdown | R | Dana Creager | NOVA |
| Toni Ratabua | Touchdown | R | Lindsay Davison | Beantown |
| Elenoa Kunatuba | Teivovo | R | Lyn Wissmiller | Chi. North Shore |
| | | R | Liz Reed | St. Louis |
Individual Scoring, USA at Lomaiviti Sevens

| | | | |
| --- | --- | --- | --- |
| Name | T | C | Pts |
| Pam Kosanke | 2 | 9 | 28 |
| Jen Sinkler | 3 | 0 | 15 |
| Jo Ward | 2 | 1 | 12 |
| Ashley Farmer | 2 | 0 | 10 |
| Katrinka Blunt | 1 | 0 | 5 |
| Liz Reed | 1 | 0 | 5 |
| Total | 11 | 10 | 75 |
| Opponents | 1 | 1 | 7 |

We were all invited to Jeremy's house that evening where we watched New Zealand hold off England to win the Wellington Sevens. And met up with the Fijian players and socialized.

Katrinka, 2014: "The party was a blast and if anything can be said about the rugby community in Fiji it is that they are truly friendly and welcoming."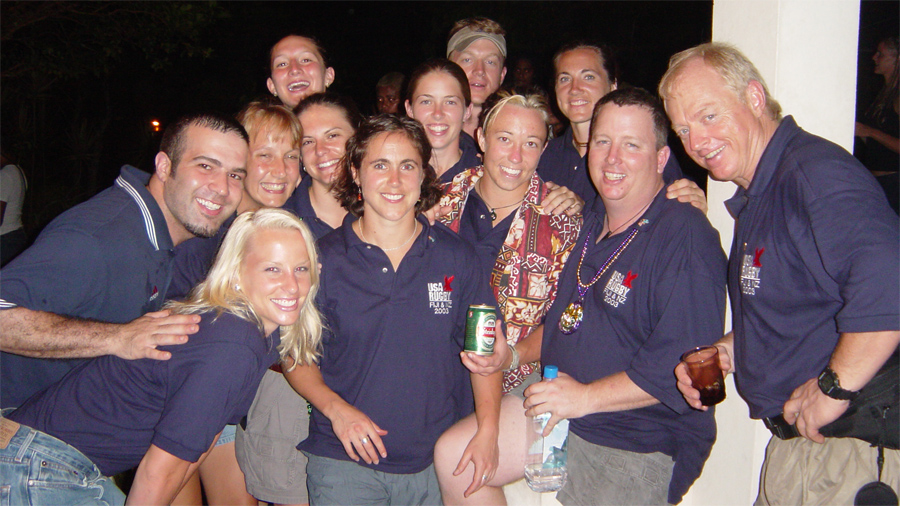 0208-36-Eagles at party-DSC00314-900w.jpg
Most of us gather for a final photo before leaving the party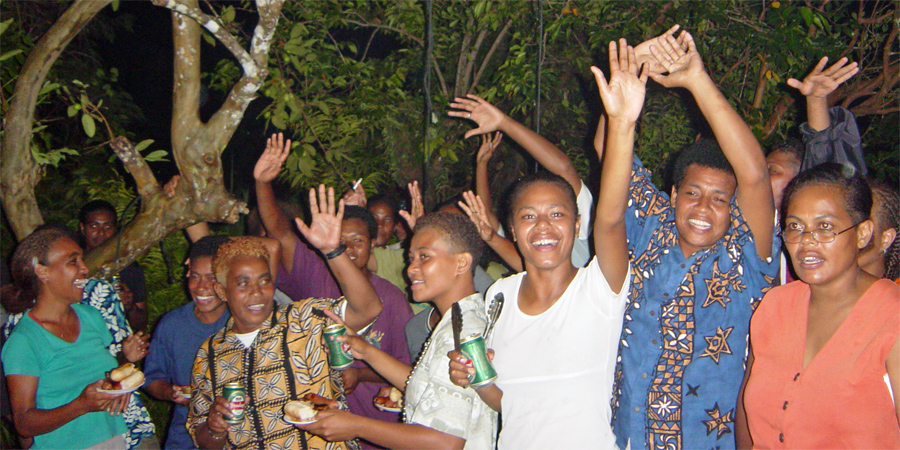 0208-37-Fiji girls sing Isa Lei-900w.jpg

The Fiji girls sang us the Fiji farewell song, Isa Lei, and waved goodbye



The next morning, about half-way through the 2 ½ hour trip to the Nadi airport, we stopped at Jone's house in the village of Rukurukulevu, where we met several of his family members, had another Kava experience, and headed to New Zealand.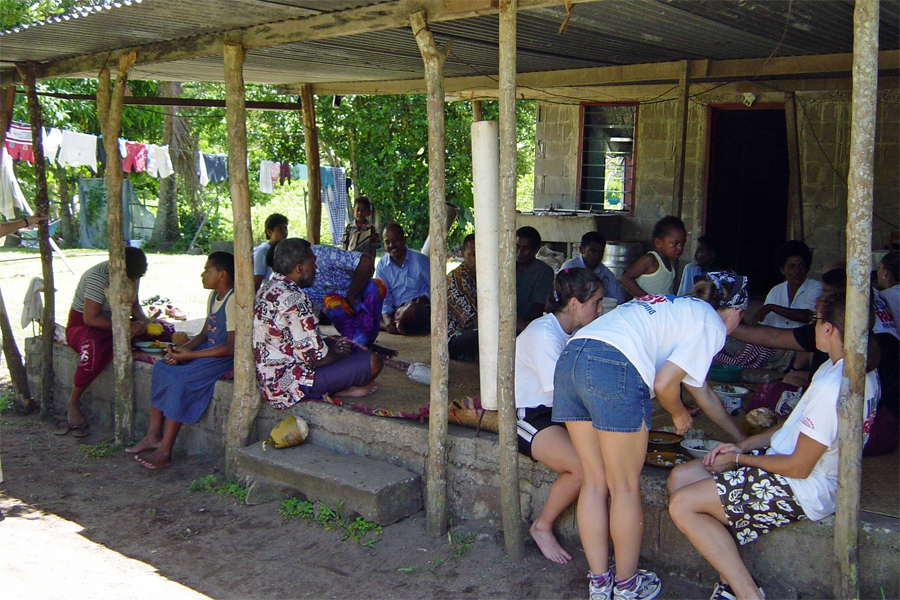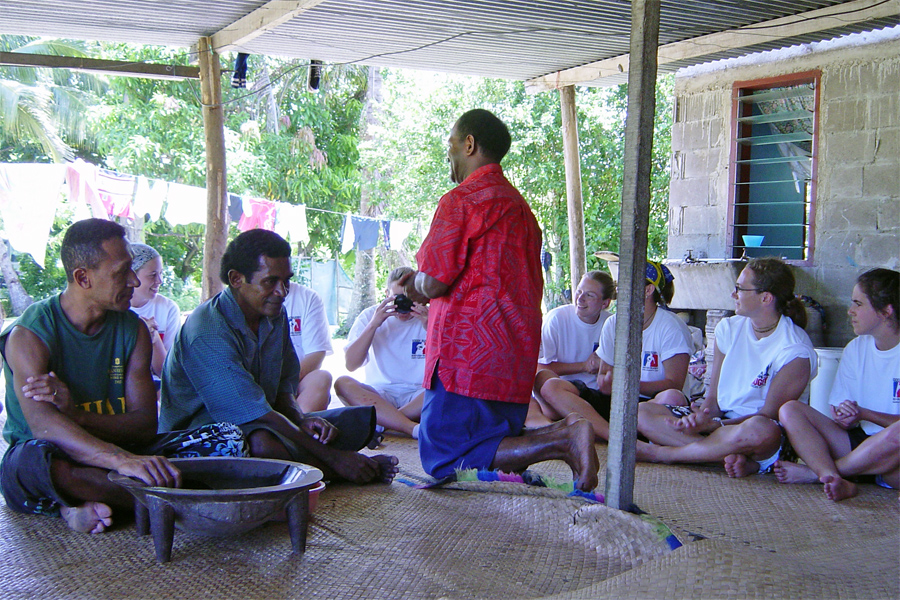 0209-38-Jone house meal-900w.jpg
0209-39-Jone house-kava-900w.jpg
Left: Our group and several villagers have midday meal
Right: yaqona ceremony at Jone's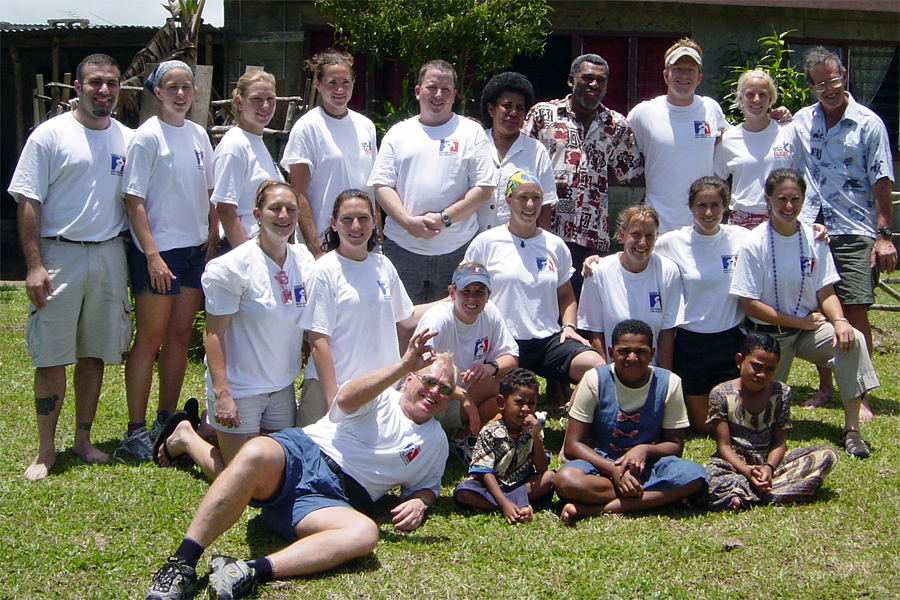 0209-40-Team & Jone Family-900w.jpg
One last group picture in Fiji
The children in the bottom row (Jone's kids and Beet)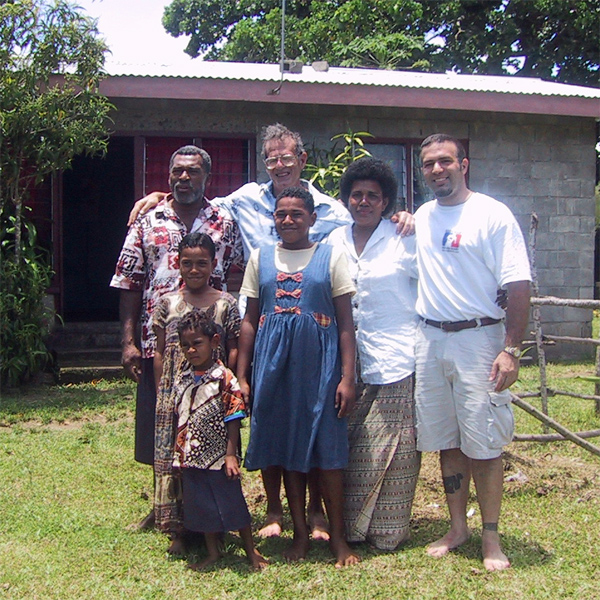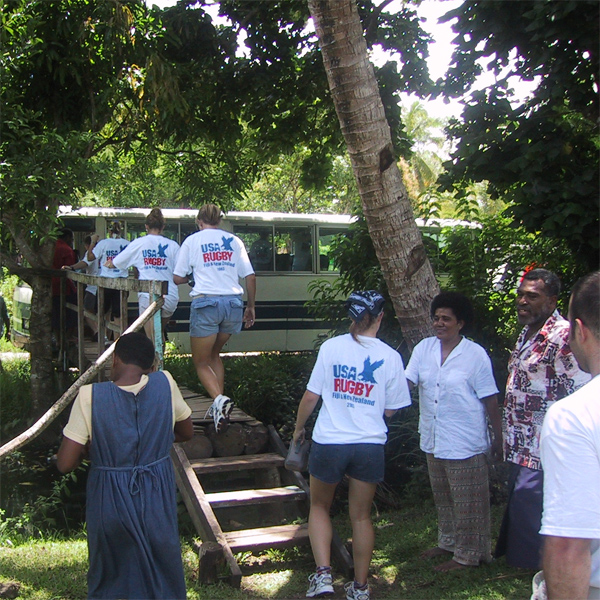 0209-41-with Jone & family-IMG_2914-600s.jpg
0209-42-getting on bus-IMG_2915-600s.jpg
Left: Emil & Steve with Jone, Mili and kids / Right: we leave Rukurukulevu to head to New Zealand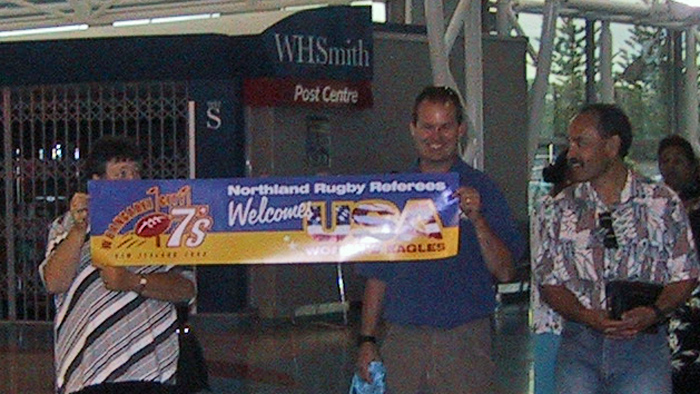 0210nz1- Welcomed in NZL @ airport.jpg
Welcomed at Auckland Airport by representatives of Whangarei ("Fong´-uh-ray") Sevens
Leg 2: New Zealand
We arrived in Auckland in the middle of America's Cup fever and spent an hour or so overlooking the harbor area before heading to Whangarei (pronounced "Fong´-uh-ray").

Click here to continue