(originally written APRIL 14, 2003; edited for the web JANUARY 12, 2014; rev. 1/24/14)
Leg 2: New Zealand
0213 est USW in Whangarei paper-900w.jpg
USA Women's National Sevens Team in Whangarei newspaper

L to R: Liz Reed, Jess Hammond, Pam Kosanke, Dana Creager, Ashley Farmer, Katrinka Blunt, Northland Rugby CEO Tim Hamilton, Lindsay Davison, Lyn Wissmiller, Joanne Ward, Jen Sinkler, Laura McDonald

--- ... anything on Cafe Caffeine? (or was this in 2001 or 2 pics?)
last night: http://www.thefarm.co.nz/

Cafe Caffeine: http://www.caffeinecafe.co.nz/ ---
We arrived in Auckland in the middle of America's Cup fever and spent an hour or so overlooking the harbor area before heading to Whangarei.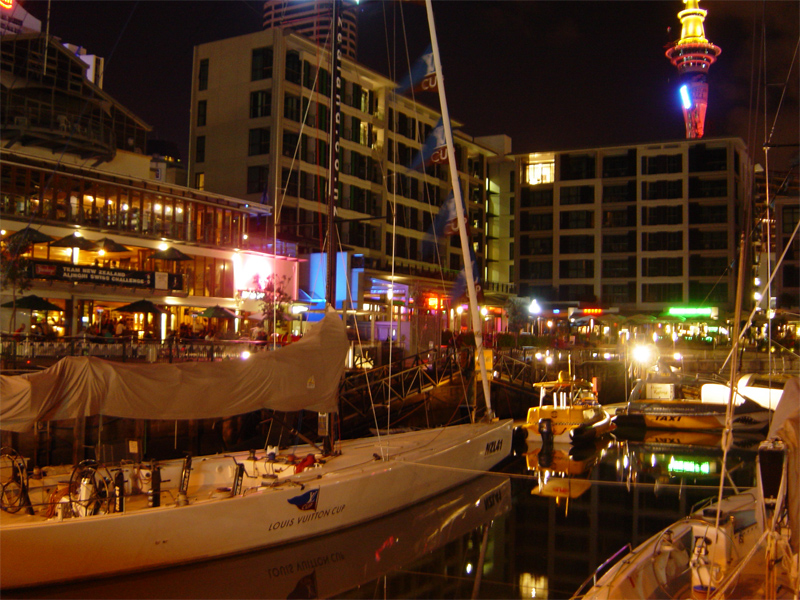 0210 est Auckland Am Cup-600h
America's Cup Area in Auckland Harbor
The Louis Vuitton Cup is awarded to the winning challenger in the Cup; not sure if this was a participant's boat
On the left above the boat there is a sign that says "Team New Zealand 0 / Alinghi Swiss Challenge 0"
The race began on the following Saturday
Everywhere in New Zealand is a rugby mecca, and this small city 2 ½ hours north of Auckland [Whangarei, pronounced "
Fong´-uh-ray
"] has been home to many renowned rugby players, most notably the famous Going clan (the most famous being Sid Going, 1970s All-Black). This is the 4th consecutive year the Whangarei Sevens has featured international women's rugby, and the players were celebrities during their week in town. This was especially noted in trips to local schools where they spent lots of time playing [rough] touch rugby with school children, and signing autographs.
As well as double practices and school visits, the week included a guest appearances at local radio stations as well as our second year of horseback riding at Waipu, organized by our host and friend (and tournament organizer) Martin Albrecht.
Note of 2014: I'm not completely sure of the chronology of the week, don't know when we did the horseback riding, sheep shearing, all prior to Waitangi? Also, what did we do on last day (Monday the 17th)? When did we go to schools?
Thursday featured a visit to the Maori community of Waitangi, the birthplace of New Zealand, where European and Maori signed the famous treaty that bears the town's name. Our visit included a competitive game of touch rugby against the Waitangi men's team. We were welcomed, and spent the evening at, the Te Tii Marae, where our sleeping place was a large room with 13 mattresses spread on the floor.
Kawakawa Toilets.
En route to Waitangi we spent some time exploring the somewhat famous toilets of Kawakawa, awarded the prestigious "Golden Plunger" award in a world-wide search for the best public toilets as voted by the traveling public. Designed by architect Frederick Hundertwasser, the construction of the toilets predated our visit by less than 5 years.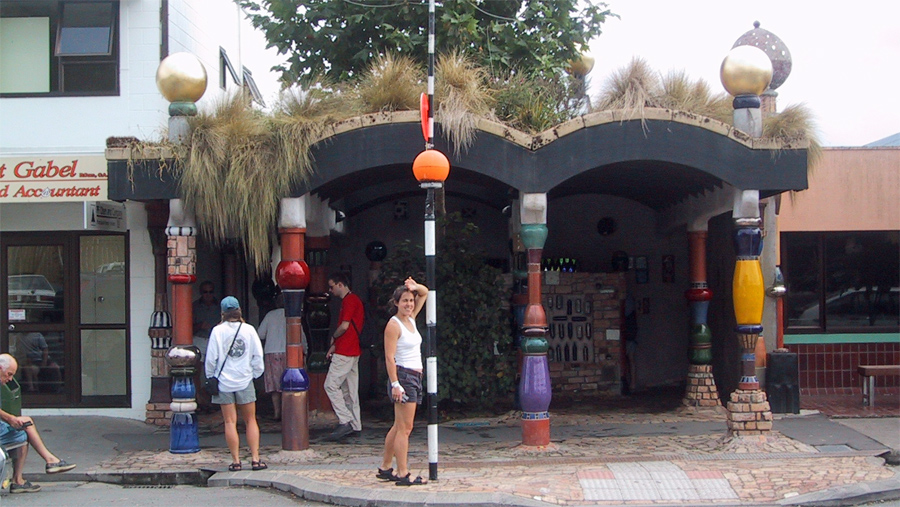 0212 est Kawakawa Lindsay-900w.jpg
Lindsay at the entrance to the famous Kawakawa toilets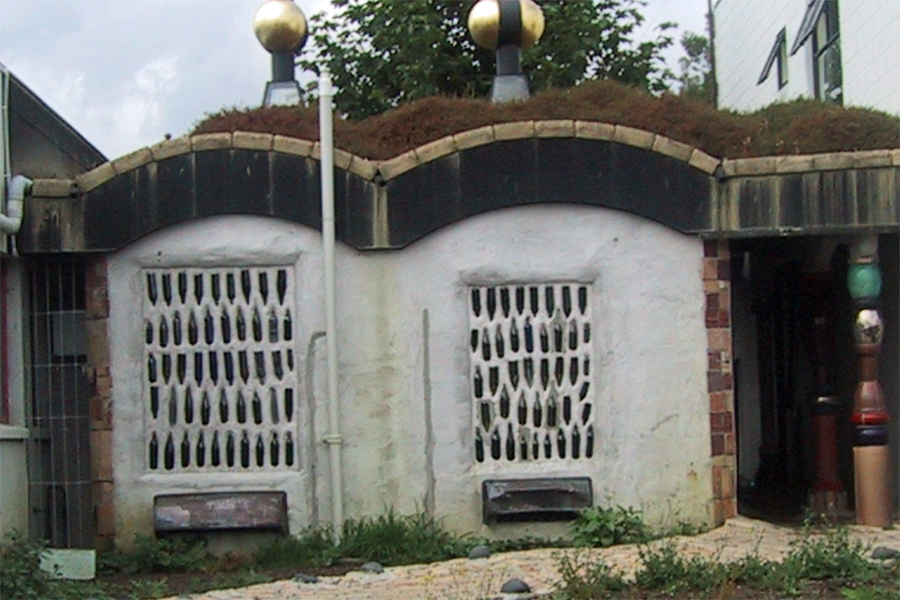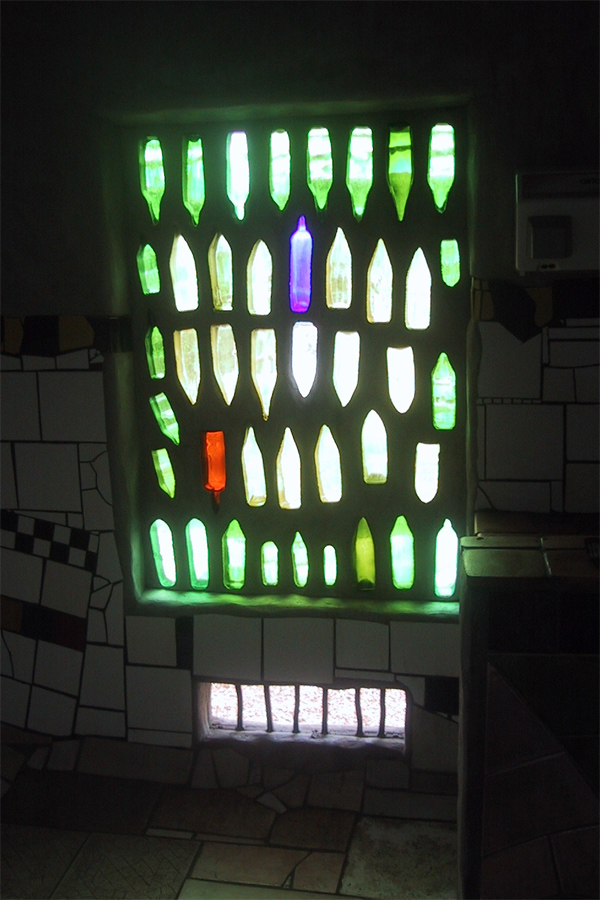 0212 est Kawakawa bottles-ext-900w.jpg
0212 est Interior bottles Kawakawa-600w.jpg
Bottle windows at Kawakawa toilets. Left: exterior view / Right: interior view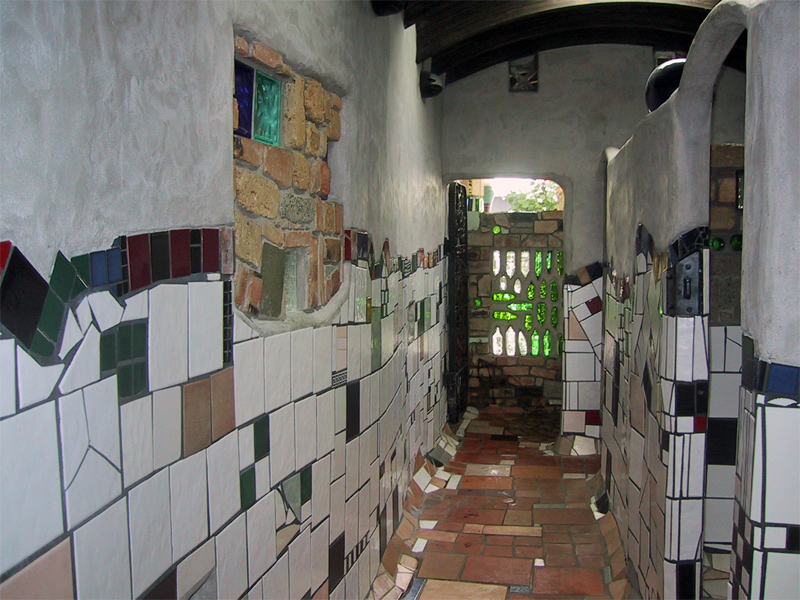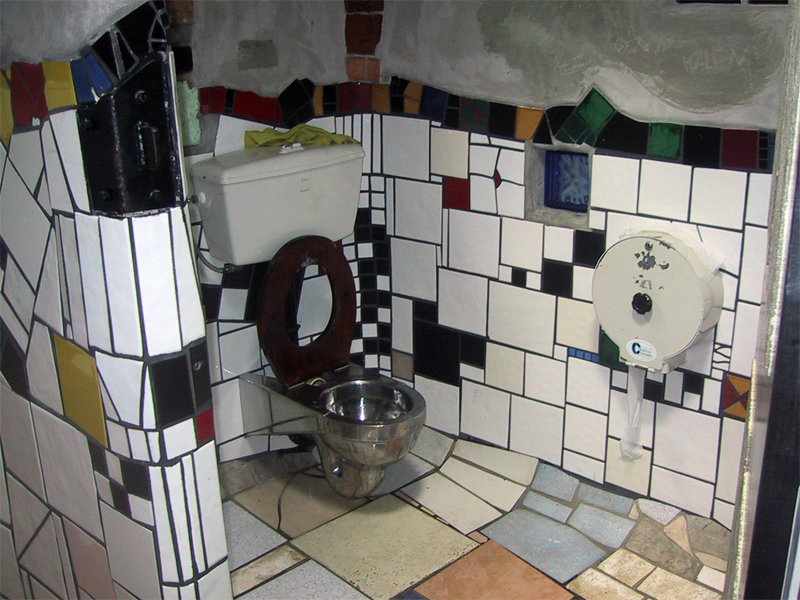 0212 est-Kawakawa hallway-800w.jpg
0212 est-Kawakawa toilet bowl-800w.jpg
Kawakawa toilets: interior hallway & toilet
Waitaingi pictures - sleeping quarters / sunset / Osito /
shearing sheep / riding horses / keep adding activities / Stephen's pix
Whangarei Sevens, 14-15 February 2003
. The first day of the Whangarei Sevens is when the club and international sides mix, and although the games are meant to be easy ones for the top sides, they have been struggles in the past.
Not so this year, as the Eagles 7s team waltzed through its 3 Friday games with a 48-7 victory over Hora Hora, a 33-0 victory over Glenfield (Auckland) in an injury-shortened match, and a 41-0 victory over Ohaeawai.
The second day began with an excellent Eagle performance against the Aotearoa (New Zealand) Maori. In fact a last-second conversion attempt could have won the game. Instead we got a 12-12 draw.
A funny thing happened on the way to the final, however, as we were upset by Aotearoa Maori "B," 12-5. Both games could have gone either way, but in the end the Eagles had to settle, disappointingly, for 3rd place with double victories over North Harbour (19-0 and 19-7).
The Kiwi sides were loaded with Black Ferns and we were not discouraged by these results. The "B" side, in fact, featured a couple of superstars: Cheryl Waaka, Black Fern #8 and one of the 3 finalists for world "player of the year, " and Vanessa Cootes, who scored 5 tries vs the US in the 1998 World Cup [World Cup 15s that is - this was clear in 2003, when there had been no 7s World Cups, but may not be in 2014!-:)] final.
The Eagles finished with a 5-1-1 record and a points for-against margin of 177-38. This compared with last year's 4-2-1 and 71-63 margin.
The combined result for the US tour of Fiji and New Zealand was 8-2-1 including the draw with the current Hong Kong champions and a victory over the Fiji national team.
Scoring Summary, USA Women at Whangarei Sevens, NZL

| | | | |
| --- | --- | --- | --- |
| Name | Tries | Conv. | Pts |
| Pam Kosanke | 3 | 12 | 39 |
| Jen Sinkler | 7 | 0 | 35 |
| Jo Ward | 3 | 4 | 23 |
| Lindsay Davison | 4 | 0 | 20 |
| Dana Creager | 3 | 0 | 15 |
| Ashley Farmer | 3 | 0 | 15 |
| Liz Reed | 3 | 0 | 15 |
| Katrinka Blunt | 1 | 0 | 5 |
| Laura McDonald | 1 | 0 | 5 |
| Lyn Wissmiller | 1 | 0 | 5 |
| Total, US | 29 | 16 | 177 |
| Total, Opponents | 6 | 4 | 38 |
| | | | |
Because we had "gotten a deal" on Air Pacific, we couldn't return home until Tuesday. This meant finding something to do following the tournament. Not to worry, our liaison, Kiwi Jason Payne, and his wife Vicky, an Iowan, hooked us up with Mike Bennett, a friend with a private sailboat and a farm.
We drove up to Opua, took the car ferry to Russell, then hopped on Mike's private sailboat to Roberton Island (also known as Motuarohia) in the Bay of Islands.
As we arrived at the island, a larger boat full of men on a stag party weekend arrived, and we anchored with them, and sampled sacks of mussels they had gathered as well as watching the start of Race 2 of the America's Cup challenge on their TV. Note of 2014: Another highlight of the trip was Dana climbing up the mast and jumping into the water of the Bay of Islands from a remarkably high perch!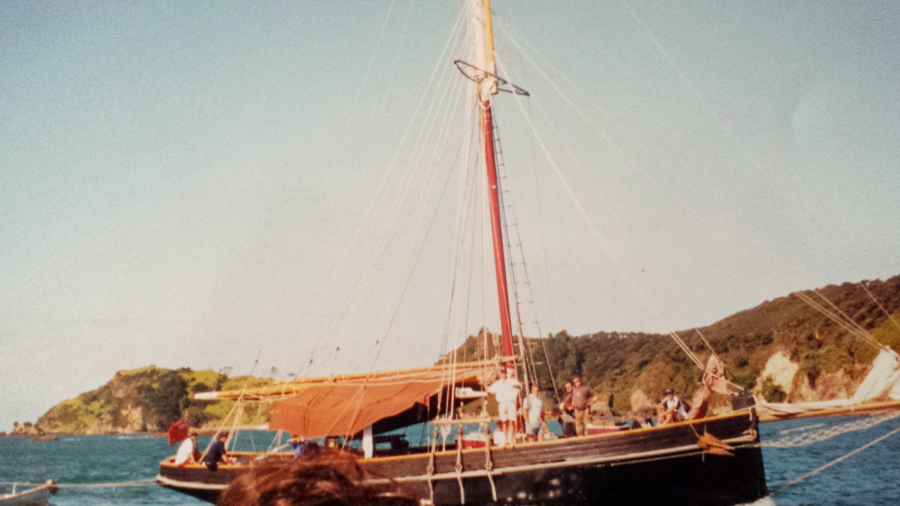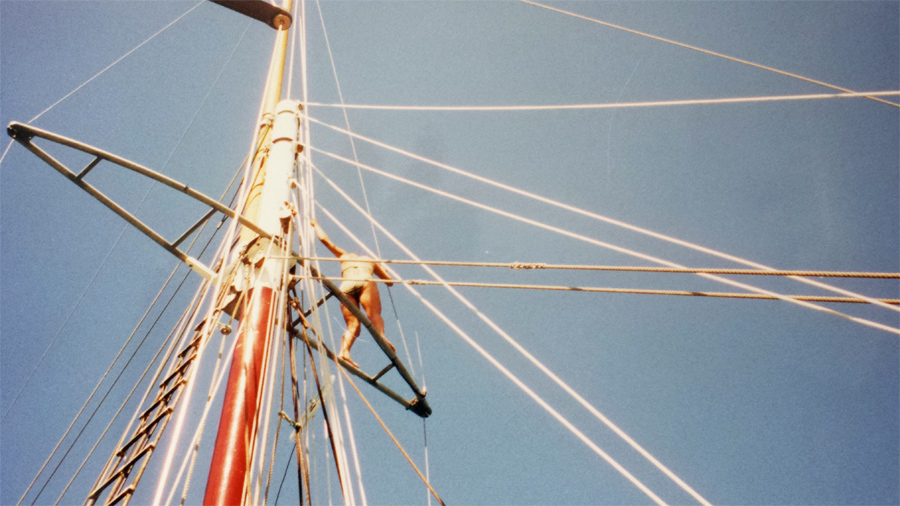 0216 est Boat of men that joined us-900w.jpg
0216 est Dana about to jump-900w.jpg
Left: Stag party boat that anchored with us - note height of the mast
Right: Dana about to jump
2014 note: Reviewing the 2003 America's Cup, Wikipedia notes that this 2nd match was "one of the closest, most exciting races seen for years, with the lead changing hands several times and a duel of 33 tacking manoeuvres on the fifth leg," not that we were aware of any of that. Although the boat from landlocked Switzerland eventually shut out NZ 5 races to none, it was skippered by Russell Coutts, a multiple America's Cup winner - and a Kiwi.
For some of us there was a half-mile swim to shore (others traveled there on a small motor boat). A walk up to the top of Roberton Island revealed a truly spectacular view.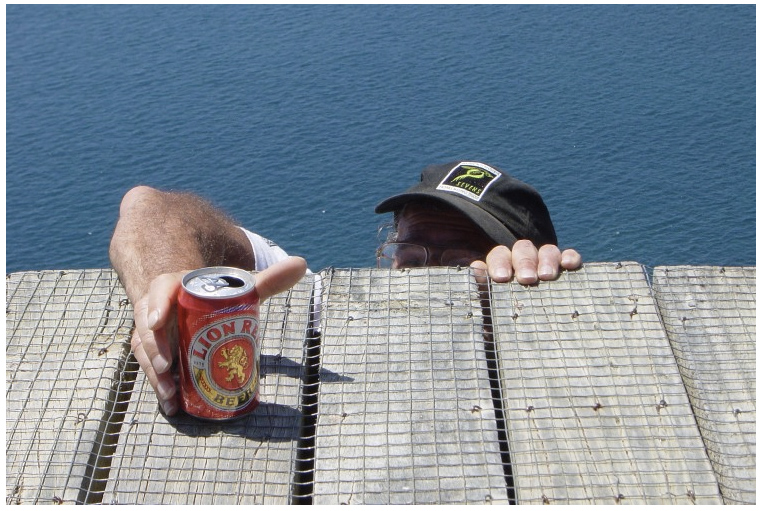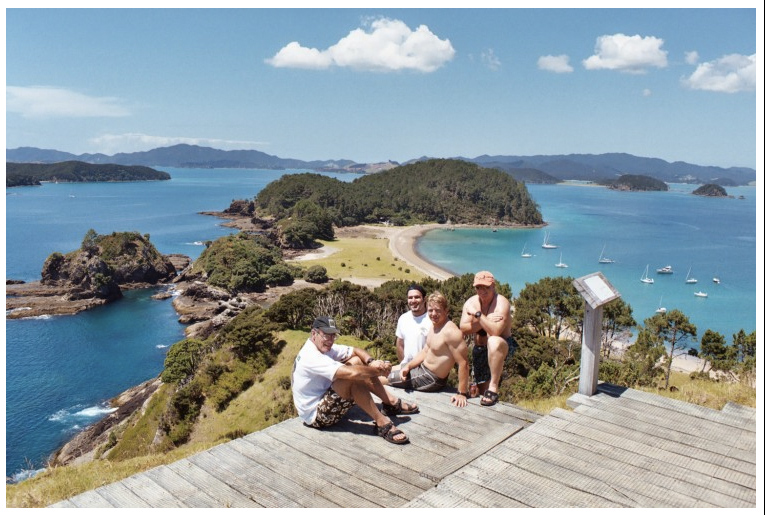 0216 Reaching Red Lion.jpg
REPLACE - better picture
Left: Emilito reaches the top of Roberton's Island and is rewarded
Right: the view from the top (I guess it wasn't really that hard to get there)
From the boat, we headed to Mike and Ellen's farm where we dined on sheep on a spit, and enjoyed a view of the southern sky from the top of a hill on their farm. (See
www.thefarm.co.nz
.) Just as the two-week tour began with the idyllic stay at the Fiji Beach House, it ended with a similarly idyllic day in the Bay of Islands. In between there was a lot of hard work and much success.
pic: thefarm.co.nz
Leg 3: Hong Kong
From beginning to end, Hong Kong was more problematic, and ultimately less successful, than either Fiji or New Zealand. Even before we began the journey, Meredith Whalen tore her Achilles tendon at a team camp in Pennsylvania. Then at a scrimmage against Berkeley, Katrinka Blunt dislocated her shoulder (although it popped back in and she was able to play – albeit in pain), and Val Griffeth tore her ACL. (Ironically it was not diagnosed as an ACL tear until after the tournament and she actually got a few minutes play in and scored a try.
[2014 note: But the first time she tried to cut she collapsed in a heap and was done.]
)
On top of these and other injuries (Jen Sinkler and Ashley Farmer were still recovering from patellar tendonitis, and in Hong Kong Joanne Ward was to turn her head quickly in a discussion and find her neck suddenly stiffen [this was an especially hard-working tour for Doc Sue!]), there was SARS and there was war in Iraq. We were scheduled to leave on Friday March 22, and doubts about the trip were surfacing everywhere. France, Italy and Argentina dropped out of the (men's) Hong Kong Sevens, and Japan out of the women's tournament. New Zealand said they weren't sure they were going. The IRB and the Hong Kong tournament began putting out daily reports as to the tournament's status. Al Caravelli stayed in touch with the tournament, the State Department, and made nightly calls at 11:30 PM to speak to the US Consul in Hong Kong. We followed the daily updates of the World Health Organization, and, still uncertain, decided to alter our travel plans: we would meet in San Francisco for two days and defer our final decision till Monday morning.
2014: ADD COMMENTS RE SARS & IRAQ (with a view from the future)

Following the scrimmage with Berkeley (a great experience except for the injuries), and a long players-only meeting to discuss the pros and cons of the trip, a consensus decision was reached: we would go. Both SARS and Iraq were issues. The war had begun two days before we gathered and security against terrorism as well as disease was high on everyone's mind. Virtually simultaneously the IRB announced that the tournament would proceed.
With all the banged up people with whom we were leaving the US, it was great to have that rare commodity -- an 11th player as an alternate. Then -- just hours before we got on our plane to Hong Kong, Air Force Lt. Laura McDonald was informed she was being deployed - to parts undisclosable.
Monday, as we left, WHO (World Health Organization)'s web site was being updated to read "WHO continues to recommend, on the basis of currently available data, no travel restrictions to any destination."
We arrived on Tuesday night March 25, and the tournament began Thursday March 27. Our preparation was limited to a brief run-through Wednesday morning.
Thursday, we started out like a house on fire, defeating Fiji 40-0 in a game in which we did everything right. This followed up with a 3-minute spell against New Zealand in which lived at their goal line and barely failed on two forays to the line (once we were across it). Things were looking good. From that moment on, however, it was not our tournament, and the season that had began so promisingly ended up in disappointment. We lost to New Zealand 22-0, and then, in an extremely physical game against England, we dropped a last-minute 5-0 decision.
Friday we easily polished off Hong Kong before facing New Zealand in a semifinal match which would determine who would face England in the stadium. It wasn't embarrassing, but it was a loss nonetheless, 17-7. Then in a 3rd place game we didn't really want to play, we allowed Kazakhstan two first-minute tries before gaining a little control, but ultimately failed in a 14-7 loss.
We stayed two more days, and enjoyed the men's tournament, which featured a Bowl Championship by the US, and in the Cup round a fabulous final and two exceptional semifinals. Despite the great games and atmosphere, it was obvious that day by day a greater percentage of people were wearing masks, and when we boarded our plane Monday morning all the flight attendants were masked as well. The number of SARS cases per day was increasing and as we left on March 31, the Amoy Garden outbreak, with more than 100 cases, was being announced. On April 2, the WHO issued a travel advisory for Hong Kong and Guandong.
Back home, fear reigned supreme: I was told not to report to work for 10 days, and I wasn't the only one. One member of our tour party was given the same instructions and went to Las Vegas for a week.
Despite our disappointments, our team chemistry was great, and the young team showed a lot of promise and moments of brilliance that will pay off for the US – both in 7s and 15s – in the future. Kudos to Erina Queen for being a great captain and to Lisa Rowe for also leading with her fabulous on-field play. All deserve to be proud of themselves for being able to keep their focus in very difficult circumstances.
Thanks finally to our nonplayers, Al Caravelli, Chris Ryan and the ever-busy Sue Bercuk, for efforts and accomplishments above and beyond the call of duty.
Scoring summary, Hong Kong
Name Tries Conv Points
Pam Kosanke 2 8 26
Lisa Rowe 5 0 25
Katrinka Blunt 2 0 10
Val Griffeth 1 0 5
Erina Queen 1 0 5
Jen Sinkler 1 0 5
Total 12 8 76
Against 10 4 58
Final 2003 record: Won 10 Lost 6 Tied 1. PF 328, PA 103.

C:\user\live\ry\2003\Article - US Women 2003 Tours.doc