Tío Manuel is another story entirely. It seemed like, to the Lagos Besteiro kids, he was always around, although with the death of Paquito LAGOS GRACIANI at the age of 13 months, he would have no lasting legacy in terms of blood descendants. Nevertheless, it appears that he was the person primarily responsible for initiating the family's move to Cuba and therefore, from this point of view, perhaps the single most influential person in shaping the future of the US Lagos-Besteiro family.
Emilito thinks he was also a whacko.
Manuel LAGOS TOLEDO, as was his younger brother Antonio, was born in Periana, a small town in the province of Málaga, on January 3, 1878. He and his family moved to Madrid in 1885 and little is known about their existence during the next 15+ years. Several siblings died in that time period, the family history has it of tuberculosis, and in 1900 and 1903 first his father, then mother, died of tuberculosis. At the age of 25, the oldest surviving sibling (of Antonio, 22, Paco, 18, and Mercedes, 11), Manuel was without parents, and Paco and Mercedes would both die of tuberculosis within the next seven years.
In 1903 Antonio met Pepita BESTEIRO GRACIANI, an 18-year old who had lost her father at age 14, and became attracted to her. Manuel, whom Antonio introduced to the family, became attracted to Pepita's mother, the relatively wealthy widow Victorina GRACIANI LORENZO.
Part of the story is told elsewhere in emilito.org,
which recounts a little sketch Emilito's mother Carmen wrote for Pepita's 82nd birthday party in 1966.
At any rate, we don't know the details, but on January 4, 1904 26-year old Manuel married 41-year old Victorina in Madrid. After the marriage, Manuel didn't think it proper for his brother to court the daughter of his wife, so he forbade their courtship. Luckily, Antonio and Pepita were to marry despite Manuel's orders.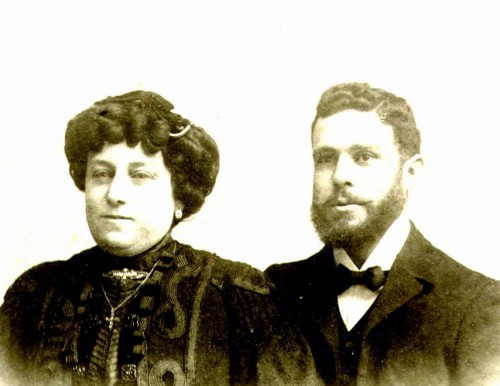 Bride and Groom - Victorina Graciani (41) and Manuel Lagos (26)
Emilito found documentation that Manuel Lagos visited both the United States and Cuba in April 1905 (New York on the 11th and Havana on the 18th). Family lore has it that Manuel went with his brother Antonio and Victorina's eldest son Domingo BESTEIRO GRACIANI. No evidence, however, has been found of Manuel and Domingo's arrival with Manuel (although it is very likely - Emilito has in his possession a "permission to leave Spain" document for Antonio dated June 1905 - that they too arrived in Cuba sometime in 1905). At any rate, Manuel would return to Spain, then go back to Havana - his exact travels are unclear, but finally Victorina and three of her children - Pepita, Jorge and Isabel - joined Manuel (and certainly Domingo and Antonio) in Havana in April 1907. Emilito found this information after hours and hours of searching microfilm copies of the Havana daily (well really twice daily) Diario de la Marina at the Library of Congress. "OK," says Emilito, "the newspaper says 'Gración,' but I'm 100% sure this is Victorina, Pepita, Jorge and Isabel."

From the afternoon edition of the 3 April 1907
Diario de la Marina,
the arrival of Victorina Graciani and 3 children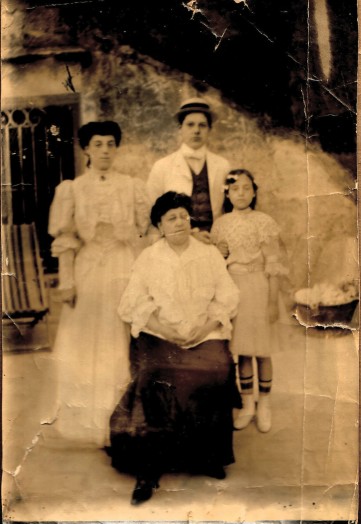 Victorina with Pepita, Jorge, Isabel (left to right)
immediately upon arriving in Cuba in 1907
The note shown below was on the back. It says
"This is the latest group of us that have come to this country
where you don't see anything but gold and you sweat a lot;
today the heat is really oppressive.
How do you think we've turned out?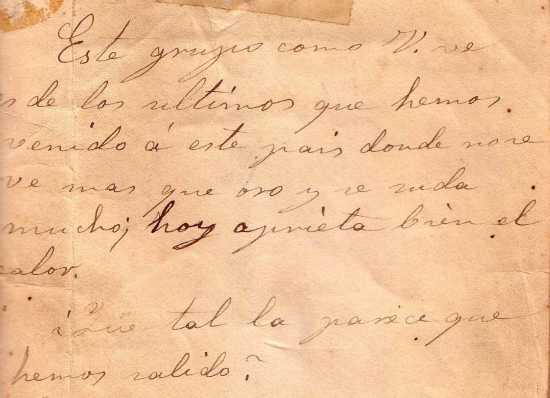 Manuel's role in unsuccessfully continuing to try to disrupt his brother's relationship with his step-daughter is also documented
elsewhere
; suffice it to repeat that his efforts were ultimately unsuccessful.
On October 13, 1908, Manuel and Victorina had a son, Francisco LAGOS GRACIANI, who died tragically at slightly more than a year old (Emilito does not know the cause of death).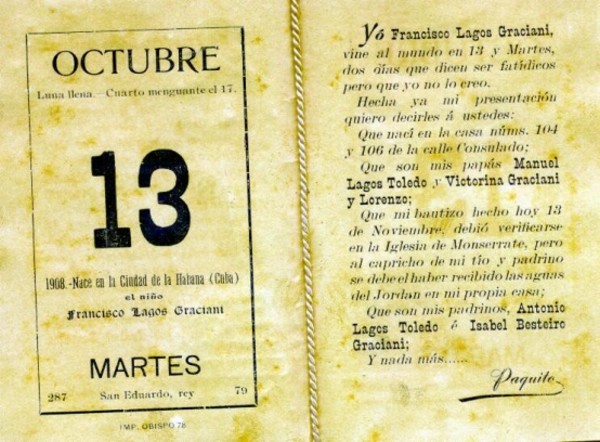 Birth Announcement of Francisco "Paquito" Lagos
"I,
Francisco Lagos Graciani
, came into the world on Tuesday the 13th,
two days that they say are ominous, but I don't believe it.
Having presented myself, I would like to tell you:
That I was born in the house numbered 104 and 106 of the street named Consulado;
That my parents are
Manuel Lagos Toledo
and
Victorina Graciani y Lorenzo
That my baptism today the 13th of November, should have taken place
at the church of Monserrate, but due to the whim of my father and godfather,
I have received the waters of the Jordan in my own house;
That my godparents are
Antonio Lagos Toledo
and
Isabel Besteiro Graciani.
And no more . . .
Paquito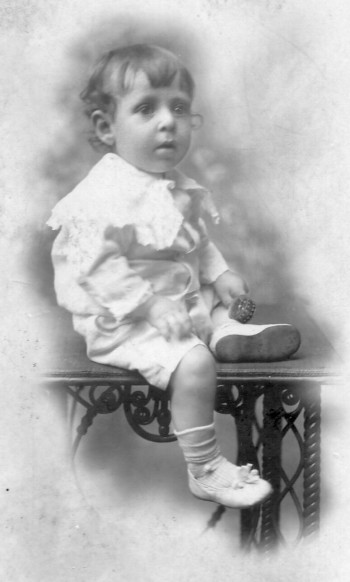 Paquito Lagos Graciani
Emilito's mother's uncle and first cousin
Manuel was always very solicitous of the Lagos Besteiro children, and the 1913 photo below came with a note to Emilito's Aunt Vicky, then 6 months old, noting that he dedicates the picture to her.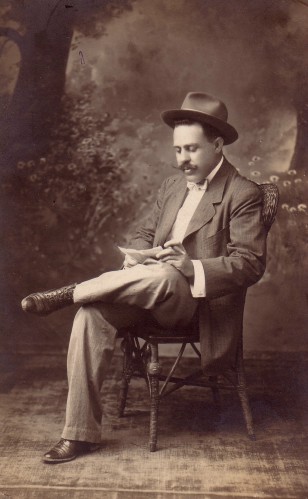 Manuel Lagos in 1913
He dedicated this picture to his niece and step-granddaughter Victorina Lagos
The next 20+ years found Manuel and Victorina traveling very many times between Cuba and the US, and at least once - 1914 - their visit here was part of a Cuba -> Spain -> US -> Cuba voyage. We don't know where they traveled while in Spain that year, but Emilito would be surprised if they didn't visit the Graciani family in Seville, with whom it appears Victorina was very close.
Apparently there were a number of years in which the nature of their relationship was unclear (the only things the Lagos kids would say about Manuel was that there were rumors that he was a "ladies' man;" in 1922 they came to New York from addresses on opposite ends of Cuba (she Havana, he Santiago), and on her ship's manifest on this trip she was listed as "single." Nevertheless they returned again in 1924 and 1927 for extended periods of time as a couple.
During 1922, when Victorina was living in Havana, Manuel was in Santiago working for the Electric Company there. He is shown in the upper left-hand corner of the montage below.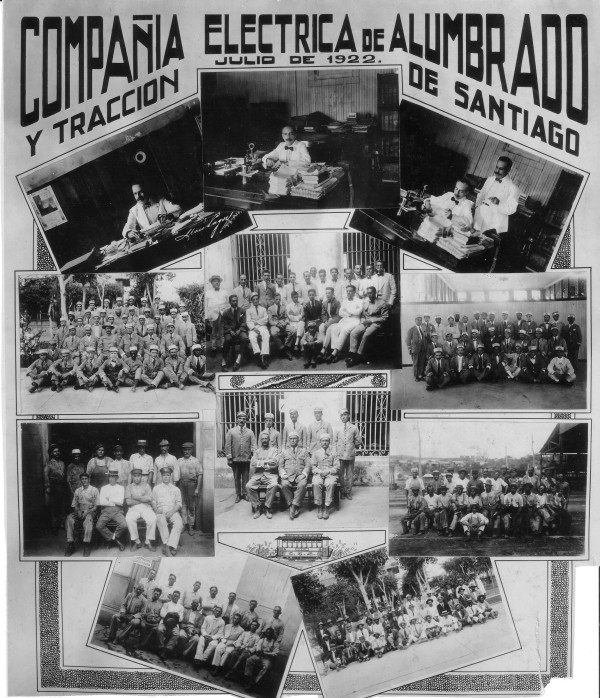 A collection of pictures of the Electric Company of Santiago.
Manuel Lagos is in the upper left-hand corner, and his signature is in the lower right of that picture.
Victorina left the US for the last time in 1928, when her daughter Isabel became pregnant with her second child, her son Pepe GARCÍA BESTEIRO, born on October 15, 1928 in Havana. But Manuel carried on.
Following Victorina's death in 1931, Manuel continued his regular visits to the United States to visit his brother's family. In between - in 1934 - there was an unsuccessful attempt to commit suicide. Antonio went to Cuba to visit him and discovered it was over a woman. A woman, Antonio reported to his family in the US, that looked just like Betty Boop.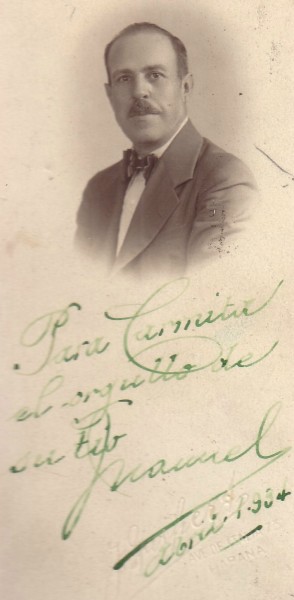 Tio Manuel in April 1934
4 months later he attempted suicide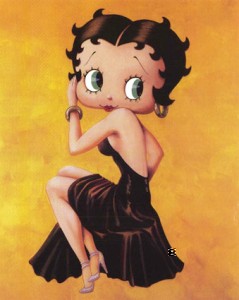 Betty Boop
We don't know exactly what Manuel did in the following years, but we do know that for many years he was a judge at the Marianao race track in Havana.
Manuel's relationship with the US Lagos family ended on a sour and unhappy note. There had been some unpleasantness between Manuel and his brother Antonio - no one knows the cause, but apparently they were not on speaking terms. When Antonio, however, was diagnosed with cancer in 1952, he wrote his brother and pleaded with him to write and to visit. Not only did Manuel not respond, but when Antonio died in November of that year, Domingo Besteiro went to pick Manuel up - "Come, Manuel, we're going to your brother's funeral" - but Manuel refused to come. In 1955, when the Carmen and Emilio Signes took their children Emilito, Carmen and Richard to Havana for the first time, Carmen refused to visit her uncle because of the way he had snubbed his brother, her father.
Manuel lived out the rest of his life in a room at the Hotel New York in Havana's Chinatown, where he died alone on July 26, 1960. He is buried in the same grave as Victorina.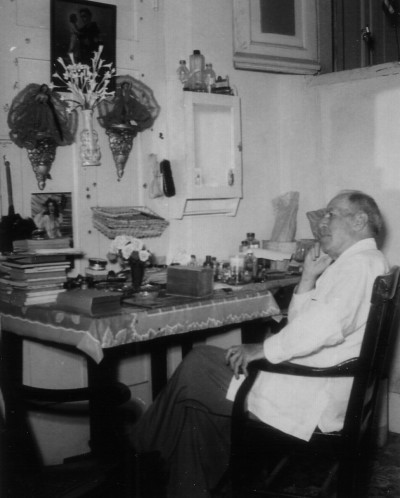 Tio Manuel in his Hotel New York room in the 1950s

Left: Victorina's ossuary / Center: Slab from ossuary with Manuel's death date / Right: box that is probably Manuel's bones
More on this can be found in "Your Man in Havana," article written by Emilito about his 1999 trip to Cuba
Shortly after tío Manuel's death, Emilito's Uncle Manny received a letter from the Cuban government stating that the family might be entitled to an inheritance. Due to the fact that the Cuban Revolution and the US government were no longer on speaking terms (this was shortly before the Bay of Pigs invasion), Manny did not follow up. Later, however, he found out that the inheritance would probably have been worth less than the cost of the trip and red tape to get it.
Manuel LAGOS TOLEDO cuts a strange and sometimes shadowy figure through the US Lagos Besteiro family history, but as he is the one central figure without whom we might not be here, Emilito felt it was worth telling you something about him, even if there's no longer that much to know.
Although the US Lagos-Besteiro family members think of our Maina and Papa when we think of our origins, Emilito notes in closing that we should recognize the vital logistical role of both Victorina and Manuel in originating the family.