42 Years of Coaching Champions

By Emilito (Emil Signes)
Rev. 2016-11-02 15:32


home | Family Stories, Pictures, etc | Family Trees | Rugby Stories, Data, Pictures, etc | Miscellaneous
Summary
OK, this article is self-aggrandizing. But it's also true. And I apologize in advance for writing it in the 3rd person. But when I wrote it in the first person, there were far too many "I"s for my liking. So I took an easy way out.

Although rugby in the US can be traced to the 19th century and "modern" clubs began with the New York Rugby Club's founding in 1929, the official national body "United States of American Rugby Football Union" (the name later changed to just "USA Rugby") was not founded until 1975, which happened to coincide with the beginning of Emilito's coaching career (actually Fall 1974).


Emilito is proud that - in 42 years of coaching - he has been head coach or in another technical role with at least one champion (tournament or league or test match) in all 42 of those.

Considering multiple championships per year, brings the number of champions with which he has been associated to 126 teams, and - counting successful non-championship performances, the number rises to 201.

**

The following table summarizes - recognizing that some results have yet to come to mind - the teams that have produced those champions, as well as other non-championship, yet notable (IMHO) results.

Columns: 1) year of first occurrence: "Ch" in the year of first championship if there's at least one champion; if not, "Alt" for the first successful team mentioned; 2&3) Team Name & Type; 4-12) 15s and 7s, Men, Women, Boys, Girls; 13-15) Total Champions, Total Alternate Successes, Total Successful Teams. Blue represents male teams, pink female teams, and purple means both sexes were represented.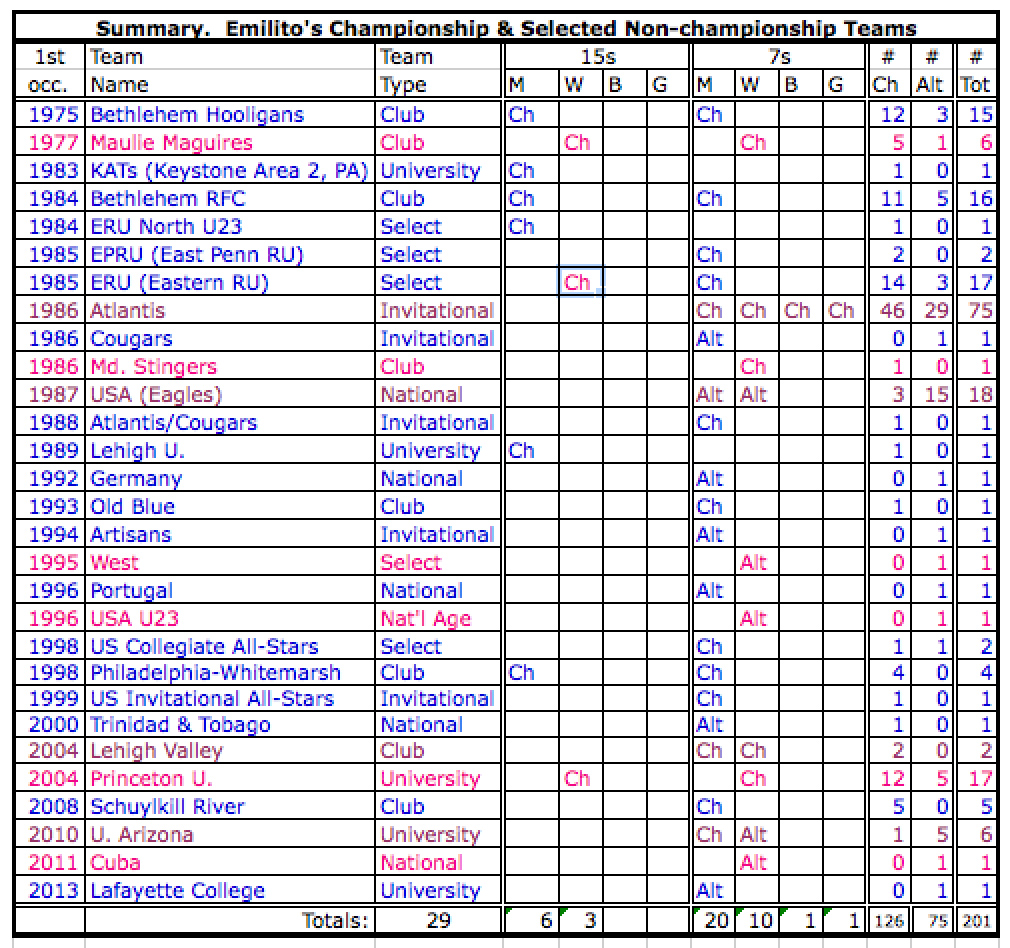 Data: Championship and other notable teams
Three tables follow. Table 1 lists one championship for each of those 42 years.
Table 2 lists additional championships where they exist. Between the two lists there are 125 championship teams listed. There are certainly at least a few more yet to be remembered. Emilito was the head coach for more than 80 of these championships; in the rest either as a co-coach, an assistant coach or - in more recent years - part of the squad in a coaching consultant/technical adviser role, and/or - with Atlantis - in his self-designated role of "Emperor."
Table 3 lists several non-championship teams which nevertheless made themselves proud with notable and pleasing performances. The 3 lists, combined, total 199 teams. If we count men, women, boys, girls, 7s, 15s separately, the lists include nearly 40 unique sides.
In these tables male teams are coded in blue, and female teams in pink (sorry). M = men, W = women, B = boys, G = girls (where U19 teams and younger, as well as high school, are boys/girls; U20, college, and older teams are men/women.) National teams, select sides and invitational teams are italicized. EPRU = East Penn Rugby Union; ERU = Eastern Rugby Union; MARFU = Mid-Atlantic Rugby Football Union; ITT = Inter-territorial Tournament, former term of the National All-Star Championship.


Representations in the tables below:
* = one of multiple championships that year /
# = tournaments for which Emilito was not "the coach" (he may have been less or more): e.g. either an assistant coach or a mentoring coach or a co-coach with others - or "Emperor" -, as specified in the footnote.
! = the only national championship club side which he has coached.

Bold represents a national championship team.
A gold background represents a) a national championship for a club side or b) an international championship for a national team.

Table 1: one championship per year, 1975 to 2016
Year-Mo
7s/
15s

M/
F

Champion or
best results

Team
Coached

Event
1975-05
15s

M

Champions

Bethlehem Hooligans

Schaefer Rugby Cup (Bethlehem, PA)













1976-05#a

15s

M

Champions

Bethlehem Hooligans

East Penn Rugby Union Knockout
21-17 over Philadelphia (Bethlehem, PA)

1977-05#b

15s

W

Champions

Maulie Maguires

Schaefer Rugby Cup (Bethlehem, PA)

1978-07*

7s

M

Champions

Bethlehem Hooligans

Ontario Sevens (Toronto)

1979-07*

7s

M

Champions

Bethlehem Hooligans

Hibernian 7s (Langhorne, PA)

1980-10*

15s

M

Champions

Bethlehem Hooligans

East Penn Rugby Union













1981-04*

15s

M

Champions:
to Sweet 16

Bethlehem Hooligans

Mid Atlantic RU Final (over Whitemarsh)
Advanced to US Round of 16 ("Sweet 16")
(Arlington, VA)

1982-07*

7s

M

Champions

Bethlehem Hooligans

Hartford National Invitational 7s

1983-05*#c

15s

W

Champions

Maulie Maguires (PA)

Schaefer Rugby Cup (Bethlehem, PA)

1984-12*

15s

M

Champions

ERU North U23

ERU North-South U23 (Wilmington, NC)

1985-12*

7s

M

Champions

ERU Men

National All-Star 7s (ITT 7s) (Orlando)
First national championship!!













1986-11*

7s

M

Champions

ERU Men

National All-Star 7s (ITT 7s) (Tucson)
1987-07*
7s

M

Champions

Bethlehem

ERU Club 7s Championship (Norfolk)

1988-10*

7s

M

Champions

ERU Men

National All-Star 7s (ITT 7s)(Tucson)
1989-08*

7s

M

Champions

ERU Men

National All-Star 7s (ITT 7s) (Alexandria)

1990-08

7s

M

Champions

Bethlehem
East Penn Rugby Union 7s (VENUE?)












1991-05

15s

M

Champions

Bethlehem

Mid-Atlantic RugbyUnion (VENUE?)
(advanced to US Round of 16)

1992-05*#j

7s

W

Champions

Atlantis Women

Benidorm 7s (Spain)

1993-12*#d

15s

W

Champions

ERU Women

National All-Star 15s (WITTs) (Palo Alto)

1994-08*

7s

M

Champions
(1st & 2nd)

ERU Men

National All-Star 7s (ITT 7s) (Palo Alto)

1995-05*

7s

M

Champions

Atlantis Men

Benidorm 7s (Spain)













1996-03*

7s

W

Champions

Atlantis Women

Hong Kong International Club 7s

1997-12*

7s

M

Champions

Atlantis Men

Fin del Mundo 7s (Ushuaia,ARG)
1998-09*

7s

M

Champions

USA Collegiate All-Stars

National All-Star 7s (ITT 7s) (Palo Alto)

1999-08*!

7s

M

Champions

Philadelphia-Whitemarsh

National Club 7s (Conshohocken, PA)

2000-09*

7s

M

Champions

Atlantis Men

Havana Sevens (Cuba)













2001-07*

7s

W

Champions

Atlantis Women

Magnificent 7s (ONT)

2002-07*

7s

W

Champions

Atlantis Women

Brazil Winter 7s (Atibaia)

2003-12*

7s

W

Champions

Atlantis Women

Caribbean 7s (Port of Spain, Trinidad)

2004-04*

15s

W

Champions
to Final Four

Princeton U. Women

US Round of 16 (So. bracket - Gainesville)
v Illinois 19-10, UMass 18-16 (last min PK)

2005-04*

15s

W

Champions
to Final Four

Princeton U. Women

US Round of 16 (So. bracket)
(Gainesville / beat UNC & Chico State)













2006-12

7s

W

Champions
(1st & 2nd)

Atlantis Women

Caribbean 7s (Port of Spain, Trinidad)

2007-12*

7s

W

Champions

Atlantis Women

Caribbean 7s (Port of Spain, Trinidad)

2008-07#e

7s

M

Champions

Schuylkill River

Cheesesteak 7s (Philadelphia)

2009-07*#e

7s

M

Champions

Schuylkill River

MARFU 7s (Manassas, VA)

2010-06

7s

W

Champions

Atlantis Women

Lehigh Valley 7s (Bethlehem, PA)













2011-05#f

7s

M

Champions
U. of Arizona Men

Shenanigans 7s (Scottsdale, AZ)

2012-03*

15s

W

Champions

Princeton U. Women

Rickerson Cup (Princeton)

2013-03*

15s

W

Champions

Princeton U. Women

Ivy 15s @ Brown / Final: PU 22 Brown 17

2014-05*#g

7s

W

Champions

Atlantis Women

Madrid 7s (Leg 3)

2015-08#h

7s

B

Champions

Atlantis HS Boys

Serevi Rugbytown 7s (Glendale, CO)













2016-04#i

7s

G

Champions

Atlantis HS Girls

Atlanta Festival 7s

* Multiple championships: see Table 2 for others
footnotes: Emilito coached but not always the Head Coach ...
Co-coach with #a) Matt Tyksinski and Guest Coach with #b) Barb Tyksinski and #c: Judy Smullen;
Backs' Coach to #d: [Pennsylvania] Joe Kelly,
Assistant Coach to #e: Joe Morrison; and #g: Dana Creager
#f: "Guru Coach" with Chris Kron & Adam Dick
Emilito was Emperor and Coaching Consultant to these two teams whose actual coaches were --
#h: Jack Foley, Keith McLean and Rob Skalka; #i: Kevin Corley
#j: Franck Boivert was coach on day 2 (Emilito had to coach Germany at Sicily 7s & left @ end of day 1)
! 1999: Philadelphia-Whitemarsh was National Club 7s Champion (Emilito's only club national champ)
Table 2: Additional Championships, 1975 to 2016
Year-Mo
7s/
15s

M/
F

Champions


Team
Coached

Event
1978-06

15s

M

Champions

Bethlehem Hooligans

Schaefer 7s (Bethlehem, PA)

1979-05#a

15s

W

Champions

Maulie Maguires

Schaefer 7s (Bethlehem, PA)

1980-07
7s

M
Champions
Bethlehem Hooligans

Hibernian 7s (Langhorne, PA)

3











1981-08
7s
M
Champions
Bethlehem Hooligans

Hibernian 7s (Langhorne, PA)

1982-06
7s
M
Champions
Bethlehem Hooligans

Rockaway 7s (NY)

1983-06

7

M

Champions

Bethlehem Hooligans

Rockaway 7s (NY)

1983-08

15

M

Champions

PA Region 2 (KATS)

Keystone Games (PA state games)

1984-06
7s
M

Champions
Bethlehem

Schaefer 7s (Bethlehem, PA)

1984-06#a
7s
W

Champions
Maulie Maguires

Schaefer 7s (Bethlehem, PA)

1985-06

7s

M

Champions

Bethlehem

Schaefer 7s (Bethlehem, PA)

1985-06#a

7s

W

Champions

Maulie Maguires

Schaefer 7s (Bethlehem, PA)

8











1984/1987

7s

M

2x Champions

EPRU Men (East Penn)

ERU Subunion Championships - Won 2x (yrs?)













1986-07#n

7s

M

Champions

Maryland Stingers

Cape Fear 7s

1986-07

7s

M

Champions

Atlantis Men

Virginia Beach 7s

1986-07

7s

M

Champions

Atlantis Men

Hartford 7s

1986-07

7s

M

Champions

Bethlehem

Hibernian 7s (Langhorne, PA)

1987-06

7s

M

Champions

Bethlehem
Strohs' 7s (Bethlehem, PA)

1987-08

7s

M
Champions
Bethlehem

Hibernian 7s (Langhorne, PA)

1987-08

7s

M

Champions

Bethlehem

ERU 7s Championship

1987-11

7s

M

Champions
(1st & 2nd)

ERU Men

National All-Star 7s (ITT 7s)
1988-09

7s

M

Champions

Atlantis-Cougars Combined

Celtic Classic (Bethlehem, PA)

1988-11

7s

M

Champions

ERU Men

National All-Star 7s (ITT 7s)

1989-06

7s

M

Champions

Bethlehem

Strohs' 7s (Bethlehem, PA)

1989-11#b

15s

M

Champions

Lehigh University

East Region II (Orlando)
Qualify for East Final 4

1990-08#p

15s

M

Winners

ERU Women

Beat USA Women (lead-up for 1st World Cup)
(ERU had 1st call on its players)

13/15











1991-08

7s

M

Champions

US Invitational All-Stars

Saranac Lake Can-Am 7s

1991-10/11-

15s

M

Champions

Bethlehem

East Penn Rugby Union 15s

1992-08#d

7s

M

Champions
(1st & 2nd)

ERU Men

National All-Star 7s (ITT 7s)

1992-09#e
15s
W
Champions
US Women

Can-Am game vs. Canada @ Blaine, MN (13-12)

1992-12#c
15s
W
Co-Champions
ERU Women
National All-Star 15s (ITTs) (Tallahassee)

1993-06

7s

M

Champions

Old Blue (NY)

Rockaway 7s (NY)

1994-07

7s

M

Champions

Atlantis Men

Cape Fear 7s

1994-12#c

15s

W

Champions

ERU Women

National All-Star 15s (ITTs) (NOLA)

1995-03

7s

M

Champions

Atlantis Men

Sofia International 7s (Bulgaria)

1995-07

7s

M

O-35 Champion

Atlantis Men O-35

Cape Fear 7s

1995-08

7s

M

Champions

ERU Men

National All-Star 7s (ITT 7s)

1995-12#c

15s

W

Champions

ERU Women

National All-Star 15s (Nashville) (15ŗ F)
12











1996-07

7s

M

Champions

Atlantis Men

Cape Fear 7s
1996-11

7s

W

Champions

Atlantis Women

New York 7s

1997-07

7s

W

Champions

Atlantis Women

Cape Fear 7s

1997-11

7s

W

Champions
(1st & 2nd)

Atlantis Women

New York 7s

1998-07

7s

M

Champions

USA Women - Eagles

Magnificent 7s (Toronto)

1998-07

7s

M

Champions

Philadelphia-Whitemarsh

MARFU 7s (location)

1998-10#f

15s

M

Champions

Philadelphia-Whitemarsh

MARFU 15s

1998-11

7s

W

Champions

Atlantis Women

New York 7s
1999-07

7s

W

Champions
(1st & 2nd)

Atlantis Women

Cape Fear 7s

1999-07

7s

W

Champions

Atlantis Women

Magnificent 7s (Toronto)

1999-08#c

15s

W

Champions

USA Women

Can-Am game Canada @ Saranac Lake, NY (16-11)

2000-07

7s

W

Champions

Atlantis Women

Magnificent 7s (Toronto)

2000-07

7s

M

Champions

Philadelphia-Whitemarsh

Hibernian 7s (Langhorne, PA)

2000-08

7s

W

Champions

Atlantis Women

National Women's Invitational 7s (Philadelphia)

14











2001-07

7s

M

Champions

Atlantis Women

Magnificent 7s (Toronto)

2001-09

7s

M

Champions

Atlantis Men

Havana / Atlantis 7s (Atlantis v. Cuba 2 & Cuba1)
2001-12

7s

W

Champions
(1st & 2nd)

Atlantis Women

Caribbean 7s (Port of Spain, Trinidad)

2002-05

7s

W

Champion

Atlantis Women

West Highland & Island 7s (Isle of Mull, Scotland)













2002-06

7s

W

Champions
(1st & 2nd)

Atlantis Women

Lehigh Valley 7s (Bethlehem, PA)

2002-07

7s

W

Champions

Atlantis Women

Magnificent 7s (Toronto)

2002-12

7s

W

Champions

Atlantis Women

Caribbean 7s (Port of Spain, Trinidad)

2003-06

7s

W

Champions

Atlantis Women

Lehigh Valley 7s (Bethlehem, PA)
2004-06

7s

W

Champions

Atlantis Women

Lehigh Valley 7s (Bethlehem, PA)
2004-07

7s

M

Champions

Lehigh Valley Men

Cheesesteak 7s (Philadelphia)

2004-07

7s

W

Champions

Lehigh Valley Women

Cheesesteak 7s (Philadelphia)

2004-11

15s

W

Champions

Princeton U. Women

East Penn Rugby Union, Bethlehem, PA

2004-12

7s

W

Champions

Atlantis Women

Caribbean 7s (Port of Spain, Trinidad)

2005-04

15s

W

Champions

Princeton U. Women

Ivy League 15s @ PU beat Brown in Final
2005-10

7s

W

Champions

Atlantis Women

Bangkok 7s

2005-11

15s

W

Champions

Princeton U. Women

East Penn Rugby Union, Bethlehem, PA
16











2006-03

15s

W

Winners

Princeton U. Women

Play-in game for Sweet 16 (beat JMU at PU)
This game was also MARFU QF game

2007-06

7s

W

Champions

Atlantis Women

Lehigh Valley 7s (Bethlehem, PA)
2009-06#g
7s

M

Champions

Schuylkill River Men

NOVA 7s (Manassas, VA)

2009-07#g

7s

M

Champions

Schuylkill River Men

Rocky Gorge 7s (Columbia, MD)

2010-02

7s

M

Champion

Atlantis Men

Havana 7s

5











2012-10

7s

W

Champions

Princeton U. Women

Navy 7s (Annapolis)

2012-11

7s

W

Champions

Princeton U. Women

Ivy League 7s (Princeton)

2013-07#h

7s

W

Champions

Schuylkill River Men

Mid-Atlantic Conference 7s (Norfolk, VA)

2013-11#h

7s

W

Champions

Princeton U. Women

Ivy League 7s (Princeton)

2014-02#i

7s

B

Champions

Atlantis Boys High School

Las Vegas Invitational [Boys' U19 Open]

2015-07#j

7s

B

Champions

Atlantis Boys U18

Surfside 7s (NJ)
2015-04#h

7s

W

Champions

Princeton U. Women

Ivy League 7s (Princeton)

2015-11#k

7s

M

Champions

Atlantis Collegiate Men

New York 7s [Collegiate Men]

2015-11#l

7s

G

Champions

Atlantis High School Girls

New York 7s [HS Girls]

9+1











2016-03#m

7s

B

Champions

Atlantis Boys U16

Las Vegas Invitational [Boys' U16]

footnotes: Emilito involved but not always Head Coach ...
Guest Coach for #a: Judy Smullen and #b: for Larry Shea
#d: George Betzler was on-site Coach, as Emilito had to leave the night before the games
Backs' Coach to #c: [Pennsylvania] Joe Kelly; Forwards' Coach to #e: George Henderson
Assistant Coach to #f: George Betzler, #g: Joe Morrison, #h: Chris Ryan, #p: Suzi Arnsdorff

"Emperor" and/or Coaching Consultant to the following -
#i: Paul Sheehy and Rob Skalka, #j: Jack Foley; #k: [Connecticut] Joe Kelly, #l: Billy Nicholas, #m: Greg Schor
#n: Technical Adviser to Jami Jordan and Marti Watts

- reorganize above (footnote names, numbers, etc) -


Table 3: Notable Non-championship Performances, 1975 to 2016
Year-Mo
7s/
15s

M/
F

Results or
Comments

Team
Coached

Event
1977-05
15s
M
Finalists
Bethlehem Hooligans

East Penn Rugby Union Knockout,
Bethlehem, PA ("winning" kick v. Phila hit crossbar)

1979-05

15s

M

Finalists

Bethlehem Hooligans

Schaefer Rugby Cup (Bethlehem, PA)
Lost to THE Northampton Club (UK)

1979-07

15s

M

Finalists

Bethlehem Hooligans

Ontario 7s

3











1985-02

7s

M

Finalists

ERU 7s

1st ever National All-Star 7s
(ITT 7s) -lost in OT

1985-07

7s

M

Finalists

EPRU

ERU Subunion 7s (at Cape Fear) - lost to Potomac

1985-11

7s

M

3rd Place USA

Bethlehem

1st ever National Club 7s

1986-04

7s

M

Semifinalists

Cougars

Melrose Sevens (SCO)

1987-03

7s

M

Quarterfinalists

USA Men - Eagles

Hong Kong International 7s
Lost to NZ in QF

1987-08

7s

M

5th Place USA

Bethlehem

National Club 7s

1987-07

7s

M

Semifinalists

Atlantis Men

Minerva 7s, Glasgow (SCO)

1988-03

7s

M

Plate Champs

USA Men - Eagles

Hong Kong International 7s

1988-04

7s

M

Quarterfinalists

USA Men - Eagles

Sydney International 7s
Defeated Argentina! Lost to NZ in QF



1989-03

7s

M

Quarterfinalists

USA Men - Eagles

Sydney International 7s
Defeated Wales! Lost to W.Samoa in QF

1989-11

7s

M

Finalist

Atlantis Men

New York 7s

1990-02

7s

M

Semifinalist

Atlantis Men

Taupiri 7s (Waikato,NZ). Top NZ club tourney
Lost to Ponsonby in SF

1990-05

15s

M

Undefeated

Bethlehem

Undefeated season (12-0) and
17 consecutive wins dating to F '89

1990-06

7s

M

Plate SF

USA Men - Eagles

Sicily 7s
Defeated Argentina! Lost to USSR 10-12

1990-10?-

15s

M

Wildcard

Bethlehem

East Penn Rugby Union

15











1992-05

7s

M

Finalists

Atlantis Men

Aer Lingus Limerick Int'l 7s (IRE)

1992-05#b

7s

M

Quarterfinalists

Germany

Rugby World Cup 7s Qualifier (Sicily)

1992-10?-

15

M

Wildcard

Bethlehem

East Penn Rugby Union

1993-05

7s

M

Finalists

Atlantis Men

Aer Lingus Limerick Int'l 7s (IRE)

1993-07

7s

W

Finalists

Maulie Maguires

USA Rugby East 7s Championships
Runner-up: qualify for nationals)

1994-06#k

7s

M

Finalists

Artisans (UK)

Lisbon 7s (POR)

1995-01

7s

M

Bronze Champs

Atlantis Men

Punta del Este 7s (URU)

1995-12

7s

M

Finalists &
Semifinalists

Atlantis Men

Caribbean 7s (T&T)

8











1996-06#c

7s

M

Qualify: RWC7s

Portugal Men

Lisbon 7s (POR)

1996-12

7s

M

Semifinalists (&QF)

Atlantis Men

Caribbean 7s (T&T)

1997-03

7s

W

Finalists

USA Women - Eagles

Hong Kong Invitational Women's 7s

1999-03

7s

W

Finalists

USA Women - Eagles

Hong Kong Invitational Women's 7s

1999-05#d

15s

M

Quarterfinalists

Philadelphia-
Whitemarsh

Super League QF; lost to Denver Barbos
[flew there Sat. AM, back on redeye!!!]

1999-08

7s

M

Semifinalists

US Collegiate All-Stars

National All-Star 7s (ITT 7s) (Seattle)

2000-03

7s

W

Semifinalists

USA women - Eagles

Hong Kong Women's Rugby 7s
(Lost to New Zealand)

2000-04#m

7s

M

5th place

Trinidad & Tobago Men

Trained T&T in T&T for 2 weeks just prior
to this RWC7 qualifier in Chile
but did not attend.

2000-11

7s

M

Finalists

Atlantis Men

Miami 7s
Lost to Chile national team in final

2000-12

7s

W

Finalists

Atlantis Women

Caribbean 7s (Port of Spain, Trinidad)

10











2001-02

7s

W

Finalists

USA Women - Eagles

Whangarei City 7s Tied New Zealand 0-0
Lost in final to Aotearoa Maori

2001-03

7s

W

Finalists

USA Women - Eagles

Hong Kong Women's Rugby 7s (Lost to NZ but
shut out England, Australia, Samoa)

2001-04

7s

W

Finalists

USA Women - Eagles

Yokohama Int'l Women's Rugby 7s (lost to NZ)

2001-12

7s

M

Semifinalists (DEL?)

Atlantis Men

Caribbean 7s (Port of Spain, Trinidad)
2002-03

7s

W

Finalists

USA Women - Eagles

Hong Kong Women's' Rugby 7s
Lost in final to Aotearoa Maori

2002-07

7s

M

Finalists

Atlantis Men

Brazil Winter 7s (Atibaia)

2002-08

7

W

Finalists

US U23 Women

Nat'l All-Star 7s (ITT 7s) (Palo Alto)
2003-02

7s

W

Champions-Test

USA Women - Eagles

Lomaiviti 7s + Test (in Fiji-beat Fiji)

2003-02

7s

W

3rd place

USA Women - Eagles

Whangarei Sevens (NZ) Record 5-1-1
Lost to and tied the 2 Aeotearoa (NZ) Maori teams

2003-12

7s

M

Finalists

Atlantis Men

Caribbean 7s (Port of Spain, Trinidad)
2004-05

15s

W

Finalists

Princeton U. Women

US Final 4 (@Stanford)
Beat U.Virginia, lost to Penn State

2005-03

7s

W

3rd place

USA Women - Eagles

Lost to NZ 7-12 and Australia 5-10

2005-05

15s

W

Semifinalists

Princeton U. Women

US Final 4: Lost SF to/@ Stanford 22-27
(Stanford beat Penn State 53-6 in final)

13











2006-12

7s

M

Finalists

Atlantis Men

Caribbean 7s (Port of Spain, T&T) (L to West Indies)

2007-02 -
2009-05#f

7s

M

3 tour stops in 2006/07
to core team in 2008/09
(15th, 13th, 11th)

USA Men - Eagles

World Series of 7s, SF in USA 7s, 2009:
beat Australia 17-12, lost to RSA 14-15
and champion Argentina 14-19

2008-11
7s
W
Finalists
Atlantis Women

Borneo 7s (Malaysia)

2009-11
7s

M
3rd place

Atlantis Men

Tahiti Nui 7s
beat Australia Indigenous for 3rd

2010-06#n

7s

M

Semifinalists

U. of Arizona Men

Collegiate Champ'ship Invitat'l (CCI), OH

5











2011-06#n

7s

M

Quarterfinalists

U. of Arizona Men

Collegiate Rugby Champ'ship (CRC), PA
2011-12#a

7s

W

3rd place

Cuba Women 7s

Havana Sevens

2012-06#n

7s

M

Finalists

U.of Arizona Men

Collegiate Rugby Champ'ship (CRC), PA

2012-12
7s

W

3rd place - USA

Princeton U. Women

US National Women's Collegiate 7s (TX)

2013-01

7s

W

Finalists

Atlantis Women

Vientiane International Rugby Championship

2013-04

15s

W

9th place - USA

Princeton U. Women

US Nat'l Women's Collegiate Sweet 16 (Pittsburgh)
v Army 17-32; beat Indiana 17-0

2013-11#e

7s

M

4th place

Lafayette College Men

US D2 / Small College Championship
Greensboro, NC
2013-12

7s

M

Semifinalists

Atlantis Men

Tobago 7s (Lost to Esher in SF)

2013-12

7s

W

Finalists

Atlantis Women

Tobago 7s (L v [Canada] Maple Leafs)

2014-03

7s

W

Semifinalists

Atlantis Women

Marist 7s, Fiji

2014-12#j

7s

W

Finalist

Atlantis Women

Tobago 7s (lost to Stars)

2015-05#h

7s

W

3rd place

Princeton U. Women

Collegiate Rugby Champ'ship (CRC), PA

2015-05#i

7s

W

9th place

U. of Arizona Women

Collegiate Rugby Champ'ship (CRC), PA

2015-11#h

15s

W

3rd place

Princeton U. Women

Ivy Rugby Tourney, over Harvard
Only non-varsity team in top 4

2015-12#j

7s

W

Finalist

Atlantis Women

Tobago 7s (Lost to Aptoella)

15+2











2016-07#k

7s

B

3rd place

Atlantis Boys U18

North American Invitational (Salt Lake City)

2016-07#m

7s

B

4th place

Atlantis Boys U17

North American Invitational (Salt Lake City)

check











1997/01#d

7s

M

US Final 8

P-W Men -all 5 yrs?



2007/09#f

7s

M

Specific Results

US Men-chk

(others, besides what I have?)

1991/95#g

15s

M

Specific Results

ERU Women-chk



1996 appx







West women













CHK LAS VEGAS etc 2013-2016













footnotes: Emilito involved but not always Head Coach ...
Guest Coach with #a) Adian Bueno "Mykyrys" (CUB), #b) Fritz Raupers (GER),
#c) Joćo Paulo Bessa (POR), #m) Gregory Rousseau (T&T), and #k) Richard Greed (ENG U16)
Assistant Coach to #d) George Betzler; #e) Dan Benedict; #g) [PA] Joe Kelly and #h) Chris Ryan
#f) Video Analyst (member of coaching staff) for Coach Al Caravelli and
"Guru Coach" with #i) Coach Adam Dick and #n) Dave Sitton
#j) Emperor for and Assistant to Coach Dana Creager
Emperor for Coaches #k) Jack Foley & Keith McLean and #m) Greg Schor


Addendum: Fellow Coaches



While Emilito has bragged about his coaching achievements, his coaching successes have been on the backs of many other coaches. The following is a partial list of more than 100 fellow coaches; these are coaches that a) have worked with him as co-coaches, or b) he has assisted or for whom he's been a guest coach, or c) have assisted or have been a guest coach for him, or #d) (see below) have inspired him through personal interaction, or e) have coached Atlantis in his stead. More than 30 are national (senior or age-grade) coaches, including of other countries. These include long-time associates as well as "for the event" partners. A small number were senior players at the time of their association but had "great coach" written all over them.

The list is surely incomplete and Emilito is looking for reminders from or about those he has missed.

There are several, for sure.

While many of these have been parts of Emilito's championships, more importantly he credits the breadth of these associations for making him a better coach.

Country abbreviation after coach name indicates that s/he either coached or played for that nation's (non-USA) national team.

People that have coached one of the USA national teams are marked with an asterisk (*); those that have played for one of the USA national teams with two asterisks (**); people that have done both have 3 (***).



Deb Archambault, Suzi Arnsdorff, Graeme Bachop (NZL), Peter Baggetta*, Karl Barth*,
Dan Benedict, Joćo Paulo Besse (POR), George Betzler*, Franck Boivert*(FIJ), Biddy Boyle,
Tony Brown, Adian Bueno (CUB), Laura Cabrera***, Al Caravelli* (ARG), Ryszard Chadwick,

Chukin Chao (CUB), Lance Connolly, Kevin Corley, Ray Cornbill*, Dana Creager***,
Clarence Culpepper***, Kate Daley**, Bob Davis, Jack Dibble, Wayne DiMarco,



Adam Dick, Farrah Douglas***, Bob Dwyer (AUS), Chris Elkins, Jason Fass,
Drew Fautley*, Tom Feury, Kathy Flores***, Jack Foley, Jason Fox***,
Bill Freeman (NZL), Steve Gray***, Richard Greed (ENG U16), Craig Hartley***, George Henderson*,
Lisa Huff Henrich, Ian Jeffery (T&T), Jami Jordan, Joe (CT Joe) Kelly, Joe (PA Joe) Kelly*,
Peter Kelly, Phaidra Knight, Chris Kron**, Rainer Kumm (GER), Al Little**,



Richard Lopacki, Bill Lucas, Lex Maccubin, Rosalie Macgowan, Marcus Maffei,
Alex Magleby***, Stacy Mancuso, Robert Markel, Mike May, Julie McCoy***,
Tiffany McCoy, Krista McFarren***, Sean McKenna, John McKittrick* (NZL), Keith McLean,
Dave McPhail, Jerry Mirro, Tracy Moens**, Joe Morrison, Geoff Mould (AUS),
Billy Nicholas, Candi Orsini***,Tony Pacheco*, Marsh Pennington, Rhett Chee Ping (T&T),



Sami Rabaka (FIJ), Mike Raffe, Fritz Raupers (GER), John Redmond*, Lauren Rhode**,
Omar Rivera, Lisa Rosen, Gregory Rousseau (T&T), Chris Ryan*, John Ryan (WAL),
Greg Schor*, Keith Seaber*, Tom Selfridge**, Larry Shea, Paul Sheehy**,
Stephen Siano**, Dave Sitton, Rob Skalka, Judy Smullen, Mary Beth Spirk,
Pete Steinberg*, Tyson Swetnam, Kevin Swyrin**, Joe Taranto, Salty Thompson*,



Reggie Tift, Gordon Tietjens (NZL), Roberto "Rupa" Travaglini (ARG), Kate Turpin***, Barbara Tyksinski,
Matt Tyksinski, John Tyler*, James Walker, Richard "Rusty" Wortman, Charlie Wilkinson**,
Jimmy Wilkinson*** (111).



Whom did I forget?!



#d) Those coaches noted as having personally inspired me include, of course, many Americans, but were I to single them out it would be at the risk of missing others. I would, however, like to give a shout-out to several of the non-Americans, specifically:

o Welsh Coach John Ryan. John (along with US Coach George Betzler) was my biggest coaching influence. He visited my house and helped coach my club, the Bethlehem Hooligans, later the Bethlehem RFC, on several occasions from the 1970s to the 1990s. John's influence was largely responsible for our great successes so early in our existence.

o Australia U21 / Randwick Coach Geoff Mould. I spent some time with Geoff both in Australia (I met him at the 1988 - or was it 1989?) Sydney Sevens and again in the US; he stayed with me and ran a couple of practices with the Bethlehem club in early Fall of 1989. A big baseball fan, when he left us he went to San Francisco where he was entering Candlestick Park at the precise moment of the World Series earthquake. Following Geoff's visit, per his suggestion, we moved our backs closer together - to a very exaggerated tight and flat alignment (per his comments, it was one of the keys of Randwick's success) and won 17 straight games!!)

o Australia Coach Bob Dwyer. I first met Bob in 1988 at the Hong Kong Sevens (Australia won the Cup and the US won the Plate) (and where - when we weren't wearing team kit - a lot of people confused us, one for the other!!) - He explained his philosophy of sevens in detail and it really stuck. Later, on a 1992 visit to Sydney, I spent several days at his house where I was able to have lots of content-filled conversations about the game with him.

o New Zealand (and now - 2016 - Samoan) Coach Gordon Tietjens. I first met Gordon when Atlantis participated in the 1995 Taupiri 7s in New Zealand. Since then we have linked up on several occasions including a couple of practices with the US Women at Mount Manganui (NZ) in 2001 and multiple sessions with touring Atlantis men or women: whenever Atlantis traveled somewhere where Titch was also coaching, I got him to run a session with us.

o New Zealand Technical Director Bill Freeman. Bill spent a couple of days at my house on a coaching trip to the US in 1986 and worked with me and the Bethlehem Club. In 2001 he spent some time speaking to the US Women who participated in the Wellington 7s.

o New Zealand and US Coach John McKittrick. John, who coached Atlantis at the Cayman Island tournament in 2003, graciously ran a practice for the US Women at Silverdale when we toured New Zealand. It was my first experience - possibly the first American experience - with defensive ropes.

o Argentine Puma Roberto "Rupa'' Travaglini. Al Caravelli hooked me up with Rupa, a Puma who was living in Miami at the time. He spent some time working with us (Kevin Swyrin, Richard Lopacki and me) and the US Collegiate 7s team we coached in 2009 at New York's Randall's Island.

o US Women and Fiji Coach, Frenchman Franck Boivert. For years - starting in the 1980s - I listened to Franck's coaching talks, and regularly coached against him and engaged him in coaching conversations, including during an Atlantis trip to Tahiti; he also was responsible for introducing me to the work of French coaching legend Pierre Villepreux (Pierre himself later gave a couple of amazingly illuminating coaching presentations I attended in [I think] Edmonton and Philadelphia). Finally I had the chance to have Franck work with the Atlantis women on a 2014 tour of Fiji.

o New Zealand All-Black Graeme Bachop & Fiji International Sami Rabaka came over in 1993 to work with the teams that played in an experimental "60-minute sevens" match held in Tucson, AZ. They coached, played, and made everyone better.

I mention all these coaches because my coaching successes - besides the biggest reason for them: the players I have been lucky enough to coach - are due to my good fortune in having learned, and drawn inspiration, from these accomplished coaches. As noted above, my influences also include many of the homegrown Americans listed above, but I was not able to pick a specific group of "most influential" without leaving off many people that might, on reflection, also deserve to be on that list ... so many people have helped and influenced me!! If I had to pick a number one American influence I would definitely go with George Betzler. Among the women coaches I have worked with I would have no problem singling out both Dana Creager and Julie McCoy both as remarkable people and coaches. I have spent many years coaching with Chris Ryan, who continues to try to help me update my old-fashioned patterns. And there are many more ... (but there I go again).








**

As of 10/29/16, I am still researching the following areas to complete this summary. ****

Early years (1977-1989), these were my positions and the information I'm seeking:
1977-1982 (15s): Assistant Coach (to George Betzler), EPRU; am looking for results. - geo b / joe k
1982-1987 (15s): Head Coach EPRU (15s) (asst?) (results) - geo b / joe k / al lempfer
1984-1987 (7s): Coach EPRU 7s, my notes say we won the ERU (or was it ERU North?) subunion championship twice - joe k / bob d / al l
1986 ERU (15s): Tour of Scotland - Assistant to Clarence Culpepper (& Al Little & Tom Selfridge) (results?) - al l / tom s
1985-1989 (15s): Coach, ERU U23 15s - twice national finalists-need to find years - bob d / lex m
Unfortunately, I didn't document these experiences enough.


The following questions apply to the years 1990 to 2005: 1996-ish (7s): West Women: Midnight 7s (year?) in Vegas / other? (my role? results?) - tracy m, karen m, sallie

These questions apply to the last 10 years:
2006-07 (7s): Lehigh Valley Men - results? helped Joe Morrison - jomo
2008-09 (7s): Schuylkill River - Results? helped Joe Morrison jomo
2010-2013 (7s): helped with U of A men with Dave Sitton, Chris Kron, Adam Dick, Tyson Swetnam (which in which years?) - chris k, adam d
2011 & 2013 (7s): - Schuylkill won Harrisburg, did I help? - Pudge Head coach for both - chris r
mid-2000s: Lehigh Valley Women - results? helped Judy S and also coached on my own at times...
2015 (only yr?): U of A Women: helped Adam & Rusty Wortman (yrs?) with U of A women (earlier?) SD? CRC? - adam


What / whom have I missed?




home | Family Stories, Pictures, etc | Family Trees | Rugby Stories, Data, Pictures, etc | Miscellaneous






2 Eng. 7s coaches: chk names - interviewed one at Twickers ... one in SD (or LA)